Capes Are Trending for Winter 2019 & 2020 — Best Capes to Shop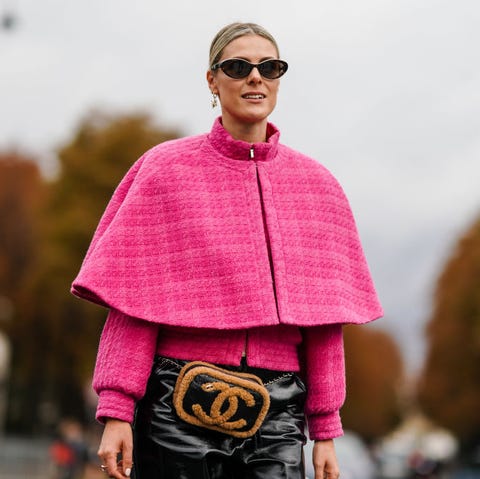 Edward BerthelotGetty Images
There are still, like, three more months until the official start of spring (counting down the days until March 19, tbh), but you may already be over your winter clothes. Same. Puffy marshmallow jackets can be so inconvenient because they take up a ridiculous amount of space—not just when you're out and about, but also in your closet. (My hangers are so squished together that they're immovable. It's fine.)
If you're looking for another outerwear option that's sleek yet warm enough to get you through the brutal weather, you should be considering capes. Seriously! Thinking of this type of coat may bring up the idea of superheroes or actual royalty (hi, Kate Middleton!), but if the fall/winter 2019 runways had anything to say, it's that capes are officially I-N.
You may be thinking, These are too high fashion for me! Totally fair, but, rest assured, there are tons wearable styles that are both functional *and* stylish. This silhouette is an easy way to look way chic but stay bundled up—especially if you're over your bulky outerwear.
Some offer more coverage, while others tie around the neck and are more open in the front (think Little Red Riding Hood vibes). They also come in a variety of lengths, so basically there are a plethora of options—pick a specific style that suits you or opt for more than one if you're digging the trend overall.
With the holidays coming up so soon, you should totally treat yourself to one of these statement outerwear pieces and try something new. You're gonna look so fab, trust me.
Shop these cute capes, stat!