What Is Snoop Dogg's Net Worth?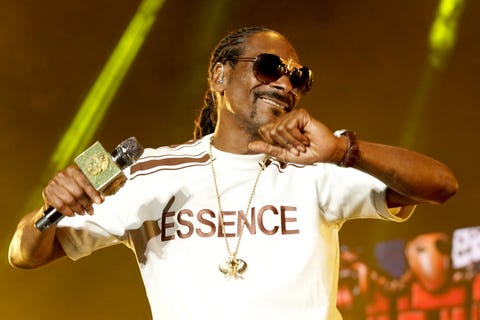 Bennett RaglinGetty Images
In case it wasn't obvious from the song "Money," Snoop Dogg is extremely pumped about being rich. He's been making money since he ARRIVED back in 1992, and hasn't slowed down…at all. Like, Doggystyle *alone* sold a cool million copies in its first week. And speaking of millions, Snoop Dogg has many of them! Let's get into his super impressive net worth—but obviously not before watching the video for "Gin and Juice" as a group.
His Yearly Earnings Are…Holy Sh*t
It goes without saying that Snoop has made a ton of money from music. In fact, according to RIAA, he's sold 12.5 million certified units in album sales—which is a lot. But if you're wondering just how much he makes every single year, Celebrity Net Worth has a helpful breakdown that may or may not make you weep:
2007: $17 million
2008: $16 million
2009: $11 million
2010: $15 million
2011: $14 million
2012: $9 million
2013: $10 million
2014: $10 million
2015: $10 million
2016: $13 million
2017: $17 million
2018: $15 million
2019: $15 million
Cool, this is very similar to my yearly earnings! Me and Snoop have so much in common financially, it's great to be us!*
*False. But I am worth approximately 500 Sephora VIB points, so.
Endorsements Are a Major Part of His $$$
On top of making money from, ya know, music, Snoop has earned a *ton* from lucrative endorsement deals with the likes of Burger King and Wonderful Pistachios. WOW, BEST THING TO HAPPEN TO PISTACHIOS EVER, TBH.
All together, Snoop's penchant for genius branding moments has paid off majorly. Forbes says he earned $10 million in 2014 through deals with everyone from Hot Pockets to Airbnb, plus they report that he earned $10 million in 2015 "on the strength" of tours and endorsements alone. Meanwhile, in 2017, Forbes reported that Snoop made his millions from the likes of Martha and Snoop's Potluck Dinner Party and his cannabis lifestyle platform, Merry Jane.
Like, should I start a cannabis line/eat more Hot Pockets/both? Is that how I get rich? Help.
He's Invested Wisely
While I'm out here spending all my life savings on bagels, Snoop is investing in billion dollar businesses and putting us all to shame. Let's see…he's invested in video games, cannabis, and—ah yes—freakin' Reddit. Oh, and back in 2019, he casually invested in Klarna, a multi-billion dollar Swedish financial tech company. Here's what he had to say about that:
"I've been doing business in Europe for years with fashion brands, telecommunication companies, and more. I've endorsed them, advised them, and now I'm looking to invest in them. I plan to keep growing the portfolio, ya dig?"
I do.
So, What's His Total Net Worth?
According to Celebrity Net Worth, that'd be $150 million. Cooooool-cool-cool-cool. Gonna go ahead and end this with some poetic words from Snoop himself:
"Money is the root of all evil huh
You know what
I mean, we already living in hell
So fuck, get your money man."