10 Best Anti-Dandruff Shampoos of 2020 for Dry, Itchy Scalp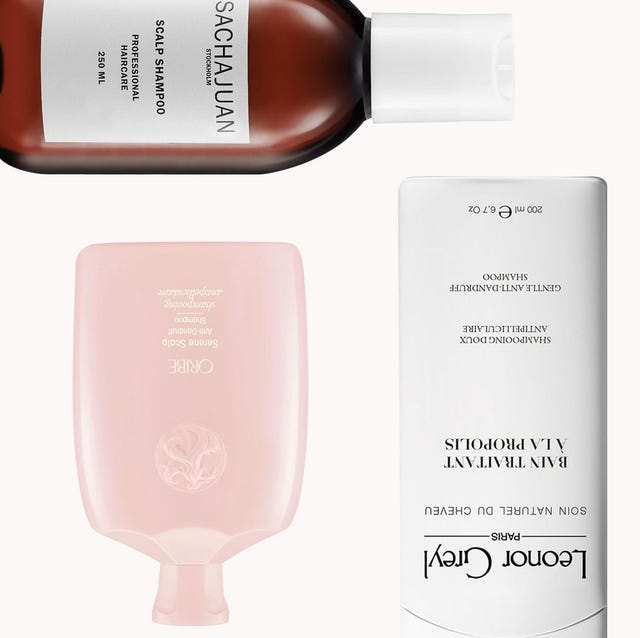 Katie Buckleitner
Whenever I used to think about anti-dandruff shampoos, my brain automatically went to those super medicinal-looking bottles filled with harsh formulas that turn your hair into straw. I know, dramatic, but have you seen the ingredients lists? Anyways, eventually I realized that not all anti-dandruff shampoos are created equally. There are actually so many hydrating and scalp-soothing formulas that use gentle flake eliminators (think: salicylic acid and zinc pyrithione) to clean your roots without completely destroying your scalp. In case you don't believe me, I went ahead and rounded up the 10 best anti-dandruff shampoos that fight flaking, itching, and dryness without ruining your hair. Get ready to lather up.
Advertisement – Continue Reading Below
1
Best Anti-Dandruff Shampoo for Natural Hair
Head & Shoulders Royal Oils Moisture Boost Shampoo
Typically, anti-dandruff shampoos and natural hair don't mix. But this option bucks the trend. Specifically formulated for curly, natural hair, this shampoo pairs super-hydrating coconut oil with pyrithione zinc, an anti-fungal ingredient that helps get rid of your dry, itchy scalp without stripping your hair.
2
Best Anti-Dandruff Shampoo for an Inflamed Scalp
Leonor Greyl Anti-Dandruff Shampoo
Dealing with redness and inflammation on top of dryness and itchiness is a legit nightmare. Thankfully, this anti-dandruff shampoo is here to help you out. With a blend of oat amino acids, chamomile extract, and sage extract, it calms inflammation and soothes irritation on your scalp.
3
Best Vegan Anti-Dandruff Shampoo
Briogeo Scalp Revival Charcoal + Coconut Oil Micro-Exfoliating Shampoo
This vegan anti-dandruff shampoo puts in mad work. Thanks to a combo of bb micro-exfoliators, coconut oil, charcoal, and tea tree oil, this shampoo gets rid of dead skin cells and product buildup and keeps your scalp hydrated while still soothing any dryness and itchiness. Seriously, is there anything it can't do?
4
Best Shampoo for Intense Dandruff
Nizoral A-D Anti-Dandruff Shampoo
Not only does this shampoo have more than 3,600 glowing reviews on Amazon (!!), it also contains ketoconazole, an anti-fungal ingredient that's used in prescription dandruff medicines. Use it twice a week to keep flakes and itching at bay.
5
Best Soothing Shampoo for Dandruff
Sachajuan Scalp Shampoo
It's no secret that anti-dandruff shampoos have a reputation for leaving your hair incredibly dry. This shampoo calls on salicylic acid to gently remove flakes, while rosemary oil and ginger extract soothe your scalp and hydrate your roots. And the super-pretty packaging doesn't hurt either. 
6
Best Anti-Dandruff Shampoo for Color-Treated Hair
Oribe Serene Scalp Anti-dandruff Shampoo
Preserving your hair color is a priority when you spend $$$ at the salon, but that shouldn't mean you have to skip out on anti-dandruff shampoo just because it can be hella harsh. This one from Oribe is spiked with salicylic acid and is completely sulfate-free, meaning it fights dandruff without stripping that expensive color you just got (and looks great, btw).

7
Best Anti-Dandruff Shampoo for Curly Hair
DevaCurl Buildup Buster Micellar Water Cleansing Serum
Finding the perfect shampoo for curly hair is no easy feat. Too harsh of a cleanser will leave your curls dry and lifeless, but not enough suds scan lead to an itchy, irritated scalp. The hero ingredient in this cult-favorite cleansing serum is micellar water (yup, the same, gentle ingredient that you probably use to take off your makeup), which cleanses your scalp without stripping your natural oils. 
8
Best Drugstore Anti-Dandruff Shampoo
Head & Shoulders Dry Scalp Care Almond Oil Anti-Dandruff Shampoo
Not only will this tried-and-true shampoo get rid of your dandruff (you can thank the pyrithione zinc for that), but the formula's almond oil will also leave your hair silky and smooth post cleansing. Plus, it's under $10.
9
Best Natural Anti-Dandruff Shampoo
ArtNaturals Therapeutic Argan Anti-Dandruff Shampoo
Want to go the all-natural route? No prob. This formula contains tar and coal (which attack flakes and dead skin each time you use it), along with super-hydrating oils (like argan and jojoba) to keep your scalp moisturized.
10
Best Shampoo for a Dry, Itchy Scalp
Dove Derma Care Scalp Dryness & Itch Relief Anti Dandruff Shampoo
If you already have a really dry scalp and you're worried that an intense, medicated shampoo isn't going to do you any favors (it might even make your hair drier), look toward this option from Dove. The pyrithione zinc addresses your dandruff, but the formula is pH-balanced, meaning it'll hydrate your hair and soothe your scalp with each wash.
This content is created and maintained by a third party, and imported onto this page to help users provide their email addresses. You may be able to find more information about this and similar content at piano.io
This commenting section is created and maintained by a third party, and imported onto this page. You may be able to find more information on their web site.
Advertisement – Continue Reading Below