10 Best Bath Soaks and Salts for Every Skin Type in 2020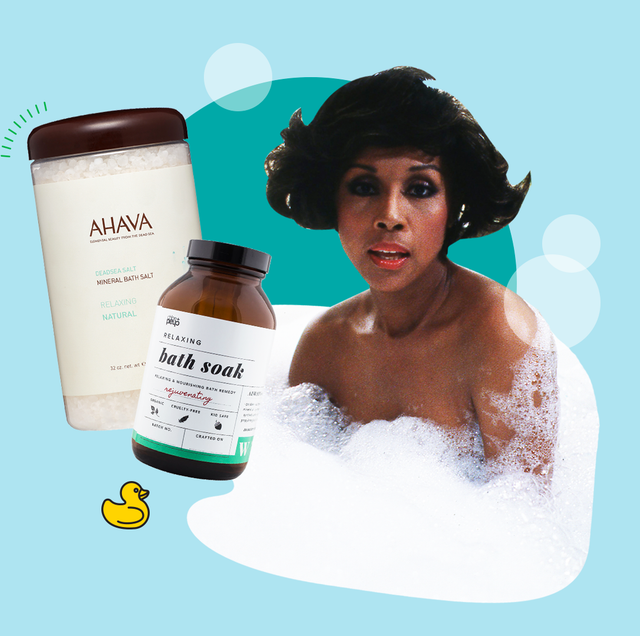 Courtesy Image/Khadija Horton
As someone who takes, like, five baths every week, I'll never understand what people have against baths (FWIW, my friends and coworkers like to remind me daily that they haven't taken a bath since they were under the age of five). My only theory? Bath haters just aren't using the right products. Hear me out: Bath soaks are pretty much the secret sauce behind any successful bath, thanks to the fact that they're loaded with ultra-relaxing oils and salts that can target everything from muscle aches to dry skin. Seriously, I dare you to sprinkle a bath soak under running water, light a candle, and pour yourself a glass of wine before you write off baths for good.
And to make things easy for you, I went ahead and found the 10 best bath soaks worth buying right now. Prepare to be fully converted. (*Evil laugh.*)
Advertisement – Continue Reading Below
1
Best CBD Bath Soak
Lord Jones High CBD Formula Bath Salts
Yeah, hi, meet my favorite bath soak of all time. Not only is it packaged in a ~chic~ little jar, but it's also spiked with CBD to help you chill out mentally and physically. Scoop a little into your tub and you'll immediately smell essential oils like eucalyptus and citrus. Aren't you already relaxed?
2
Best Coconut Bath Soak
Chloe & Chad Coconut Bath Soak
Coconut powder is the hero ingredient in this organic bath soak, which works to soothe and hydrate dry and/or irritated skin. And when combined with relaxing Epsom salt and essential oils, you've got yourself the perfect addition to any bath. Psst: When you pour this bb into your tub, you'll see real coconut flakes fall out of the bottle. 
3
Best Bath Soak Salts
Ahava Natural Bath Salt
Turn your tub into the Dead Sea with these mineral bath salts from Ahava. Really, the only thing you'll find in the jar is 100 percent Dead Sea salt, which is packed with minerals like magnesium, potassium, calcium, and more. Translation: Your skin will feel soft and your body relaxed by the time you get out.
4
Best Pre-Bed Bath Soak
This Works Deep Sleep Bath Soak
The perfect pre-bed bath soak, throw a heap of this formula under running water and it'll fill your tub with relaxing essential oils like lavender and chamomile. I suggest putting down your phone so you can really unwind with this one.
5
Best Bath Soak for Sensitive Skin
Aveeno Soothing Bath Treatment with 100% Natural Colloidal Oatmeal
Soooo you spent the day in the sun and somehow got a burn even through your six layers of SPF. Don't worry—just fill your bathtub with warm (not hot) water, sprinkle in this oatmeal soak, and prepare for your skin to feel incredibly soothed. BTW: This treatment is also great for dry, itchy skin.
6
Best Bath Soak for Sore Muscles
Dr Teal's Wellness Therapy Rosemary & Mint Pure Epsom Salt Soaking Solution
There's a reason Dr. Teal's Pure Epsom Salt has been around for ages—it's an effective and affordable bath soak that never disappoints. I'm especially keen on this rosemary and mint formula, which is great for post-workout soaks.
7
Best Bath Soak for Congestion
Kaia Naturals Turmeric Hot Bath
thedetoxmarket.com
$15.00
Yes, this bath soak kinda looks like it belongs on your spice rack, but trust me—it's actually legit. Inspired by Japanese hot springs that relieve tension, this formula is meant to make you sweat (courtesy of the formula's antioxidant-rich turmeric and mustard seed). The next time you have a cold, make sure you have this soak on hand.
8
Best Bath Soak for Dry Skin
Susanne Kaufmann St. John's Wort Bath
K, this bath soak is definitely on the expensive side, but I swear it's one of the only things that repairs my dry skin even in the dead of winter. That's because it's formulated with St. John's Wort extract (to soothe irritation), milk protein (to hydrate), and cocoa butter (to lock in moisture). So, uh, yeah—I'd say it's worth it. 
9
Best Bath Bomb Soak
Prima Bath Gem 25mg CBD Bath Soak for Relaxation & Recovery
Listen, bath salts aren't for everyone. Mix things up and opt for a bath balm soak like this one from Prima—just plop it into a filled tub and the formula's CBD, Epsom salt, and meadowfoam seed oil will work to ease tension and hydrate your skin.
10
Best Bath Soak Tea
Moon Bath Waxing Moon Botanical Bath Tea
I get it: Some people are just in it for the 'gram. Sprinkle this bath brew in your tub and you'll be left with a crazy-pretty setup that will definitely stand out on your feed. Bonus? It also smells super good (hi, cacao and marshmallow).
This content is created and maintained by a third party, and imported onto this page to help users provide their email addresses. You may be able to find more information about this and similar content at piano.io
This commenting section is created and maintained by a third party, and imported onto this page. You may be able to find more information on their web site.
Advertisement – Continue Reading Below