10 Best Drugstore Face Serums of 2020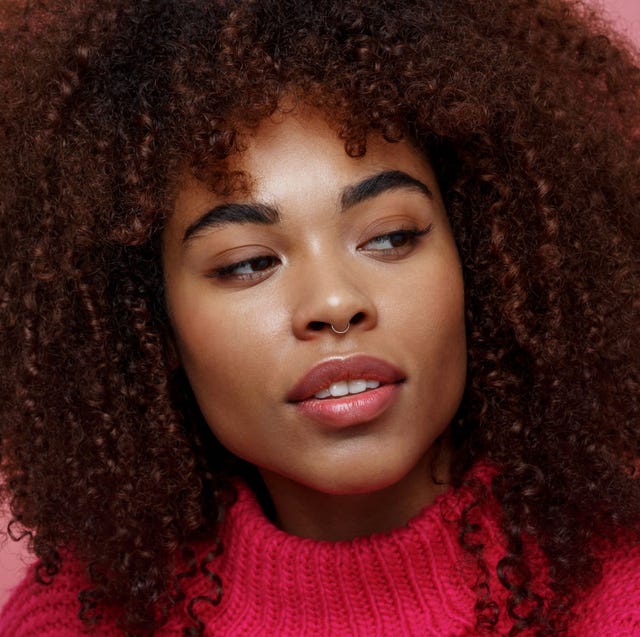 Stocksy
Whether you have a beauty fridge packed with skincare products, or you prefer to keep your routine ~short and sweet~, I'm gonna go ahead and say that a good face serum is non-negotiable (like, almost on par with sunscreen). The beauty of a face serum? They typically have a high concentration of actives (i.e., the stuff in skincare products that *actually* do something to your skin, like acids, retinoids, hyaluronic acid, etc.) that help treat everything from acne and rosacea to dark spots and dryness.
But lest you think the best face serums need to cost half of your rent, I've got news: Some of the most effective formulas out there are made by drugstore brands (really, I use them), which means you can be on a budget and still find a serum that really, truly works. And to get you started, I rounded up the 10 best drugstore face serums that really, truly work.
Advertisement – Continue Reading Below
1
Best Drugstore Face Serum for Dullness
Aveeno Positively Radiant MaxGlow Infusion Drops
This drugstore face serum from Aveeno is clutch for mornings when your skin is just looking meh (so, basically me every Monday). It's equal parts hydrating and brightening thanks to a combo of soy and kiwi extracts.
2
Best Drugstore Face Serum For Tired Skin [Sponsored]
L'Oreal Paris Revitalift Hyaluronic Acid Serum Ampoules
L'Oréal Paris
amazon.com
$19.38
When you need a serious boost of hydration, these ampoules work wonders to re-plump and smooth skin. Add 'em to your daily skincare routine for seven days to visibly reduce fine lines and wrinkles because tbh, you can never start the fight against aging skin too soon! Use in the morning, and then seal the top for nighttime use.
3
Best Drugstore Face Serum for Dry Skin
Neutrogena Hydro Boost Hydrating Serum
Proof that you don't need to use heavy creams and goopy serums to get the dewy, hydrated skin of your dreams, this water-like drugstore face serum from Neutrogena is lightweight, non-sticky, and packed with hyaluronic acid to draw moisture from the air and into your skin to plump it up.
4
Best Drugstore Face Serum for Fine Lines
RoC Retinol Correxion Deep Serum
This drugstore face serum is loaded with retinol—the gold standard when it comes to smoothing fine lines and wrinkles. It boosts cell turnover and triggers collagen production, which, together, softens your skin texture and makes it firmer and plumper over time. And in case you missed the price tag, this bb is only $16 (so, a fraction of the cost of Botox).
5
Best Drugstore Face Serum for Acne
AcneFree Adapalene Gel
I recommend this drugstore face serum with adapalene to anyone who is dealing with blackheads, whiteheads, and/or cysts and doesn't want to spend a ton of money on different products to clear them up. For just $12, it targets acne in two major ways: It reduces inflammation and increases cell turnover to prevent clogged pores.
6
Best Vitamin C Drugstore Face Serum
Vichy LiftActiv Vitamin C Serum
I've tried and tested a TON of vitamin C face serums throughout the years, but I always come back to this drugstore option from Vichy. It has a combo of 15 percent ascorbic acid (one of the most stable forms of vitamin C) and hyaluronic acid that works wonders on my dry, dull skin without irritating it.
7
Best Drugstore Face Serum for Hyperpigmentation
Differin Dark Spot Correcting Serum
Yup, you really can fade your acne scars, dark spots, and melasma with this drugstore face serum from Differin. The hero ingredient is hydroquinone, a lightening agent that inhibits melanin production in the skin. Use it once daily to get all the skin-brightening benefits, but fair warning: It's kinda strong, so skip this one if you have sensitive skin.
8
Best All-Natural Drugstore Face Serum
Burt''s Bees Intensive Renewal Firming Serum
You don't need to shop at fancy boutiques to get in on the all-natural skincare craze. This drugstore face serum from Burt's Bees is totally clean and contains plant-based bakuchiol (a natural retinol alternative that legit works almost as well) to help smooth your skin texture.
9
Best Soothing Drugstore Face Serum
Olay Serums Cooling Pressed Serum Stick
Get all the soothing, calming benefits of niacinamide and cactus water in an easy-to-use solid texture with this serum stick from Olay. Just glide it across clean, dry skin—there's zero mess or chance of spilling.
10
Best Drugstore Face Serum for Rosacea
La Roche-Posay Rosaliac AR Intense
If you're dealing with rosacea, then it's time to give this top-rated drugstore face serum a try. It contains soothing plant extracts and thermal spring water to reduce redness, both short and long term.
Advertisement – Continue Reading Below