10 Best Smartwatches for Women 2020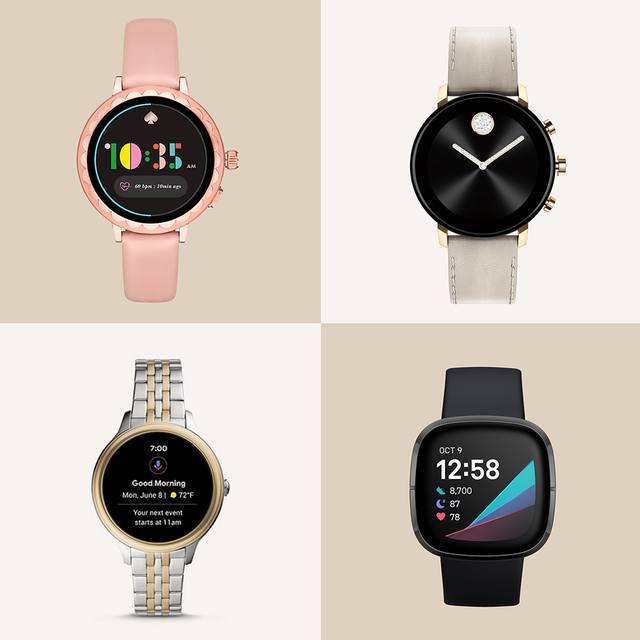 John Francis
Looking to upgrade your watch game and switch over to a smart one? I get it. They're like cell phones and a watch combined into one. And nowadays, these smartwatches do so much more than just tell you the time. You can text and talk from them, track your sleep and your steps (thanks Fitbit!), pay for items, and some even help with stress management!
Plus, most of the bands on them are interchangeable meaning you can match your band to any 'fit so you'll always look coordinated. If you don't need any more convincing and you're ready to switch over to a smartwatch right freaking now, we've helped you out with some suggestions. Whether you're looking for a lifestyle watch that connects to all your fave social media apps or one that'll help you train for your next marathon (impressive!), we have you covered. Keep scrolling for 10 smartwatches for women (and even some bands) that you'll definitely love.
Advertisement – Continue Reading Below
fitbit
fitbit.com
$100.00
This one has all the features you want in a smartwatch, and it helps you understand how your body handles stress with sleep and heart rate tools. And the best part? Its battery life lasts for up to six days. 
2
this high-tech one
Apple Watch SE
You def know the classic Apple Watch. This smartwatch will give you everything you need and more from tracking your health to making calls and texts. Plus, the options of bands are endless so it'll go with any look. 
3
this minimal one
40mm Connect 2.0
Movado
movado.com
$385.00
You wouldn't be able to tell that this is a smartwatch at first glance, but if you're looking for a sleek style, this one is for you. It has up to 24 hours of battery life and can display messages, track your activity with Google Fit, and link to your debit and credit cards. 
4
this pink one
Blush Leather Scallop Smartwatch 2
Kate Spade New York
katespade.com
$295.00
This watch is perfect for being on the go. With functions like contactless payment, a GPS, and texting, you'll never need another tech device again; plus, look how pretty this pink design is!  
5
this gold one
Gen 5E Smartwatch Two-Tone Stainless Steel
Fossil
fossil.com
$249.00
Fossil's smartwatches have hundreds of apps, ranging from social media to agendas, alarms, and wellness ones. I mean, on top of all the functional uses it just looks so dang gorgeous. 
6
this inexpensive one
iConnect by Timex Active 37mm Resin Strap Smartwatch
With a bright color display like this one, you'll never miss out on a notification. Track your steps, heart rate, and sleep easily for an affordable price. 
7
this mesh one
Smartwatch HR – Falster 3 Rose-Tone Steel-Mesh
Skagen
skagen.com
$199.00
Skagen watches have all the basics you need in a smartwatch, including interchangeable straps. 
8
this rose-gold one
Gen 5 Bradshaw Rose Gold-Tone and Acetate Smartwatch
Michael Kors
michaelkors.com
$249.00
This stainless steel rose-gold smartwatch will be there for everything you need, whether you want to text a friend back or go for a swim. 
9
this running one
Forerunner® 245 Music
Garmin
garmin.com
$299.99
If you're a runner, this one's for you. Garmin's smartwatches help you prep for races with a virtual coach that tracks your running style, and they even feature a sweat-proof band. 
10
this smol one
Galaxy Fit2 Smart Watch 1.1" AMOLED – Black
Samsung
bestbuy.com
$49.99
This barely-there smartwatch is thin, but it lasts up to 15 days on one charge!
11
this printed watch band
The Falcon – Watch Band for Apple Watch® – 42mm and 44mm
Spring Break Watches
springbreakwatches.com
$39.99
Okay, so this isn't a smartwatch, but if you want to switch out your band in exchange for something more colorful, definitely try out this printed style from Spring Break Watches. 
12
this pink leather watch band
Pink Leather Band
Talley and Twine
talleyandtwine.com
$48.00
This quilted leather band in pink will definitely jazz up your smartwatch if you're able to swap out the existing strap. 
This content is created and maintained by a third party, and imported onto this page to help users provide their email addresses. You may be able to find more information about this and similar content at piano.io
Advertisement – Continue Reading Below