10 Cute Winter Bag Trends for 2020 and 2021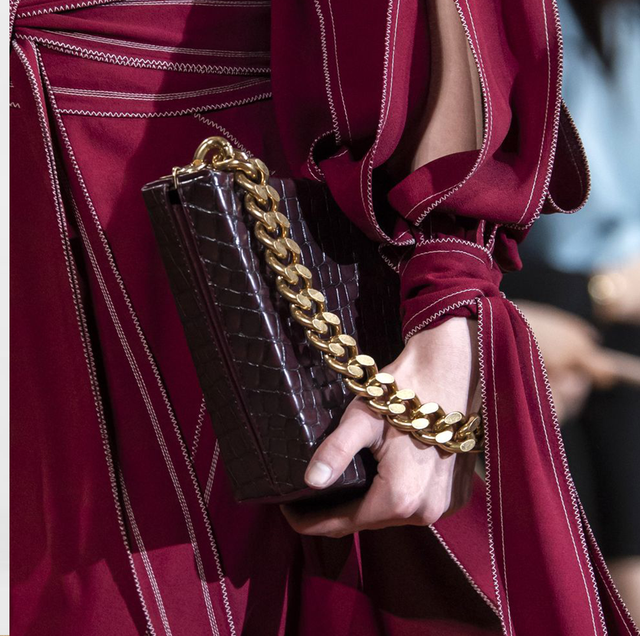 Imaxtree
As summer comes to a close, it's almost time to swap out our swimsuits and sandals in exchange for long sleeves and boots. Sad! But on the bright side, another fun transition to look forward to? Bags! While you obvi don't need to wait until winter to wear one of these cute designs, expect to see them everywhere when freezing cold temps start to roll around this year. From warm and fuzzy purses to quilted clutches and multicolored crossbody bags with mixed materials, these trends are really, really good.
So if you're ready to get a head start on the stylish winter bags you'll be seeing on people's shoulders this season, keep scrolling for 10 winter 2020 bag trends you'll def love. (Hot tip: If you're looking to complete your look, check out winter fashion trends and shoe trends while you're at it.)
Advertisement – Continue Reading Below
1
Extra Long Fringe
It's like a party for your purse!
Kenneth Ize
2
Extra Long Fringe
Ombre-Tan Mini Fringe Bag
Petit Kouraj
petitkouraj.com
$295.00
This bag might look small, but it's made of a net material, so it can fit allll of the things, and, most importantly, won't stretch out. 
3
Extra Long Fringe
Sirkel Fringe Mini Crossbody
To'sha
shoptosha.com
$265.00
Fringe mixed with a bright purple like this equals all the fun you could ask for in a bag. 
4
Thick Chain Handles
A chunky chain handle is just as pretty as the bag itself.
Stella McCartney
5
Thick Chain Handles
XX Micro Cylinder Bag
MANU Atelier
shopbop.com
$240.00
Who even needs jewelry when you have a purse with a strap as gorg as this one? 
6
Thick Chain Handles
Bom Mini Chain-Embellished Leather Tote
Yuzefi
net-a-porter.com
$395.00
Can't decide between silver and gold? This bag gives you the best of both worlds. 
7
Structured bb bags
Teeny tiny bags are for the minimalists out there, and these ones also have fun shapes!
Prada
8
Structured bb bags
Square Mini Box – Purple Lizard
It's small but def a keeper. Perfect for airpods and maybe a few hair ties? 
9
Structured bb bags
Le Micro Vanity mini printed leather shoulder bag
Jacquemus
net-a-porter.com
$125.00
Yes it's small, but it's just too CUTE. And, be honest, how much are you really carrying around these days? 
10
Aqua blue
Have you ever seen a prettier color? Didn't think so.
Fendi
11
Aqua blue
Bean Bag in Bright Blue
Staud
staud.clothing
$195.00
This satin bag is just too good; plus, it also converts to a clutch if you want to go strapless. 
12
Aqua blue
Wave Saddle – Black&Blue
Mlouye
mlouye.com
$275.00
This bag is the perfect size to be your new everyday purse, and the flap shape makes it stand out. 
13
Quilted texture
Kind of looks like a pillow, no? But this stylish trend is anything but a snooze.
Chanel
14
Quilted texture
Oversized Quilted Clutch Bag
Top Shop
topshop.com
$32.00
A quilted bag just has a super soft look to it, and this oversized clutch will fit everything you need.
15
Quilted texture
Anouk Quilted Faux Leather Tote
A.W.A.K.E. MODE
net-a-porter.com
$88.00
If there ever was a pillow-like bag, this white one with a build-in handle would be it. 
16
Full-on fuzzy
Your bag should be warm and cozy too when the temps are literally freezing.
Off-White
17
Full-on fuzzy
White Mohair Crossbody Bag
Caterina Bertini
shopbop.com
$83.00
In the middle of winter, your bag should match your outfit: completely cozied up. 
18
Full-on fuzzy
Slouchy Pillow Clutch Bag in Taupe Faux Fur
This pretty tan hue will go with any of your warn winter coats. 
19
Geometric shapes
Triangles, hexagons, circles, oh my!
Coach 1941
20
Geometric shapes
Mini Lia Pyramid Leather Top Handle Bag
Nita Suri
saksfifthavenue.com
$375.00
We're all about fun shapes this season, and this pyramid bag is definitely a conversation starter. 
21
Geometric shapes
Stansberry
Lineij
lineij-atelier.com
$179.00
Aside from the fact that this bag is gorge, you can wear it four. Different. Ways! 
22
Mixed materials
Why wear one material when you can wear five? Case in point: This textured bag, here.
Chloé
23
Mixed materials
Sasha bag in Blue Patchwork
Staud
staud.clothing
$375.00
This patchwork bag is a combo of all the prettiest shades of blue. 
24
Mixed materials
Suede Canvas Flap Crossbody Bag
& Other Stories
stories.com
$149.00
When you don't want to stick to one material, go for a bag with three, like this cute crossbody with croc-embossed trim. 
25
Croc-embossed
Speaking of croc-embossed, it's a whole other winter bag trend that's not going anywhere.
Longchamp
26
Croc-embossed
Unicorn Crocodile-Effect Tote Bag
Mehry Mu
farfetch.com
$551.00
The gold hardware handle on this bag is the accent we didn't know we needed.
27
Croc-embossed
Joe Joe Bag
Alfeya Valrina
shopbop.com
$110.00
This cream bag will go with all your cute winter looks this season. 
28
Hardshell shapes
They're perfect for your next night out—even if your next night out is technically happy hour in your own apartment.
GCDS
29
Hardshell shapes
Tallulah Bean Tortoise Shoulder Bag
Cult Gaia
saksfifthavenue.com
$298.00
If you love a tortoise design, and you're here for all the fun shapes, this bag is a real winner. 
30
Hardshell shapes
Heart Clutch
Santi
shopbop.com
$143.00
Opt for a cheeky red heart like this one. It comes with a strap too if you want to wear as a crossbody. 
This content is created and maintained by a third party, and imported onto this page to help users provide their email addresses. You may be able to find more information about this and similar content at piano.io
This commenting section is created and maintained by a third party, and imported onto this page. You may be able to find more information on their web site.
Advertisement – Continue Reading Below