10 of the Best Tie-Dye Kits 2020 — Shop Tie-Dye Kits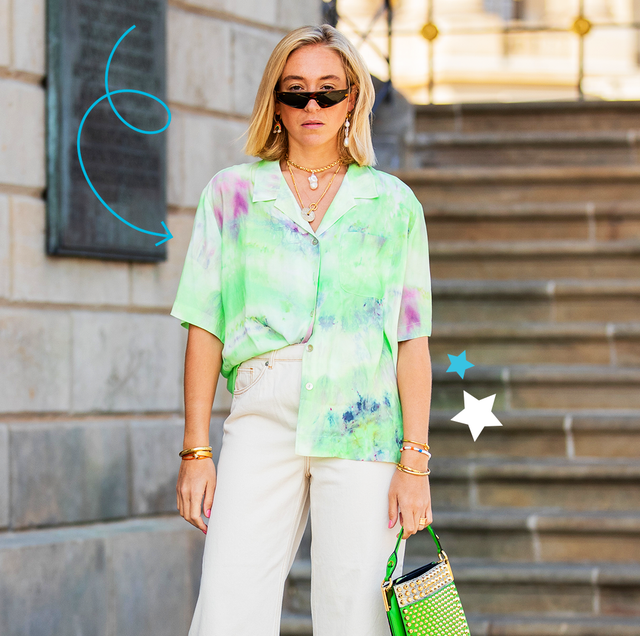 khadija hortonGetty Images
It's been a month or so of our new quarantined lives, and that means that everyone has been spending a LOT of time at home. With good reason! But if your IG is any indication, everyone has been showcasing their new ~social distancing~ hobbies. Literally everyone it seems is baking or making, like, 5-star dinners, embroidering, or (you guessed it) tie-dyeing clothes. Specifically, tie-dye sweatsuits have been popping up all over my feed now that most people are working from home, but with any of these kits you can save money and make it a DIY project instead.
You just need rubber bands, gloves, and a dye kit to get started and you can give anything in your closet—Shoes! Socks! T-shirts! Denim!—a multicolored makeover. But, man, they're really going fast—it was a struggle even to find these ones for you guys—so if you're in the crafting mood, you should add these to your cart RTFN. The good news is that it's still going to be a thing this summer, so you'll look way trendy once you (safely) step out of the house with your freshly tie-dyed wardrobe.
Advertisement – Continue Reading Below
1
if you're going to dye a lot
Jumbo Size Tie-Dye Kit, 54 Piece
This jumbo-size kit will get you through a TON of tie-dyeing. Just add water to these bottles, shake them, and go crazy with the colors. 
2
if you like natural dyes
Bundle Dye Kits
hechobycaye
etsy.com
$27.00
This kit uses natural ingredients like logwood chips, osage sawdust, organic red and yellow onion skins, marigolds, dahlias, and sunflowers to achieve its hues. It also comes with a handkerchief and bandana to start experimenting with! 
3
if you like bright colors
Bottle Vibrant One Step Tie Dye Kit
After dyeing, these bold hues are machine washable. It will last for around 18 projects so you can go all out and dye shirts, shoes, denim—whatever you want. 
4
if you want an acid wash
Acid Dye
Jacquard
dickblick.com
$28.52
Not all tie-dye is created equal. You can opt for more of an acid-wash with this kit that's ideal for wool, mohair, silk, and nylon fabrics. 
5
if you just want one color
One-Step Tie-Dye Kit®
Opt for a monochrome tie-dye in the form of this gorge aqua dye. It also comes in other colors so you can pick your fave. 
6
if you want a rainbow
Jacquard Tie Dye Kit™
Jacquard
michaels.com
$13.49
Channel the '60s and '70s with this "groovy" color combo. The swirl pattern is a classic. 
7
if you're into indigo
Mini Indigo Tie Dye Kit
Jacquard
walmart.com
$10.27
Blue tie-dye is a good way to dip your toes into the trend if you're not a fan of brighter tones. Pro tip: Use less water in the mixture to get a deeper tint or use more to make it lighter. 
8
if you want to try ice dye
Ice Dye Kit, Tie Dye and Shibori
annajoyce
etsy.com
$40.00
Ice dyeing is a unique way to tie-dye fabrics to create more unique patterns and color combinations. This kit provides all the instructions and pattern suggestions you need for an intro, and also has three stunning combinations to choose from. 
9
if you're feeling patriotic
Tulip Patriot Mini Tie-Dye Kit, 1 Each
July fourth is far away, but whether you want to get a head start on the summer holidays or are just a fan of red and blue, feel free to nab this set.  
10
if you prefer a spray application
One-Step Spray Tie-Dye Kit-Confetti
A spray nozzle can blend the hues more evenly than using bottles and can give your tie-dye a different effect. It's perfect for any ombre color schemes you might wanna create. 
Advertisement – Continue Reading Below