11 Valentine's Day Sex Positions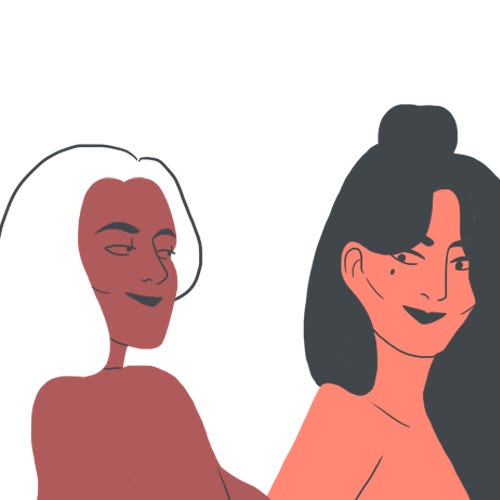 @LUCYMACARONI
Valentine's Day, Single Awareness Day, That BS Commercial Holiday—whatever you're celebrating this year, let us be the first to say HAPPY HOLIDAYS, 'cause we are inclusive around here.
Second, sex is an excellent way to celebrate the season of love… or whatever it is that's happening for you around the February 14th. And the good thing about Valentine's Day, besides that it's the eating-a-ton-of-chocolate holiday, is that it's a reason to focus on the sex you're having with whoever you're having it with. Whether it's sex with your long-term boo, a FWB, a long-distance partner, some random hookup, or your own damn hand, figure out what's good about what you've got and celebrate that @#%#.
Here are different positions to try based on your current sitch:
Advertisement – Continue Reading Below
1
If you're in a living apart together relationship…
The Feeling's Mutual
In a living apart together (LAT) relationship, mutual masturbation is a surprisingly good way to re-connect as a couple. Kneel facing each other, sitting back on your heels if it's more comfortable. Go slowly and watch each other's faces as you go up to and through orgasm—touching each other, too, if the feeling strikes.

Masturbating in front of your partner is super sexy, but also incredibly intimate and personal. Light a candle to two to make it feel like some voodoo sex magic is happening.
2
If it's a FWB situation…
Lazy 69
The good thing about friends with benefits—besides the benefits—is that no one's trying to impress anyone. Break out your more hardcore, fail-proof sex toy for this 69-ish move.
You: Lay back on pillows with your toy powered up between your legs. Them: Straddle you, with their genitals in easy reach of your mouth. Fire up your toy (hand them the remote… or don't) and it will attend to you while you attend to your partner orally.
Afterward, chill with Netflix and take out because you're keeping it casual.
3
If y'all want to perv it up….
The Underhanded Approach
While your partner is on all fours, approach them from the rear (literally) with a very lubey finger or dildo at the entrance to their bum. When they're ready, they can move their hips back and forth onto the finger/toy, so they're in control of how much they want to take in.
Get another handful of lube (a coconut oil-based formula is safe with toys and vaginas and effective enough for anal) and cup their P/V to give them incredible dual stimulation.
Shop Now Honey Dipper Glass Slider, $34.95, Adameve.com
Shop Now CocoLube, $19.99, Amazon.com
4
If it's a hookup…
The Semi-Sure Thing
It's statistically unlikely you'll have an orgasm during a hookup, so you might have to take matters into your own hands. (If you're pretty sure this is gonna go down, bring a small vibrator in your bag.)
Then, get on top of your partner while they sit on the bed, lean back against their thighs, and fire up that toy to full power as you ride them.
5
If you've just started dating…
The V-Day Celebration
Celebrate a different V this V-day: Your own… with or without your new bae. Direct all the attention between your legs by lying back on the bed with your legs spread open into a V-shape.
Then, lube up your first two fingers and hold them in a V-shape as you slide them along the sides of your vulva for next-level feels. Your partner can join in on the fun by entering you as you continue to stroke yourself. (Today has definitely been brought to you by the letter "V.")
6
If you want to make it extra romantic…
The Yin and Yang
Get super close with a dose of intimate eye contact by having your partner sit on the edge of the bed, with you straddling their lap and drawing them in with one leg wrapped around their torso, the other on the ground for stability.
Hold each others' gaze as you rock against each other with sweet slow thrusts. Don't even speak—just moan.
7
If you've just had a delicious meal…
The Chocolate BJ
Yes, it is so Cosmo circa 1986, but, eff it: Go ahead and pair desserts with penis. I can personally vouch for it.
Have your partner sit at the edge of the bed so you can keep some sweet supplies at hand on the floor. Drizzle chocolate syrup over the head of their penis, swirling your tongue around the head with slow, wide licks up the shaft to catch the drips. You can decorate it with whipped cream if you're feeling it, or dot some M&Ms up the shaft, nibbling them off as you go. Get as dirty and decadent as you want–sheets can be washed later.
8
If you want to kink things up…
Venus In Cuffs
Get your freak on with a little exploratory BSDM. Bend over and let your partner bind your wrists to a sturdy doorknob. Your partner can issue commands like "Spread your legs farther" or "Beg me to touch you." (If they feel shy about being bossy—and it does feel kinda weird the first time—it's way easier if you're not looking at them).
A little roughness (don't forget talking it out first and establishing a safe word) coupled with soothing kisses will leave you panting. Oh, and no matter how turned on you get, you don't get to have an orgasm 'til they tell you it's okay.
9
​If you're in a long-distance relationship…
The Eargasm
Invest in a Bluetooth-enabled remote control sex toy so you can go to town on each other from afar. You can try something that your partner uses on you (We-Vibe Sync) or toys for both. Whisper a sexy story to them over the phone—no video makes more it intimate. You'll be able to feel their moans in your body.
SHOP NOW We-Vibe Sync, $168 on Amazon.com.
10
If you've been dating forever…
The Super Soaker
Light some candles, grab some champagne, and hop into a steamy bath to create your own little private world. Scrub each other down, taking great care with each part and appreciating what you love so much about their body.
Lean back on your partner's chest, bliss out, and let them give you an orgasm with a sudsy hand or the spray from a detachable shower head. While you recover, take your time and just appreciate the moment, Be Here Now and all that, before you switch places and return the favor.
11
If you're single…
The Party in Your Pants
Single Awareness Day (February 15) is all about self-love, so pop in a wearable Kegel exerciser and make it a truly amazing day.
Put it on silent "discrete mode" (crucial!) and insert it into your vagina–it will press against your clitoris and internal hot spots every time you squeeze your PC muscles. This probably won't be enough to put you over the edge while you're going about your regular day (and who really wants to have an orgasm on the subway?), but you will barely be able to wait to get home to throw yourself on the bed, turn on its vibration mode, and oh…God…yes.

This post was originally published in 2014 and has been updated.
Advertisement – Continue Reading Below