11 Warm Winter Face Masks to Shop 2020 — Best Winter Face Masks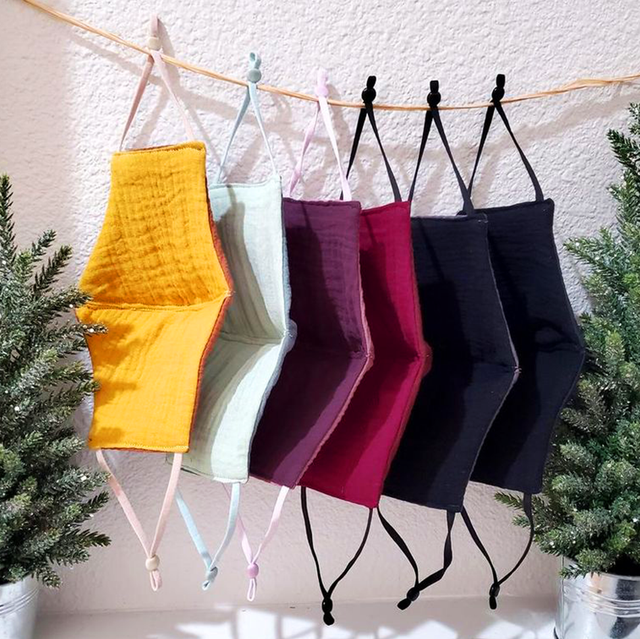 khadija horton
For those of us—i.e., myself—who hate the cold and are sensitive to icy air, face masks at least help block some of it from hitting your face. While there are more lightweight styles out there, these warm winter face masks are thicker and have toasty warm fabrics like knits and shearling that'll protect your face from frigid wind and cold temperatures. Wearing masks is still as important as ever given the rising cases of COVID globally, so you might as well keep warm and stay comfortable with the changing seasons while wearing one of these 11 toasty styles. And just because they're a bit thicker, doesn't mean they're any less breathable! There are options below that hit all your checkmarks so you can look cute, stay safe, be warm, and breathe without any issue.
For even more masks to peruse if you need to revamp your face covering collection, click the links to shop the best masks that give back to charity, cool Black-owned face masks, or just a bunch of plain ol' cute ones to buy, we got you.
Advertisement – Continue Reading Below
1
this ribbed one
Knit Mask – Blue
Lisa Says Gah
lisasaysgah.com
$2,020.00
A cotton one with ribbed material will feel like a sweater around your nose and mouth, and it's great for winter days when it's not totally freezing outside. 
2
this earmuff one
Earmuff Reusable Warm Winter Mask
GildedGalaxy
etsy.com
$17.99
Okay, this one is actually SO smart. Keep both your face and ears warm with this combo mask and earmuff style. 
3
this teddy one
Teddybear Faux-Fur Mask
CaliJShop
etsy.com
$11.19
A textured teddy option will match all your equally fuzzy winter jackets—and keep you just as comfortable in arctic temps. 
4
this faux-fur one
Face Mask
RkGlitter
etsy.com
$16.99
A faux-fur style in animal print is both trendy and functional when the weather starts to get miserable (i.e., snowy and icy) outside.  
5
this quilted one
Quilted Mask
AlexKBoutique
etsy.com
$12.99
Like your puffy jackets, but in mask form! This style has two layers and light padding, but is still breathable and comes in tons of cute colors. 
6
this jacquard one
Two Layered Jacquard Bubble Cotton Fabric Mask
annstylestore
etsy.com
$12.99
Double the layers of jacquard fabric means no chilly air is getting through these babies. They come in many shades so you can get one that matches your cute winter 'fit. 
7
this wire-free one
Pride (4-Pack)
Henry Mask
henrymask.com
$39.99
If you're not a fan of the wires around the bridge of your nose, this pack of four masks is designed in a way that covers your nose without them. They're also made with a three-ply fabric for extra protection against the elements. 
8
this denim one
Blue Jean Face Mask
CanDidArtAccessories
etsy.com
$18.00
A thicker denim material will definitely help combat the colder seasons better than your lightweight, summery masks. 
9
this sweater one
Button Back Sweater Knit Face Mask
Eshakti
eshakti.com
$9.95
This cute one resembles a sweater with the button closures on the back and knit material, and it'll be just as warm. 
10
these thick ones
5 Winter Adult Masks
Caraa
caraasport.com
$26.00
Caraa's pack of masks are so popular that the brand made them in a thicker style specifically for winter. You can choose from a bunch of color schemes for a pack of five, like this pretty blue one. 
11
this knit one
Knit Fall Winter Face Mask
Masks2helpNYC
etsy.com
$18.00
So many reviewers of this knit mask attest to its warmth, and the knit texture will complement your cozy jumpers. 
This content is created and maintained by a third party, and imported onto this page to help users provide their email addresses. You may be able to find more information about this and similar content at piano.io
Advertisement – Continue Reading Below