13 Best Cellulite Creams of 2020 for Smooth, Soft, and Firm Skin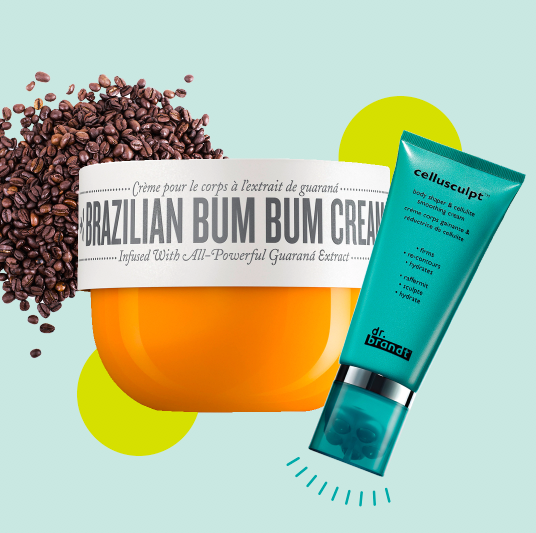 Khadija Horton
Consider this your daily reminder that cellulite. is. completely. normal. An estimated 90 percent of all women have cellulite, says Yunyoung Claire Chang, MD, a dermatologist in NYC, and it comes in a variety of shapes, sizes, and severities. And despite what your Instagram feed might be trying to tell you, having cellulite isn't always a reflection of your diet and lifestyle. "Cellulite—aka skin dimpling that forms when tiny fat pockets bulge out against your connective tissue—is due to hormones, genetics, and poor blood circulation," says Marnie Nussbaum, MD, dermatologist in NYC, meaning it's not necessarily something you can control.
Whether you love, accept, or meh your cellulite is 100 percent your decision, obvs, but folks who are looking to get rid of their cellulite should know that there's no magic cellulite cream that'll smooth out your skin overnight—at least permanently.
Is there a cellulite cream that really works?
Welp, that depends on what you're trying to achieve with a cellulite cream. "Many of the creams on the market temporarily decrease bloating of the tissue and smooth the outer layer of the skin, but nothing topically has been shown to permanently reduce the appearance of these fat pockets since they're caused by structural changes deep within the tissue," says Dr. Nussbaum.
There are, however, formulas that can help minimize the appearance of cellulite using ingredients that help temporarily smooth, tighten, and firm your skin. "Look for creams containing caffeine, which causes the blood vessels to constrict and the fat cells to temporarily shrink," says Dr. Nussbaum, adding that peptides and amino acids are also great ingredients for increasing elasticity and firming the skin. And since no one wants to read through those teeny-tiny ingredients lists, I did the hard work for you by rounding up the 13 best cellulite creams—all of which will help smooth and soften your skin fast, ahead.
Advertisement – Continue Reading Below
1
Best Cult-Favorite Cellulite Cream
Sol de Janeiro Brazilian Bum Bum Cream
There's a reason this body cream has thousands of five-star reviews on Sephora—the formula is spiked with hydrating coconut oil, moisture-locking cupuaçu butter, and caffeine-rich guarana to help stimulate circulation. The result? Smooth, tight, and crazy-hydrated skin. 
2
Best Body Oil for Cellulite
Weleda Cellulite Body Oil
Anti-inflammatory plant extracts (think: birch leaves, rosemary, and ruscus) are combined with hydrating jojoba, grapefruit, and cypress oils in this lightweight body oil for cellulite. Massage it onto your skin for a super-relaxing (and skin-softening) experience. 
3
Best Cellulite Cream for Legs and Thighs
Clarins Body Fit Anti-Cellulite Contouring Expert
The best thing about this cellulite cream is the smooth, velvety finish it leaves on your skin—smooth it over your legs and thighs post-shower and the formula's eight plant extracts (including cellulite-minimizing quince leaf) work to soothe and soften.
4
Best Cellulite Cream With Retinol
Paula's Choice Retinol Skin-Smoothing Body Treatment
Yup, retinol is probably one of the best ingredients you can treat cellulite with. Think about it: Thanks to its ability to increase cell turnover, the vitamin A derivative helps promote firmer skin and a smoother, more even texture. This formula from Paula's Choice is also stacked with antioxidants and emollients to keep your skin super soft.
5
Best Drugstore Cellulite Cream
Soap & Glory Sit Tight 4-D
The coolest thing about this drugstore cellulite cream is the applicator—pop open the lid and you'll find a little massage roller that helps you evenly distribute the formula (which, BTW, combines super-moisturizing ingredients like sweet almond oil, glycerin, and olive oil).
6
Best Cooling Cellulite Cream
Dr. Brandt Skincare Cellusculpt Body Shaper & Cellulite Smoothing Cream
Packed with a super-impressive blend of caffeine and green coffee (and a massage applicator), this cellulite-stimulating cream helps hydrate and smooth your skin all day long. Massage it along your thighs, hips, arms, butt, stomach, and waist and let the cooling formula do its thing. 
7
Best Skin-Tightening Cellulite Cream
StriVectin-TL Tightening Body Cream
This cellulite cream from StriVectin features a cocktail of peptides and caffeine which work to stimulate, tone, and soften the skin. Trust: Use this bb regularly and you'll notice your skin feels way tighter and firmer with time. 
8
Best Cellulite Cream on Amazon
Medix 5.5 Argan Oil Cream With 24kt Gold
Don't be fooled by the lower price point—this cellulite cream is a force to be reckoned with. Formulated with hydrators like argan oil and aloe vera, as well as coffee bean extract for a quick caffeine boost, a couple pumps of this cream will help smooth, firm, and moisturize your skin. 
9
Best Cellulite Cream With Coconut Oil
Honeydew Coconut Cellulite Cream With Caffeine
Caffeine gives this body cream its anti-aging and cellulite-firming abilities—and when coupled with a powerful hydrator like coconut oil, it turns into a pretty impressive moisturizer. Prepare for your skin to feel way softer with this one.
10
Best Cellulite Cream Kit
Ahava Body Firming Duo Kit Cellulite Control
Look, your skin needs two things when you're trying to minimize the appearance of cellulite—stimulation and hydration—which is why Ahava made this convenient little duo. It comes with a massage roller applicator to help distribute the gel-like formula and a firming body cream. Use 'em in tandem for the ultimate experience.
11
Best Expensive Cellulite Cream
Sisley Paris Cellulinov Intensive Anti-Cellulite Body Care
Yes, this cellulite cream is v expensive, and, yes, it's actually worth the splurge. Powered with plant-based active ingredients and essential oils, this luxe formula from Sisley Paris helps tackle the appearance of cellulite every time you use it, leaving your skin soft as all hell.
12
Bliss Fabgirl Firm Body Cream
Working as an all over body-firming treatment, this cellulite cream is designed to tone, tighten and contour the skin. BTW, it's supercharged with caffeine and botanicals that help improve the tone and texture of your skin. 
13
Best AM and PM Cellulite Cream
Dermadoctor Shrinking Beauty Body Beautiful Lotion
A firming treatment at heart, this formula features a blend of exotic botanicals (think: bayberry and artichoke extracts) that help smooth and tighten the skin. Load up on this one morning and night for the smoothest results possible.
This content is created and maintained by a third party, and imported onto this page to help users provide their email addresses. You may be able to find more information about this and similar content at piano.io
Advertisement – Continue Reading Below