13 Best Diffusers for Curly Hair That Don't Cause Frizz in 2020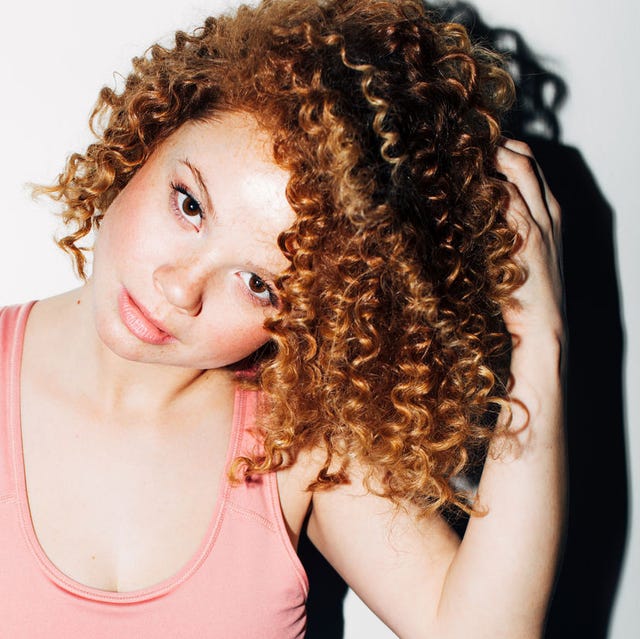 Stocksy
If you have curly hair, there's an incredibly high chance your curls have been kissed by a diffuser before. And if not, well, please enjoy this complimentary hug, because your poor hair has clearly been wronged in the past. As a refresher, hair diffusers are bowl-shaped attachments that disperse the flow of air from your blow dryer, helping to dry your curls more evenly and gently while preventing frizz, encouraging definition, and creating major volume. Magical, right?
But not all diffusers are created equal, and different hair types can get better results from different bowl shapes and prong lengths (ex: cropped, 4a hair has different needs than long, super-thick 2c hair). So to help you parse through the zillions of options on the market, I handpicked the 13 best diffusers for wavy, curly, and coily hair, below. Keep reading to find your hair's new BFF, along with how to diffuse your hair, below.
Advertisement – Continue Reading Below
3
Best All-Around Hair Diffuser
SindycurlsMagic Collapsible Hair Diffuser Attachment
This flexible, collapsible (!!) diffuser is made of silicone, meaning it will not only take up precisely zero room in your bag, but it can also stretch to fit around any blow-dryer nozzle that's between 1.6 to 2 inches. And, because the bowl is wide (key for longer curl types) and the prongs are short (good for shorter coily hair), this diffuser is basically the best all-around attachment to try, regardless of your hair type.
4
Best Hair Diffuser at Sephora
Bio Ionic Universal Diffuser
Though this diffuser is technically made to fit Bio Ionic hair dryers, its base is a standard size, making it compatible for most blow dryers (though, like, check your measurements first, plz). And that's a good thing, because its lightweight design, 12 air vents, and mix of short and long prongs makes this diffuser truly excellent for gathering, cupping, and diffusing virtually every curl type.
5
Best Sock Diffuser
Hot Sock Diffuser
Here's the deal with sock diffusers: They soften the stream of hot air coming out of your blow dryer, so the air doesn't blast your curls apart and leave them undefined and frizzy. They don't necessarily cup and tighten your curls like a traditional diffuser, but unlike a traditional diffuser, they're thin, squishy, and fit over virtually any blow dryer, making it possible to diffuse your curls regardless of the dryer you're using.
6
Best Customizable Hair Diffuser
Segbeauty Hair Diffuser for Curly Hair
This baby is mega and sturdy, which is exactly what you want when you're dealing with curly hair (flimsy diffusers that pop off in the middle of a drying session? I think TF not). It has an ultra-deep and wide bowl and medium-length prongs, making it perfect for any curl length. But the coolest (really) part? Its air flow is customizable. Just twist the attachment to the left or right for a stronger or weaker blast of air, which can help you control how your wet hair will dry and form.
7
Best Hair Diffuser Blow-Dryer
Bed Head Curls in Check Diffuser Hair Dryer
If you only own a blow dryer for the sole purpose of diffusing your hair, then why not take the bulky attachment out of the equation and instead just use a dryer with a built-in diffuser? This one from Bed Head has 2,000 happy reviews on Amazon and for good reason: It has three heat settings, 2 speed settings, and a cool-shot button (use it in the final 3-5 minutes of diffusing to seal in your curl definition).
8
Best Hair Diffuser for All Curly Hair
DevaCurl DevaFuser Attachment
Don't be thrown by this absolutely wacky-looking diffuser—it's basically a holy-grail tool in curly-hair communities. The slime-green "claw" streams air from all sides of its branches, helping dry your curls with significantly less frizz or heat damage. Rather than piling your hair in a classic diffuser cup, just slide this DevaCurl diffuser along your roots and hang out while it dries your curls.
9
Best Cheap Hair Diffuser
Conair Volumizing Diffuser
Ten dollars?! TEN. DOLLARS?! Yes, this diffuser attachment is really that cheap, and if you think that'd mean cheap in quality, too, you'd be wrong: It's one of the most popular diffusers for curly hair on Amazon, and it fits most hair dryers (and all Conair dryers). Just lift and plop sections of your damp curls into the bowl and diffuse away.
10
Best Hair Diffuser for Thick Curls
Xtava Black Orchid Large Hair Diffuser
See those super-long prongs? They're a godsend for anyone with thick, long hair or anyone with tight, low-porosity curls, since they can easily reach your scalp without smashing the rest of your hair flat against your head. This curly-hair diffuser will fit any blow dryer with a 1.8-inch diameter, so make sure to google your hair dryer model to check its diameter before buying.
11
Best Hair Diffuser for Long Curls
BestTrendy Professional Universal Hair Diffuser
This diffuser for curly hair is bomb: It is pretty cheap ($19 ain't bad for something with 165 positive reviews), has a deep bowl for gathering your long curls in one bunch, and fits on the majority of common blow dryers, thanks to its silicone padded opening, which locks around the nozzle of your dryer without scratching it.
12
Best Universal Hair Diffuser
Hairizone Universal Hair Diffuser
This universal hair diffuser fits on virtually all blow dryers (unless you've got some wonky dryer whose nozzle is smaller than 1.7 inches or wider than 2.6 inches, but, like, why?), so you won't need to buy a new blow dryer just for the attachment option. If you're into ~aesthetics~, it comes in six different pastel and vibrant colors and, most important, has a wide bowl to scoop up and dry even super-long curls.
13
Best Travel Hair Diffuser
KingKam Collapsible Silicone Hair Dryer Diffuser
The most annoying thing about a hair diffuser, IMO, is how much freaking room they take up in your drawers or luggage. They're just…bulky. Which is what makes this collapsible silicone diffuser so cool: It shrinks down to more than half its size and is pretty squishy and compact, so you really can fit it anywhere. Note: The prongs are pretty short, though, so this diffuser is best for fine and/or short curls.
14
Best Hair Diffuser for Dyson Enthusiasts
Dyson Supersonic Diffuser
If you don't already have a Dyson hair dryer, I suggest immediately adding it to all your holiday/birthday wish lists right now (I mean, it has almost 13,000 positive reviews, so, like, come on). And if you're already in possession of one, pick up the Supersonic Diffuser, which helps gently dry even super-thick curls with a steady stream of air to reduce frizz and drying time.
15
Best Hair Diffuser for Drybar Lovers
Drybar The Bouncer Diffuser
Although this diffuser is technically designed for Drybar's iconic Buttercup blow dryer, it can actually fit any blow dryer that has a nozzle diameter of 2 inches (a common nozzle size). Its staggered prongs also make it easy to catch and dry curls of any length without them slipping. Pro tip: Gather a clump of your damp curls with your hand and gently place the entire bundle on top of the bowl—rather than mashing the diffuser to your head—to help define your pattern.
This content is created and maintained by a third party, and imported onto this page to help users provide their email addresses. You may be able to find more information about this and similar content at piano.io
This commenting section is created and maintained by a third party, and imported onto this page. You may be able to find more information on their web site.
Advertisement – Continue Reading Below