15 Best Nail Polish Gift Sets of 2020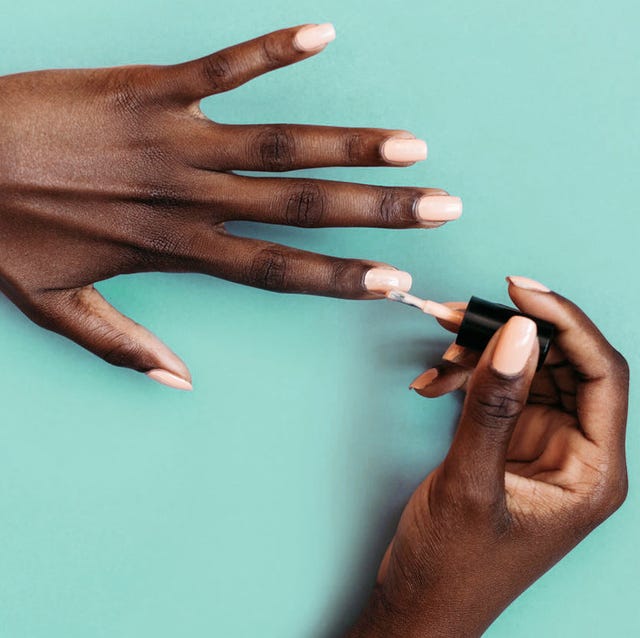 Stocksy
As much as I love surprising my friends with makeup and skincare products for the holidays, it can be, uh, wildly difficult to find a gift set that fits their exact needs (see: me frantically sifting through the fine print to figure out if that blush fits with their skin tone, or if that moisturizer will break them out). That's why I've recently become obsessed with a genius alternative: nail polish gift sets. Whether I'm looking for an easy, crowd-pleasing gift for one of my friends, or I'm in need of some new shades for my personal collection, I legit never regret my purchase.
And, lemme tell you: This year's nail polish holiday sets are seriously good. From bright glitter polishes to muted matte hues (and, yes, even some nail trimmers and cuticle oils), you can't really go wrong when you snag these nail polish gift sets, below. Check them out and start crossing off your list.
Advertisement – Continue Reading Below
1
This Mini Nail Polish Gift Set
OPI Shine Bright Nail Lacquer Mini 10 Pack
Whether you're gifting it or keeping it for yourself, you can't really go wrong with this pack of 10 mini OPI nail polishes. There's a super-nice variety of colors in this bb, including everything from a bright red to a moody burgundy, so be prepared to play around with color.
2
Best Nail Art Gift Set
Morgan Taylor Holiday Nail Art Kit
Got a friend who loves DIY nail art? Yeah, this nail polish gift set has their name written all over it. Inside, you'll find three festive polishes, a base coat, a quick-drying top coat, and the cutest little nail stickers, decals, and jewels. 
3
This Nail Polish and Highlighter Gift Set
Nails Inc. Cosmic Blur Set
It might seem like a weird pairing, but this nail polish and highlighter combo from Nails Inc. leaves you with the coolest, holiday-worthy glow. After you paint your nails, lightly tap the highlighter on your eyelids and cheekbones to finish off the look.
4
This Mani and Pedi Gift Set
Deborah Lippmann Nails Essentials Manicure & Pedicure Set
This holiday season, give your friend (or, fine, yourself) the gift of pretty, ultra-healthy nails with this set from Deborah Lippmann. Inside the cute blue pouch is everything you need to prep, shape, paint, and care for your nails.
5
This Customizable Nail Polish Gift Set
4 Piece Customizable Holiday Gift Set
The coolest thing about this nail polish gift set from Triple O Nail Polish is that it's 100 percent customizable. For a super reasonable $39, you get to individually select four of the brand's signature colors (and FWIW, I've personally got my eyes on the shade Oshosi, a glitzy gold hue).
6
This Festive Nail Polish Gift Set
Ulta It's a Holo-Holiday Mini Nail Kit
Even though your holiday festivities will probably look a bit different this year, there's no reason why you shouldn't deck out your nails with this cute polish gift set. Hot tip: You can even paint your nails alternating colors to ~spice~ things up.
7
This Luxe Nail Polish Gift Set
Holiday Essentials Nail Set
It's on the pricer side, but this luxe nail polish gift set comes with a top coat, a cuticle oil, and four super-rich polishes. Trust: You'll love how pigmented the colors are (especially the shade Rub My Temples, which is a shimmery cranberry), and you'll def be wearing them into the new year.
8
This 7-Free Nail Polish Gift Set
Olive & June The Winter Set
Not only is this nail polish gift set super IG-worthy (I mean, look at the packaging), but it's also filled with long-lasting, seven-free polishes (meaning they're all formulated without potentially iffy ingredients like formaldehyde). Psst: This is another cute set for a multi-colored manicure.
9
This Vegan Nail Polish Gift Set
Floral 1761 Deluxe Lacquer Gift Set
The only thing prettier than these muted jewel-tone polishes is the ridiculously cool packaging they come in. Including five super-wearable shades (all of which are vegan and cruelty-free), you'll absolutely love this nail polish gift set (so, like, go ahead and gift it to yourself already).
10
This Nail Polish Gift Set With Lipstick
Zoya Lips & Tips Quad Nail Polish
Satisfy your love of lipstick and nail polish with this genius gift set from Zoya. Every set comes with three classic nail polishes (can we just with that sparkly red?) and a matching red lipstick. Prepare to get hella compliments on your coordinated look.
11
This Nail Polish Gift Set With Pretty Packaging
Christian Louboutin Loubitag Nail Collection 2-Piece Set
saksfifthavenue.com
$60.00
If you think the packaging of this nail polish gift set is cute, just wait until you see the super-vibrant hot-pink and mint-green shades inside. Not only do the bottles totally work as decor for any vanity, but the polishes themselves also dry down to a beautifully opaque, long-lasting finish.
12
This Nail Polish Gift Set for the Holidays
Smith & Cult Holiday Nailed Lacquer Trio
saksfifthavenue.com
$50.00
If you've been looking forward to Thanksgiving and the winter holidays since, uh, the moment they ended last year, check out this trio of cult-favorite foil and glitter polishes that you'll want to wear all year long.
13
This Glitter Nail Polish Gift Set
Jinsoon Tout Ensemble Nail Lacquer Gift Set
When you want your mani to stand the hell out, you go for one of the glitter formulas in this nail polish gift set (which includes inky blacks and bright, shimmering golds). Layer the chunky glitter polishes over bare nails or on top of the matte cream and black polishes to customize your ultra-sparkly look.
14
This Sheer Nail Polish Gift Set
OPI Always Bare for You Collection
Call me basic if you want, but I'm obsessed with barely-there pink nail polish. That's why I'm super into this nail polish gift set from OPI. It comes with four sheer polishes you'll want to wear on the regular, including my all-time favorite shade: Baby, a creamy light pink.
15
This Nail Tool Gift Set
Sephora Collection Tough as Nails Deluxe Manicure Kit
Yeah, nail polishes are fun and all, but sometimes what you really need is a huge dose of TLC for your raggedly nail beds. Enter: this nail-care gift kit, which comes with scissors, nail clippers, cuticle trimmers, and more.
This content is created and maintained by a third party, and imported onto this page to help users provide their email addresses. You may be able to find more information about this and similar content at piano.io
Advertisement – Continue Reading Below