15 Best Silk Pillowcases of 2020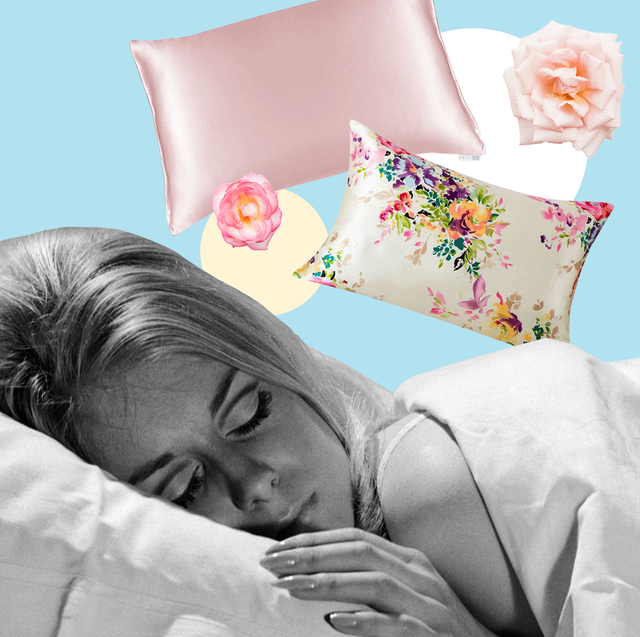 Katie Buckleitner
Fact: If you, IDK, remotely care about your skin and hair, you need to be sleeping on a silk pillowcase. Whether you're trying to preserve your blowout, maintain your twist-out, or just prevent some premature fine lines, it's time to swap out your cotton case for a silky-smooth alternative. "Your skin can't slide against cotton like it can with silk, so cotton pillowcases can actually create crepe-ing on your face due to constant traction and friction," says licensed aesthetician Brit Lanier.
"Plus, sleeping on silk helps retain moisture in both your hair and skin," she adds, which means smoother, less-tangled, and more hydrated hair for you. So to make sure that nothing comes between you and your beauty sleep, try one of these 15 top-rated pillowcases, below.
Advertisement – Continue Reading Below
1
This Celeb-Favorite Silk Pillowcase
Slip Queen Pure Silk Pillowcase
This best-selling pillowcase is a favorite among celebs like Kourtney Kardashian and Kerry Washington—and I gotta say, their skin looks good. Although sleeping on your back is the best position to help stave off wrinkles (if that's what you're looking to do), side and stomach sleepers can "cover their pillow with a silk pillowcase to minimize friction," says NYC-based dermatologist Dennis Gross, MD.
2
This Giftable Silk Pillowcase
Moonlit Skincare Cloud 9 Silk Pillowcase
This 100 percent mulberry silk pillowcase is a perfect starter piece if you don't want to drop a ton of $$$ or sacrifice quality. Bonus: The packaging is, like, ridiculously cute (*cough* it's the perfect gift *cough*).
3
This Luxe Silk Pillowcase
Night Clean Silk Pillowcase King
bloomingdales.com
$119.99
If I had an extra $120 lying around, there's no doubt I'd spend it on this crazy-luxe silk pillowcase. It's made with 100 percent all-natural untreated silk fibers, so it feels soft as hell and is eco-friendly, too. 
4
This Cute Silk Pillowcase
Go-To Skincare Face Case Silk Pillowcase
gotoskincare.com
Not only is this silk pillowcase from skincare brand Go-To super reasonably priced, but it's also v cute. The cheeky little monogram in the corner ("Hi, cute face") is more than enough to seal the deal IMHO.
5
This Silk Pillowcase Gift Set
Slip Ultimate Beauty Sleep Set
What's better than a Slip silk pillowcase? A Slip silk pillowcase that also comes with a set of scrunchies and an eye mask. Prepare to sleep in pure opulence. You're welcome.
6
This Silk Pillowcase for Memory Foam Pillows
Cozysilk Silk Pillowcase for Memory Foam Pillow
Finding a silk pillowcase that doesn't look supes awkward on a memory-foam pillow is tough. That's where this genius pick from Cozysilk comes into play—it's shaped perfectly for a curved pillow (no awkward bagging or tugging).
7
This Fancy Silk Pillowcase
Branché Charmeuse Pillow Case
Created by Donna Hinds Gaynor (a 20+ year veteran in the design and textile industry), Branché's ultra-luxe silk pillowcases are typically found in top spas and hotels across the globe. Thankfully, you can also get fancy without leaving your bedroom with this Charmeuse case. 
8
This Printed Silk Pillowcase
Slpbaby Silk Pillowcase
This super-soft pillowcase relies on silk's natural fibers to help protect your skin (and hair) from unwanted tugging throughout the night. Plus, how cute is this fun floral print?! 
9
This Affordable Silk Pillowcase
Myk Silk Natural Mulberry Silk Pillowcase
This pillowcase is made of 19 momme silk (note: Momme is the silk's weight, and just like thread counts, higher is better. Nineteen is right in the middle), making it an inexpensive yet luxe alternative if you're not sure you want to make the investment just yet. "This case is 100 percent mulberry silk, so I wake up with frizz-free and bedhead-free curls, even when I go to bed with my hair wet," says hairstylist Paige Teixeira of Minx Salon & Spa in Loomis, California.
10
This Black Silk Pillowcase
Night Trisilk Pillowcase
This mulberry-silk case has a little hidden zipper enclosure that lets you zip it around your pillow for extra protection against allergens. And the good thing about sleeping on an all-black case? You can use your thickest face creams and shiniest oils, and never worry about leaving a stain.
11
This Silk Pillowcase for Curls
Hairfinity Mulberry Silk Pillowcase
You may have heard of Hairfinity before (they make a very popular hair vitamin), but did you know they also make a best-selling, mulberry-silk pillowcase? If you have naturally curly or chemically treated hair, try this case immediately. It'll eliminate damage-causing friction and dryness that comes with tossing and turning while you sleep.
12
This Monogram-able Silk Pillowcase
LilySilk 100 Pure Mulberry Silk Pillowcase
Wake up with tangle-free hair thanks to this 100 percent mulberry-silk pillowcase (19 momme, of course). I'm also pretty obsessed with the fact that you can monogram this case if you want to, which is pretty #Boss in my book.
13
This Silk Pillowcase with Zip-Closures
Shhh Silk Marble Silk Pillowcases
One of my biggest qualms about silk pillowcases is that they constantly slip off and ride up my pillow. Thankfully, these cases include a hidden zip-closure to keep them exactly where they belong—actually on your pillow, not tangled up in the sheets.
14
This Machine-Washable Silk Pillowcase
Brooklinen Mulberry Silk Pillowcase
Don't let the fanciness fool you—these 22 momme silk pillowcases (22!) are actually machine washable. Just use pH-neutral detergent and/or fabric softener, like Laundress Signature Detergent, to extend their lifespan during your weekly wash. Which, I hope you are already doing…right?!
15
This Charitable Silk Pillowcase
Hai Beauty Concepts Silk Pillowcase
haibeautyconcepts.com
$15.00
Want to sleep well and give to charity? I mean, duh. A portion of each sale of these pure-silk pillowcases will be donated to the Sangita Charitable Trust's Women's Empowerment Programme in Southern India. So you can be a little vain (getting softer, smoother hair while you sleep) and a little charitable, all at the same time.
Advertisement – Continue Reading Below