15 Best Sleep Bras — What Is a Sleep Bra?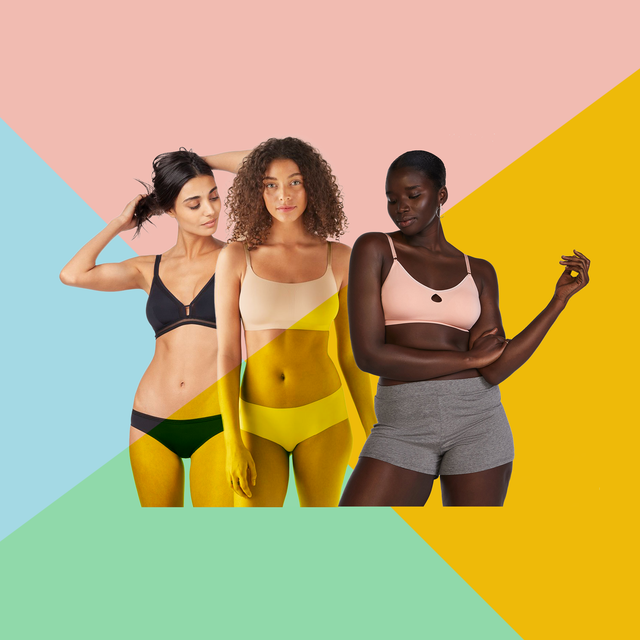 courtesy / john francis
Yes, sleep bras are a thing! And they're just what they sound like—bras for sleeping, lounging, hanging around the house, or for throwing on real quick when the pizza delivery person knocks on your door. They're the bras you won't mind wearing non-stop and will prob make you forget you have anything on at all. Aka, the best kind!
Some women have trouble sleeping comfortably without support, others just want their bras to meet this comfy, second-skin standard. All the styles you'll find below are so soft and there are no wires to be found, yet they'll keep everything in place when you're tossing and turning—they might even look good with your WFH 'fit.
If you're in need of some help in the cozy bra department, here are 15 super lightweight sleep bras you'll want to wear 24-sev.
Advertisement – Continue Reading Below
1
if you like keyhole cutouts
Seamless Lounge Bra
Thirdlove
thirdlove.com
$24.00
This top-rated bra has no seams and comes with removable pads, depending on your preference. It also has ribbed side panels for added comfort and support.
2
if you like a deep plunge
Pima Goddess Bralette
Eberjey
bloomingdales.com
$42.00
A low-cut bra is perfect for when you're wearing an oversized, deep-V-neck top and need a little something for underneath. Plus, the soft pima-cotton fabric won't irritate your skin.
3
if you want some coverage
Wireless Bralette
A baby-soft bra that feels like a second skin and has thicker strap to keep the girls in place all day and night? Sign me up. 
4
if you want something super soft
Silky Non-Wire Bra 2.0
Negative Underwear
negativeunderwear.com
$45.00
Yep, a silky-smooth style like this one will make you forget you're even wearing a bra—but you'll be thankful for the extra support the band provides.
5
if you like convertible bras
True Body Scoop Neck Adjustable Strap Bra
True&Co
trueandco.com
$44.00
Convertible straps and removable pads means you can really personalize this bra and make it your own. 
6
if you like unlined styles
Temperature-Control Bra
A temperature-control feature on this still regulates your body heat, so you won't be too hot or too cold while wearing it. It's also closure-free, so no metal hooks will be digging into your back.
7
if you like ribbed materials
Stretch Rib Scoop Bralette
The stretchy fabric and supportive ribbed texture make this one ideal for when you wanna feel free.
8
if you like logos
Stretch-jersey soft-cup bra
Calvin Klein Underwear
net-a-porter.com
$35.00
The trendy Calvin Klein logo will never go out of style. If you really want to take things to the next level grab the matching undies too.
9
if you like pastels
The Bralette
Everlane
everlane.com
$24.00
This style is effortless and has an adjustable band and straps so the fit is tailored to you. The Supima cotton material won't chafe or rub against your skin either.
10
if you like lace
Bliss Perfection Day Bra
Don't be fooled by the lace. This bra is v comfy. Who knew something that's this pretty could be so cozy?
11
if you like longline
Aerie Chill Ribbed Longline Bralette
A ribbed longline bralette is perfect for hangin' on your next girls' night in (whenever that will be) or if you're just catching some zzz's.
12
if you like a classic triangle bra
Classic Bralette
Richer Poorer
richer-poorer.com
$32.00
Meet a bralette that has a nearly perfect five-star review. Why? It comes in tons of cute colors, it has a comfy, wide-elastic band, and the fabric is buttery soft.
13
if you like tag-free styles
Ultimate Comfy Support Bra 2-Pack
Zero itchy tags that rub against you? More bras need this, TBH. It also has racerback straps for an extra dose of support. 
14
if you like mesh
The Mesh Trim Bralette
Lively
wearlively.com
$35.00
Don't wanna wake up sweating? The see-through panels make this bra more breathable, and that keyhole design is extra cay-ute!
15
if you want a reversible one
Breast of Both Worlds™ Reversible Comfort Bra
This barely-there bra is reversible. Who doesn't love a two-in-one buy?!
Advertisement – Continue Reading Below