15 Inexpensive Items from Designer Brands 2020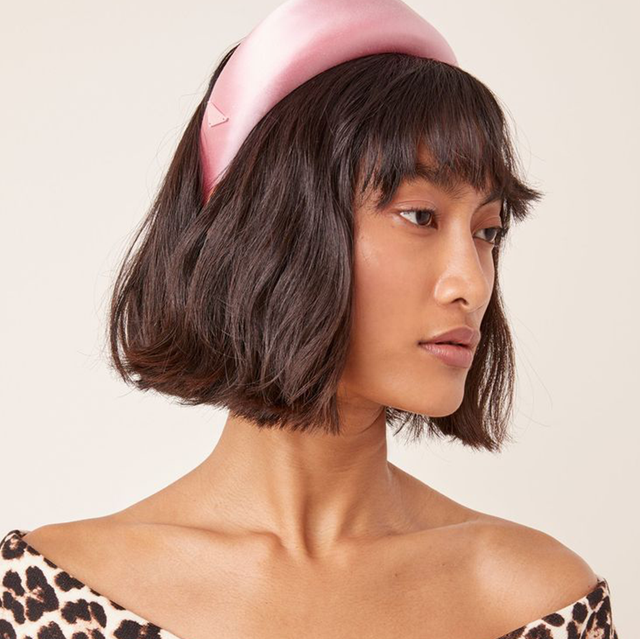 courtesy
Designer, luxury items make great gift ideas (whether it's for yourself or for others), but boy are they expensive. Yes, you can spend a ton of time saving up the funds for a bigger splurge like a handbag or coat, but if you're impatient and want something fancy quicker than that, consider these options. If you know where to look (and know what sales are happening…), there are chic designer finds that you can find for significantly less than other items. Most of these are smaller accessories like hairbands, phone cases, jewelry, socks, and wallets, but they'll be special pieces in your wardrobe that you'll love to wear. Plus, if it's your first time buying something designer, it's a sentimental, meaningful thing you'll have in your closet for ages.
Here, 15 slightly cheaper items from covetable designer brands like Dior and Stella McCartney that'll help you build up your luxury collection down the road. Also, as a tip, sites like YOOX, The Outnet, What Goes Around Comes Around, and even Amazon are great places to start your search for designer deals. Now go forth and get in on all the fancy goods for less.
Advertisement – Continue Reading Below
1
this gingham top
Trail Top
Staud
staud.clothing
$165.00
Staud is a contemporary designer brand that's more recent, and its pieces are relatively affordable, like this knit checkered top. Its It-bags are also not as pricey as other luxury ones, and you can always pay in installments on Staud's website. 
2
this phone case
11 Pro iPhone Case
Off-White
shopbop.com
$56.55
An Off-White phone case is wayyy less than any other of the brand's designs, but your phone deserves to dress up in luxe things too! 
3
this sleek lanyard
Lanyard-Strap Cardholder
Stella McCartney
farfetch.com
$125.00
Stella McCartney's pieces are timeless and while they can be pricey, certain items are less so, like this handy phone lanyard. Her lingerie and sporty Adidas pieces are also two other categories where her designs are more affordable. 
4
this headband
Silk-Satin Headband
Prada
modaoperandi.com
$235.00
Everyone knows Prada! A head-to-toe 'fit from the brand is unattainable for most people (*cough cough* me), but you can at least get the head part down with this padded headband.   
5
these socks
Socks with Gucci and flower
Gucci
farfetch.com
$155.00
Okay, yes, paying over $20 for socks let alone $155 is a lot to ask. But for those who really want a special designer piece in their closet but don't want to completely ball out, these Gucci socks are where it's at. 
6
this choker necklace
Pink & Gold Elastic Choker
Christian Dior
whatgoesaroundnyc.com
$280.00
A Christian Dior necklace like this bow-adorned one will get you so many compliments—and it'll look good with a cute holiday dress, just sayin'. 
7
these hoops
Silver-Tone Crystal Hoop Earrings
OSCAR DE LA RENTA
theoutnet.com
$174.00
Silver statement hoops from ODLR at this price? Pretty good if you ask me. FYI: The key to snagging designer items that are more affordable is often the website you shop at, and The Outnet has tons of great deals on amazing pieces. 
8
this bucket hat
Black & Multicolor Silk Bucket Hat
Hermès
whatgoesaroundnyc.com
$150.00
Hermès is known for its silk scarves, but how about this silk bucket hat? The butterfly print on this piece is stunning and it'll be your go-to headwear in almost any season. 
Aliette
shopbop.com
$125.00
Aliette is a newer designer brand, but trust that you're going to start seeing it everywhere. If you don't have $$$ to blow on a fancy dress  or its silk shirts, a cool tropical T-shirt will remind you of warmer days. 
10
these sunnies
Rockstud 55mm Gradient Cat Eye Sunglasses
VALENTINO
nordstrom.com
$167.40
These Valentino sunglasses are 40 percent off, so sales are essential to snagging those designer goods. Check out Nordstrom's for even more jaw-dropping discounts. 
11
this statement ring
Gold-Tone Freshwater Pearl Ring
CHLOÉ
theoutnet.com
$172.00
A cocktail ring with a dangling pearl pendant will be your fave jewelry piece. 
12
this scarf
Montage Print Reversible Silk Skinny Scarf
Burberry
nordstrom.com
$190.00
If your 'fit is missing a certain je ne sais quoi try adding a silk scarf to it so you can dramatically toss it around your neck. This Burberry style is one you'll wear for ages thanks to its classic floral design. 
13
this beaded necklace
Gold-Tone Bone Necklace
Isabel Marant
net-a-porter.com
$129.00
Isabel Marant definitely has a bohemian aesthetic to her clothing and accessories, and if you've coveted her pieces for a while, her jewelry is generally on the affordable side. (I definitely scored some of the designer's earrings for, like, $60 from a Net-A-Porter sale so it's possible to get reasonably-priced items!) 
14
this top
Reversible One-Shoulder Printed Stretch-Mesh Top
DIANE VON FURSTENBERG
theoutnet.com
$74.00
DVF is known for her functional pieces and bold patterns, and this one-shoulder reversible top is no exception. At this price point, I'm tempted to snag this style for myself! 
15
this hat
Logo Embossed Hat – Oxblood
Telfar
telfar.net
$110.00
This content is created and maintained by a third party, and imported onto this page to help users provide their email addresses. You may be able to find more information about this and similar content at piano.io
Advertisement – Continue Reading Below