16 Best Comfy Lounge Jumpsuits to Wear at Home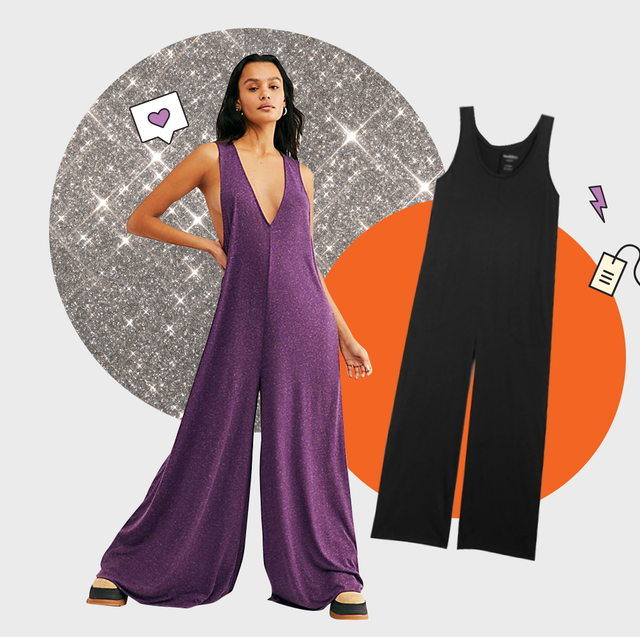 courtesy
Walking around the house in pajamas all day is THE LIFE. But, if you've got conference calls on the calendar or judgey roommates, you've gotta eventually put on some clothes. Sorry, not sorry. I don't make the rules. Don't worry, though, because you *could* just throw on a COMFY jumpsuit and call it day. Really.
Whether it's loose and flowy or stretchy and soft, a jumpsuit is as close as you'll get to feeling like you're naked while wearing clothes. The best part: Most of them are great for chillin' around the house (hi, Zoom happy hour) and for going places (whenever we can do that again). "Hallelujah" — Lazy girls across the nation.
So, to make our social distancing days a liiiiittle chicer, we've gathered 16 undeniably cute, comfy jumpsuits that'll make you break up with those jammies.
Advertisement – Continue Reading Below
1
If you wanna show off your shoulders
Estelle Jumpsuit in Twisted Tie Dye Tan
Show Me Your Mumu
revolve.com
$158.00
Please gimme tie-dye everything right now, including this flouncy jumpsuit.
2
If you're in love with your sheets
Adelphi Jumpsuit
Brooklinen
brooklinen.com
$68.00
3
If you love bell bottoms
Fulton Jumpsuit
FP Beach
freepeople.com
$78.00
You'll look like a retro queen in this flare-leg option that also has the ultimate plunging neckline and shows a hint of side boob.
4
If you like showing off your waist
Scoop Neck Jumpsuit
Missguided Plus
us.asos.com
$40.00
Grab a one-piece that has a drawstring at the waist to highlight your silhouette.
5
If you love a sporty look
Grey Sports Stripe High Neck Jumpsuit
PrettyLittleThing
prettylittlething.us
$42.00
This one, with white stripes on the side and a turtleneck, will make anyone look like a track star.
6
If you're into animal prints
Leopard Jumpsuit
Anthropologie
anthropologie.com
$98.00
Subtle details, like a cropped hemline and a button-front design, make this leopard style a winner.
7
If you like joggers
Coverall
Adidas by Stella McCartney
carbon38.com
$200.00
The swooshy sound you'll hear while walking in this jumpsuit is just one of the many cool parts. It also has ruched sleeves, statement cuffs, and fun zippers all over.
8
If you want to try color
Zelda Tie-Dye Cotton Jumpsuit by Sea
Sea
modaoperandi.com
$285.00
Here's an easy way to add just a tiny bit of color to your look with a splash of purple.
9
If you like big pockets, and you cannot lie
The Luxe Cotton Jumpsuit – Faded Sage
everlane
everlane.com
$68.00
No matter how small your apartment may be, it can be tough to keep up with your cell phone and that remote. Thankfully, this lounge-worthy jumpsuit has huge pockets. 
10
If you like bandanas
Clementine Wide-Leg Jumpsuit
Bishop + Young
anthropologie.com
$138.00
This flowy option looks like a big gorgeous bandana, and it'll give the illusion that you're wearing a dress when you walk.
11
If you want to workout
Ilona Bodysuit
ERNEST LEOTY
carbon38.com
$210.00
Well, maybe you'll have time to squeeze in a quick yoga routine or maybe you won't. Either way, you'll look cute while wearing this beauty all day.
12
If you're into jumpers
The Overall
Naked Cashmere
nakedcashmere.com
$225.00
Nope, overalls aren't just for the kids, especially when they're as soft as this cashmere one.
13
If you like a flutter sleeve
Short Sleeve V-Neck Knit Jumpsuit
Ava & Viv
target.com
$7.99
You'll walk around the house like a queen in this mauve situation that has flouncy sleeves and a belt.
14
If you're into the utility look
Take The Moment Jumpsuit
Lululemon x Robert Geller
lululemon.com
$169.00
The relaxed fit of this baby is so on trend. Zoom in on the snap buttons that make it even cooler.
15
If you can't part with your hoodie
Sweatsuit
Eloquii
eloquii.com
$159.95
If your favorite pair of sweatpants and hoodie had a baby, it would be this zip-front jumpsuit.
16
If you want your jumpsuit to hug you
Next-to-Naked Bodysuit
Universal Standard
universalstandard.com
$85.00
The stretchy fabric on this cozy find is exactly what you need for those days when you want to show off your bod.
Advertisement – Continue Reading Below