16 of the Best Face Masks for Charity to Shop in 2020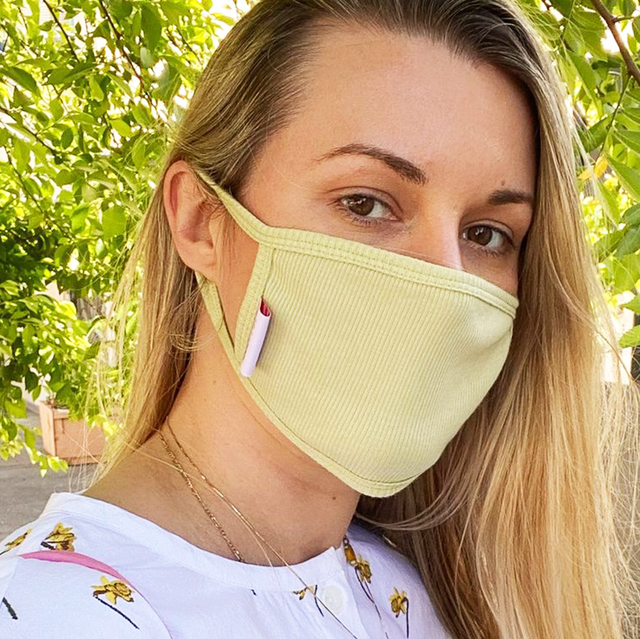 courtesy
Like it or not, face masks are part of all our daily routines now and a necessity to protect ourselves and others from the ongoing coronavirus pandemic. Cases are back on the rise and while we should be staying home as much as possible, if you DO need to go outside for a grocery run or a socially-distanced walk to get some fresh air, you best be wearing a mask. There are a ton of options out there like lightweight, breathable masks, colorful, printed ones from Black-owned businesses, and cute ones that even come with matching scrunchies, so there's no excuse not to wear one. If you're looking to make the most out of your mask purchase though, shop from the selection below that donates some or all of the proceeds to charitable, worthy causes like giving back to food banks, providing PPE to frontline workers, or fighting racial injustice.
You can help prevent the spread of COVID by wearing these styles, look cute and fashionable while doing so, and also uplift and support local communities or non-profit organizations with your dollars. That sounds like an all-around win to me! Here, 16 of the best face masks for charity that you can shop now.
Advertisement – Continue Reading Below
1
this kiss one
Cosmo + Echo Face Mask
Echo
echonewyork.com
$15.00
Cosmo (hi, yes, it's us!) partnered with Echo on these cheeky lipstick masks, and a portion of each purchase goes toward Until We Do It, an organization that's delivering protective supplies for COVID to the most at-risk communities.
2
this tie-dye set
The 100% Human Tie-Dye Face Mask 5-Pack
everlane
everlane.com
$25.00
You'll be set with these five tie-dye masks all in different shades so they'll go with any outfit. And for every 100% Human product sold from Everlane, 10 percent goes to the ACLU. To date, the brand has donated over $650,000 to the organization. 
3
these bedding ones
Face Masks – Buy a Set, Give a Set
Parachute Home
parachutehome.com
$30.00
You know the brand from its top-rated bedding, but it also makes super comfy cotton masks from the same fabric! The company donates a set to those in need through GetUsPPE and Safe Place for Youth for every one sold. 
4
these printed ones
Facemask – Ear Loops
This fashion brand has a fun mix of face masks in striking patterns, like this linear one. A portion of the proceeds from each one is donated to Feed the Frontlines in Detroit (where DIOP is based), to support local restaurants and provide much-needed meals to emergency and healthcare workers. 
5
these monochome ones
5 Universal Adult Masks
Caraa Sport
caraasport.com
$25.00
Each purchase of these 5-pack mask sets from Caraa is matched and goes toward COVID relief efforts. They come in so many shades and seasonal colors, but I'm def partial to this mauve and pink one. 
6
this colorful one
Haas Brothers Pride Mask – Purple
Citizens of Humanity
citizensofhumanity.com
$16.00
The denim label partnered with artists the Haas Brothers to create these limited-edition masks. 100 percent of the proceeds from each goes to the Los Angeles LGBT Center, an organization that offers essential services, programs, and advocacy for the LGBT community.  
7
this bandana one
Upcycled Bandana Mask
Re/Done
shopredone.com
$30.00
Cute and good for the environment! This upcycled bandana one is perfect for fall, and the brand donates five masks to frontline workers nationwide for each one purchased. 
8
this ribbed one
Knit Mask – Sage
Lisa Says Gah
lisasaysgah.com
$18.00
Lisa Says Gah! has these soft ribbed reusable masks in tons of solid colors, and the brand donates $1 to the San Francisco Marin Food Bank for each one sold. That amount provides two meals for vulnerable individuals in the area.   
9
this floral one
Protective Face Mask Chiara Navy
This style is a little more pricey than others, but 20 percent of the amount is donated to I am a voter. It also comes in solid colors and other patterns, and the long ties make a pretty fashion statement. 
10
these blue ones
Cloth Face Mask
Shop Draped
shopdraped.com
$14.00
Each purchase of a set is matched to donate masks to the non-profit organization Black Initiatives. There are also a variety of other colors and prints that this two-pack comes in, so you can stock up.  
11
this check one
Face Mask in Mixed Lime Check
Kkco
kkcostudio.com
$35.00
This asymmetrical check-printed mask looks way stylish, but a purchase of any mask from Kkco helps the brand create protective face coverings for protestors. 
12
these bold ones
TEST Mask Set
For every pack of masks sold, Baggu donates surgical masks to healthcare workers through Masks4Medicine. These colorful styles fit snugly around your head with adjustable ties. 
13
this ombre one
Watercolor Rainbow Face Mask
Society6
society6.com
$11.89
Society6 partnered with World Central Kitchen so that a portion of all proceeds will be donated to help the COVID-19 recovery effort. This multi-colored style is so pretty, and you can shop from the rest of its selection here. 
14
this black-and-white one
Cotton Face Mask with Filter Pocket
Abacaxi
abacaxi-nyc.com
$35.00
Abacaxi is one of the coolest rising fashion brands, and the masks are just as stylish as the clothes. You receive a complimentary mask with any clothing purchase, or you can buy a mask on its own and 10 percent of the proceeds from orders in September and October will be donated to The Rainforest Alliance.
15
this bee one
Reusable, Washable, Two Layer Face Mask
OldSoulArtworks88
etsy.com
$15.00
This reversible face mask is solid grey on one side and navy with a bee print on the other. The creators donate $5 from each sale to The Bee Conservancy. 
16
this striped one
NL Face Mask
Nili Lotan
nililotan.com
$30.00
All (yes, ALL!) proceeds from this mask go to NYU Langone. So you can look cute and help protect essential workers at the same dang time. 
This content is created and maintained by a third party, and imported onto this page to help users provide their email addresses. You may be able to find more information about this and similar content at piano.io
Advertisement – Continue Reading Below