17 Cute Flannel Outfits to Shop in 2020 — How to Wear Flannel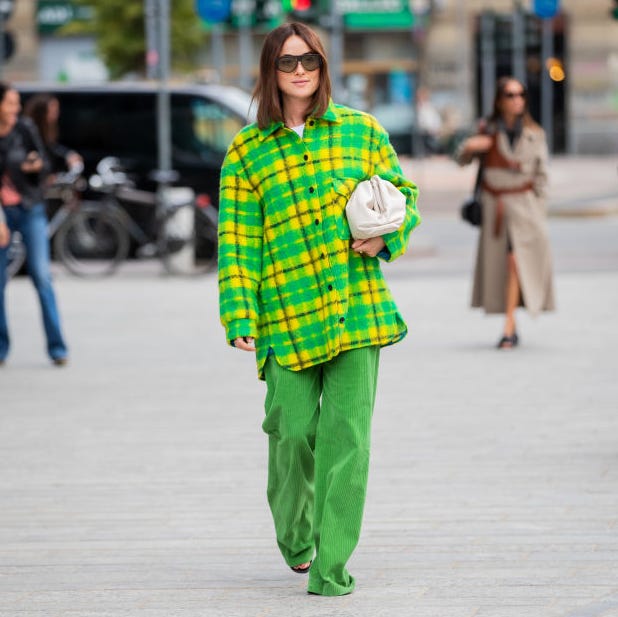 Christian VierigGetty Images
To be specific, flannel is a type of soft woven fabric, but it's kind of become a catch-all term for plaid button-up and button-down shirts in general, even ones made of cotton, wool, or other materials. More than shirts though, there are flannel jackets, skirts, and, yes, pajamas and robes. Every year when it gets cooler outside, it becomes popular again just because something about it is so cozy, comfy, and just so… fall? There are also tons of color combinations you can wear with the plaid patterns, so it's basically one of the most versatile pieces in your autumn wardrobe, if you don't already own at least, like, five flannel shirts already.
Keep scrolling for 17 cute flannel outfit ideas, so you can see how to wear it yourself whenever the season of PSLs and falling leaves rolls around. Speaking of the imminent transitioning seasons, feel free to click here for other shopping ideas including the best jean jackets, cute fall outfits, the best fall boots, and all the fall 2020 trends for fashion, bags, shoes, and jewelry.
Advertisement – Continue Reading Below
1
this cozy dress with clogs
Bianca Grey Midnight Sky
Rails
railsclothing.com
$178.00
A roomy button-up flannel dress with gray socks, clogs, and a beanie just screams fall. You can also opt to roll the sleeves up on the dress if you're feeling a lil too toasty. 
2
this mixed pattern sitch
Plaid Pattern Jacket
Getsomegreens
depop.com
$35.00
A mismatched flannel jacket goes perfectly with red check drawstring pants. Don't ask me how! If you're all about playing with patterns, this is definitely the outfit inspo for you. 
3
this shirt and short combo
Getting Rad Plaid
Volcom
coedition.com
$52.50
Sometimes the day just calls for a flannel and simple denim shorts, especially if there are transitional temperatures involved. Throw on some combat boots with this and you're all set. 
4
this effortless look
Oversized Shirt Dress in Brushed Check
Missguided Plus
us.asos.com
$25.20
A blue-and-gray dress looks so good with neutral accessories; plus, you can always undo some buttons and show off a cute bralette underneath. 
5
this glossy number
Coated Flannel Dress
GANNI
shopbop.com
$126.00
Ever heard of coated flannel? Yeah, me either. But if you want something different go with this shiny, balloon-sleeve mini in a fall-worthy plaid. Equally shiny lace-up shoes add the finishing touch. 
6
this button-up and black jean duo
Flannel Shirt-Jacket in Tartan Plaid
Madewell
madewell.com
$39.99
A red-and-white flannel loosely tucked into boyfriend jeans with ballet flats is the only outfit I wanna wear come fall. 
7
this fun suspender skirt
Burgundy Purple Plaid Challis Button Front Suspender Skirt
Put a unique spin on a flannel ensemble and go for a suspender skirt instead! The style is made for layering with T-shirts, long sleeves, sweaters, you name it. Dress it up with heeled boots or down with lace-up flats. 
8
this elevated mock neck with jeans
The Lightweight Flannel Mockneck Shirt
Everlane
everlane.com
$58.00
No buttons here! A flannel in this silhouette looks super chic and profesh, even more so when paired with kitten heels and a sleek top handle bag. 
9
this outdoorsy vibe
Knit Belmar Shirt
Faherty
fahertybrand.com
$128.00
The red-and-black buffalo check pattern is always a fall staple. Layer it with a turtleneck and add jeans and a beanie, and you'll look ready to jump into a pile of crunchy leaves. 
10
this drop-hem dress with booties
Shirt Dress in Check Print
Only Curve
us.asos.com
$60.00
If a plain ol' shirt dress is, well, too plain for you, consider one with a drop hem that adds a tiny extra ruffle. Throw on a black felt hat and patent leather boots with a red and burgundy one for the ultimate autumn vibes. 
11
this vintage aesthetic
Vintage '60s Plaid Shirt
FYREVINTAGE
etsy.com
$57.00
A cool styling trick is to leave the bottom buttons open and close the rest (even the tiny ones on the collar!). You can pile on statement necklaces for some shine, and baggy jeans give it a retro feel. 
12
this thick jacket and turtleneck
Oversized Checked Felt Jacket
MUNTHE
net-a-porter.com
$167.50
A flannel also works great as a jacket, especially when the material is thicker and the length is longer. Wear it with a sweater underneath and add some leather touches (pants, boots, bag, etc.) to make it more elevated. 
13
this skirt and zip-up sweater
Check Pleat Midi Wrap Skirt
Asos DESIGN
us.asos.com
$38.40
Okay, I'm actually obsessed with this outfit. The half-zip sweater, plaid skirt, snakeskin print bag, and patent leather boots mixes up so many textures and prints in the best way possible.  
14
this half-tucked shirt with belted pants
Keeper Button-Down in Flannel Plaid
Alex Mill
alexmill.com
$62.00
Belted pants and loafers look less stuffy with a loose-fitting flannel tucked into them. This navy and green color combo is subtle while still adding some overall color.  
15
this cozy robe
Ultra Soft Flannel Robe
Plush
shopbop.com
$119.00
Hear me out: Your loungewear counts as an outfit! If you're not planning on leaving your house, but you still want to look cute, go with a flannel robe that you can wear fun slippers with. 
16
this short-sleeve option with cutoffs
Boxy Shirt in Check Print
Noisy May
us.asos.com
$51.00
Still hot outside in September? Get yourself a short-sleeve one and wear it with edgy cutoffs and boots. 
17
this luxe flannel with two-toned jeans
Oversized Red Flannel
Romeo Hunte
romeohunte.com
$850.00
Wow, is this one pricey, but also flannels and the buffalo check pattern is kind of designer Romeo Hunte's thing. This is one of those pieces that lasts forever, and it's the right fit and style to wear as both a shirt and jacket. Throw it on with casual jeans or wear it with a midi skirt to dress it up. 
This content is created and maintained by a third party, and imported onto this page to help users provide their email addresses. You may be able to find more information about this and similar content at piano.io
This commenting section is created and maintained by a third party, and imported onto this page. You may be able to find more information on their web site.
Advertisement – Continue Reading Below