18 21st Birthday Gift Ideas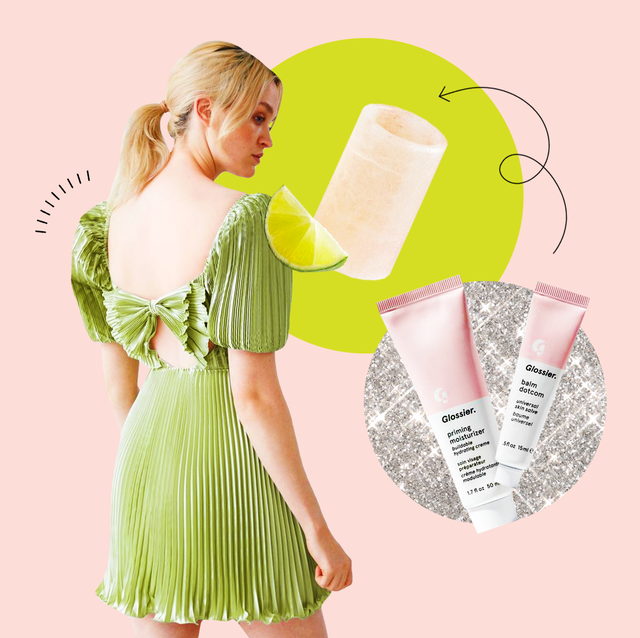 Courtesy
When I turned 21, all I wanted to do was party my ass off. Sadly, most large gatherings are cancelled until further notice, but you can still help the birthday star celebrate with a club-level Zoom party and the perfect gift. Picking out a present that says I'm proud of you, now turn tf up is easy.
You could go the obvious route and make sure their bar cart is happy-hour ready. Or, you could get all sentimental with a piece of jewelry that has a sweet message. Also, keep in mind that this is a major turning point in their life, so they'll definitely appreciate a practical gift like a life-changing book or a Netflix gift card, so they can finally stop mooching off of your account. You'll find a few more 21st birthday gift ideas if you keep on scrolling.
Advertisement – Continue Reading Below
1
A party-ready dress
Pleated Square Neck Mini Dress
& Other Stories
stories.com
$149.00
Even if the celebration is happening online, the birthday girl needs a camera-ready dress. A pleated baby with a bow will make her look like a stunna on her big day.
2
A fancy shot glass
Himalayan Salt Tequila Glasses- Set of 4
Brett Cramer
uncommongoods.com
$28.00
Glasses made from Himalayan salt will help all the guests keep it classy—at least for a little while.
3
A feel good bracelet
Live Well Love Much Laugh Often Camp Bracelets
Roxanne Assoulin
shopbop.com
$75.00
The adult version of friendship bracelets is always a smart move that'll make them think of you every time they slide one on to their wrists. 
4
A cozy hoodie
Champion Classic Logo Patch Hoodie Sweatshirt
Champion
urbanoutfitters.com
$60.00
After long nights of partying, a cuddly hoodie will feel like a warm hug. It also helps if it's from a cool brand like Champion.
5
A skincare set
The Skincare Set
Glossier
glossier.com
$40.00
One of my favorite pieces of beauty advice: Prevention is better than correction. So, it's not too early to help them build a strong skincare regimen.
6
A funny card
Greeting Card
SierraDesignsStudio
etsy.com
$5.00
Birthday cards can get really cheesy. This one, though, has a funny message that'll make them LOL.
7
A yummy treat
x Alfred's But First, Coffee Caffeinated Gummy Bears Set
SUGARFINA
nordstrom.com
$42.00
Adulting is hard. But when your candy tastes like coffee, things are super easy. 
8
A Tie-Dye Sneaker
Skool
Everyone should have a comfy, classy pair of sneaks in their closet, but a birthday girl deserves to wear ~mesmerizing~ shoes on her feet.
9
A personalized case
Custom Compostable Case
Casetify
casetify.com
$45.00
Write their name, put their age, or monogram an inside joke on this adorbs, customizable phone case.
10
A shirt with a message
White 'Be Nice' T-Shirt
Sporty & Rich
ssense.com
$60.00
As the birthday girl enters a new era, a lil advice can be extremely helpful. This T-shirt sums it all up, and, duh, it's super soft too, which is equally as important.
11
A plant that'll never die
Rustic Succulent Arrangement Planter Decoration
BLOOMR
nordstrom.com
$199.00
Alright nobody but you will ever have to know that their succulents are fake. This one is pricey, but it could legit fool anyone.
12
A few bucks for Netflix
$30 Gift Card
Netflix
walmart.com
$30.00
You wanna know for sure that they'll use your gift, so why not give them a few dollars to support that Netflix habit? 
13
A trendy cap
Bucket Hat
Ganni
www.nordstrom.com
$59.50
The bucket hat is the coolest accessory taking over rn. Add an abstract, green floral print and it turns into the ultimate gift.
14
A drinking game
Giant Jello Shot Blocks
TediousWoodWorking
etsy.com
$119.95
Jenga is fun and all, but Tipsy Topple, my friend, is absolutely wild!! This is the type of gift that will help them make memories for years and years to come.
15
A retro telephone
Crosley Princess Phone
Crosley
urbanoutfitters.com
$60.00
The 21-year-old who loves vintage vibes will flip out when they unwrap this pink dial-up phone. Guess what? It actually works if they happen to have a land line. 
16
A fun fragrance
Eau de Juice Extra Concentrated Eau de Parfum
Cosmopolitan
ulta.com
$55.00
I bet they've never seen a perfume bottle cuter than this one. It'll remind them of the days as a kid sippin' on a carton of apple juice. Oh, and it smells very glamorous and decadent just like the flashy gold finish.
17
A good read
Calm The F*** Down By Sarah Knight
Urban Outfitters
urbanoutfitters.com
$19.99
There's no need to freak out about getting older. After reading this tell-it-like-it-is book, they'll feel at peace no matter what life throws their way.
18
A fun light
LED Party Light Bulb
Sharper Image
urbanoutfitters.com
$18.00
Turn the living room into a night club (or a mini version of Drake's wild house) with colorful lights. It'll definitely come in handy for the virtual happy hour.
This content is created and maintained by a third party, and imported onto this page to help users provide their email addresses. You may be able to find more information about this and similar content at piano.io
Advertisement – Continue Reading Below