18 Best Adult Onesies for Women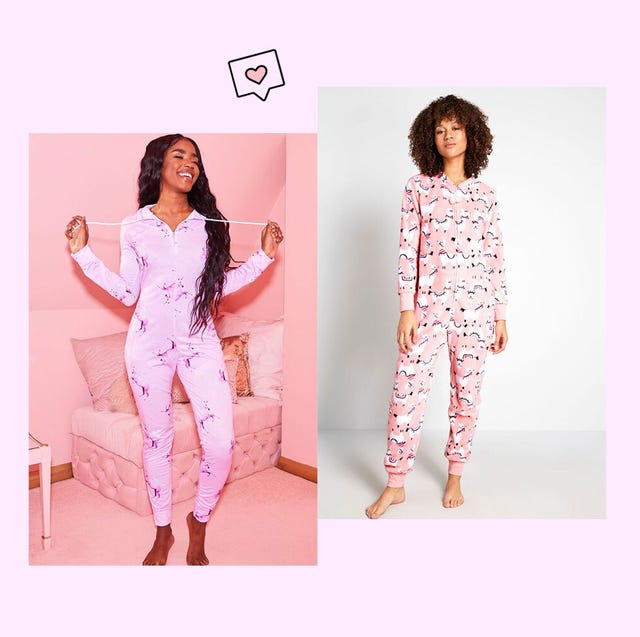 Courtesy
What do you get when you cross a comfy sweatsuit set with cozy pajamas? A *glorious* onesie. You might know them as the go-to sleepwear for babies, but if you have yet to try a onesie in your adult life, hear me loud and clear when I say you are missing out!!
Whether you're working from home, starting a movie marathon, planning a family photo, or shopping for a costume party, don't sleep on these sleep suits and onesies. Not only do they make picking out an outfit super simple (it's a one-piece, after all), but they'll also get you tons of compliments, guaranteed. Fair warning, though: If you thought going to the bathroom in a regular jumpsuit was hard, you've never had to pee in the middle of the night with one of these babies on.
Now, get scrolling and start shopping the 18 best adult onesies on le Internet.
Advertisement – Continue Reading Below
1
This Tie-Dye Onesie
Adult Onesie Pajamas Jumpsuit
#followme
amazon.com
$30.00
A tie-dye onesie this good deserves to be worn outside of your apartment or at the very least, posted on the 'gram. 
2
This Velour Onesie
Peach Color Summer Velours Onesie
Sofa Killer
etsy.com
$85.00
This velour onesie has early '00s Juicy tracksuit written all over it—without literally writing "Juicy" across the butt. Think of it as the cooler, more modern version.
3
This Llama Onesie
Cream & Pink Llama Fleece Sleep Onesie
As if the sweet little llama face on the hood wasn't cute enough, this onesie also features a gold bow on the ear and a tail in the back.
4
This Alpaca Onesie
Going Alpaca to Sleep Onesie
ModCloth
modcloth.com
$39.00
This fleece hoodless onesie is perfect for actually sleeping in. Bonus: you can count the sheep alpacas on it to help yourself doze off.
5
This Bear Onesie
Bear Hooded Pajama Jumpsuit
Forever21
forever21.com
$30.00
Forget teddy coats and jackets! It's all about the teddy-bear onesie, and this one features a cute little face on the hood.
6
This Unicorn Onesie
Pink Unicorn Print Onesie
PRETTYLITTLETHING
prettylittlething.us
$48.00
Life isn't all rainbows and unicorns, but your onesie can be. This lightweight sleep suit will make you feel like the magical unicorn you are.
7
This Onesie Romper
Bearable Babe Romper Costume
If just looking at a full-body onesie makes you sweat, try a short romper version for the same (but much cooler) effect.
8
This Striped Onesie
Striped Onesie
This one mixes the neckline and cinched waist of a wrap dress with the comfort of a hoodie and leggings. What more could you want?!
9
This Polka Dot Onesie
Black Polka Dot Onesie
PRETTYLITTLETHING
prettylittlething.us
$48.00
For those that  love polka dot prints, soft comfy fabrics, hoodies, and pockets, this number hits the spot.
10
This Bunny Onesie
Jumpsuit Bunny Adult
Normal onesies are too shapeless for your liking? Choose one with a drawstring to cinch your waist.
11
This Snake-Print Onesie
Venomous Slim Jumpsuit Purple
Onepiece
onepiece.com
$199.00
A onesie doesn't have to have ears and a tail to be animal-themed. This one features a fun snakeskin print instead.
12
This Slim-Fit Onesie
Dreamer Ribbed Sleep Jumpsuit
Skarlett Blue
bloomingdales.com
$73.50
If you want a onesie that's less frumpy sweatsuit and more tight bodysuit, go with a slim-fit option that you can also layer under warmer clothes in the winter.
13
This White Onesie
Joggies
Footed Pajamas
walmart.com
$45.00
If you're the crafty type or you've just got a lot of time on your hands rn, get an all-white onesie and a dye kit to create your own print.
14
This Onesie With Patches
Adult Onesie with Patches Pajamas Jumpsuit
#followme
amazon.com
$40.00
Customize your onesie with a few iron-on patches, or grab a pre-made one like this if you're too lazy.
15
These Footy Pajamas
Footed Adult Onesie – Lavender
Forever Lazy and Uni-Lazy
amazon.com
$35.00
Footy pajamas aren't just for kids! If your toes are always cold, this footed onesie eliminates the need for house slippers and cozy socks.
16
This Zebra-Print Onesie
Zebra Print One Piece Romper With Ears
Loungeable
us.asos.com
$35.00
Rainbow shades not your thing? You can still get in on an animal vibe with a black-and-white zebra-stripe print instead.
17
This Onesie With a Back Flap
Love Me Long Johns Jumpsuit
The back flap with snap closures on this one will make trips to the bathroom in the middle of the night a wee bit easier.
18
This Beige One
Tan Fleece Sloth Sleep Onesie
Sloths are the cutest and you will be too in this zip-up onesie.
This content is created and maintained by a third party, and imported onto this page to help users provide their email addresses. You may be able to find more information about this and similar content at piano.io
Advertisement – Continue Reading Below