18 Best Laptop Backpacks – Cutest Computer Totes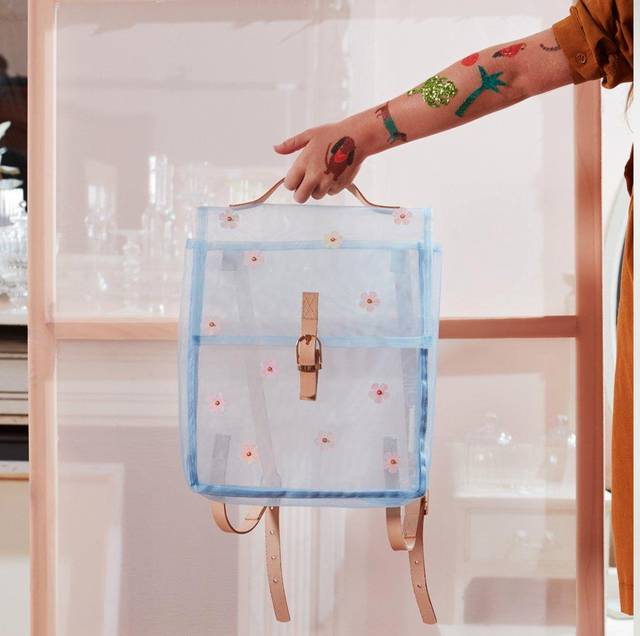 Courtesy
I'm guilty of shoving my laptop into handbags, thin tote bags—you name it. But I think it's finally time to upgrade to a spacious backpack. That way I can keep my hands free to do other things, like take important selfies, and I won't have to worry about scratching my precious laptop up against all the other items stashed in my purse. If you too, are looking for a new laptop backpack, then you're in luck because there are 18 cuties below.
Whether you're in need of something with lots of compartments and zip-up pouches to keep you organized or you'd rather have something with a fashion-forward twist to keep looking cute while on the go, there's a laptop backpack for every style ahead. So keep reading to find a new one to carry around town below.
Advertisement – Continue Reading Below
1
this affordable option
Backpack Purse
You don't have to spend a ton of money for something that's beautiful and roomy. This one is less than 25 bucks and comes in 11 (11!) color ways.
2
this see-through one
Clearly Colorful Large Backpack
Vera Bradley
amazon.com
$99.99
If you don't mind everyone seeing what's in your backpack, throw this floral-trimmed baby over your shoulders.
3
this durable design
Dakota Medium Backpack
Dagne Dover
shopbop.com
$175.00
Go ahead and stuff this one to the max. The straps and materials are super strong and can really take a beating. 
4
this nylon backpack
Cirrus Small
Caraa
caraasport.com
$225.00
Speaking of durability, nylon is also a tough cookie. And, like, look at the gorgeous mint color on this one.
5
this designer bag
Joyrider Backpack
See by Chloe
shopbop.com
$231.88
An adorbs star keychain makes this go-with-everything gray bag pop. Plus there are a ton of compartments to keep you organized.
6
this sheer design
Sequin Flower Mesh Backpack
Don't wanna blend in? Go for a sheer backpack that's decorated with sequin flowers.
7
this large backpack
Canvas Backpack
Asos DESIGN
us.asos.com
$40.00
A timeless black backpack will easily match all your outfits. And this one will keep your laptop extra safe with a pouch designed specifically for laptops.
8
this pastel one
Classic Light Backpack
Herschel Supply Co.
shopbop.com
$50.00
You can't go wrong with a classic silhouette. Just make it feel a bit more modern by selecting a unique, pastel color, like this peach one.
9
this bow backpack
Lorraine Backpack
Love Shack Fancy
loveshackfancy.com
$245.00
The pretty flowers would have been enough, but Love Shack Fancy took things to the next level with a jumbo bow.
10
this faux leather option
Kaya Faux Leather Laptop Backpack
CALPAK
nordstrom.com
$105.00
For dressier moments, a faux leather backpack with a stitched trim and tassel will come in handy. 
11
this bright backpack
Tanjun Mini Backpack
Punch up the color with a two-tone backpack. This one is a neon green in the front and a deep blue on the other side.
12
this crochet one
Helena Crochet Backpack
the sak
thesak.com
$89.99
Just because summer is nearly over doesn't mean you have to retire all of your crochet items. This knit backpack will still look cute through the fall.
13
this mock croc backpack
Pink Apollo Backpack
Tote & Carry
totencarry.com
$179.99
Faux croc will instantly make every outfit look fancier, and the playful, pink hue will brighten up your days. 
14
this water resistant backpack
Backpack
The slim, sleek design here is enough to fall in love with, but it's also water resistant. So bring this one with you on rainy days.
15
this versatile one
Standard Rucksack
Mifland
mifland.com
$400.00
Play with the straps on this bag to turn it into a backpack, crossbody, or shoulder bag.
16
this padded backpack
The Modern Snap Backpack
Everlane
everlane.com
$68.00
Make sure your laptop is extra safe with Everlane's cushioned backpack made specifically for PCs and macs.
17
this convertible backpack
Convertible Backpack
Go from a tote to a backpack with this transforming design.
18
this multi-purpose backpack
Small Flight Pack – Blackhole
R.E.Load
reloadbags.com
$264.00
You'll get plenty of wear out of this long-lasting backpack, which comes with a life-time warranty.
This content is created and maintained by a third party, and imported onto this page to help users provide their email addresses. You may be able to find more information about this and similar content at piano.io
This commenting section is created and maintained by a third party, and imported onto this page. You may be able to find more information on their web site.
Advertisement – Continue Reading Below