18 Best Online Gifts to Buy When You Can't Physically Be There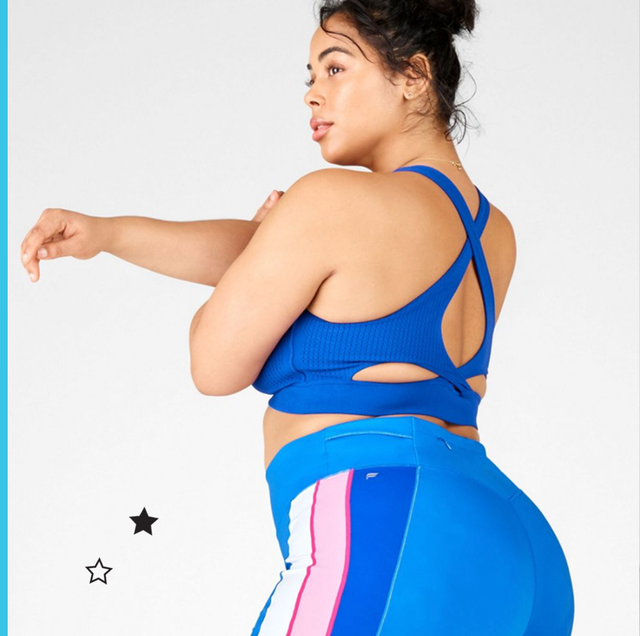 Courtesy
Your presence is most definitely the best gift that anyone could ever receive. But sometimes that's just not possible, especially with all of the travel restrictions and social distancing requirements nowadays. So what's the next best thing? An online gift. Yep, we can thank all of those Silicon Valley folks for making it easy to pick something out and have it delivered to a friend's place without stepping foot outside.
Not only do these digital gifts save time, but they also mean you don't have to waste extra money (or the effort) wrapping things up. Tying a ribbon into a bow can be a real biotch. So whether you're looking for something to wish someone a happy birthday or celebrate an anniversary in different zip codes, these online gifts will make your loved one feel extra spesh.
Advertisement – Continue Reading Below
1
For the legging lovers
Sprint 2-Piece Outfit
fabletics
fabletics.com
$109.90
If the person you're shopping for practically lives in leggings (hi, it's me), a subscription service, like Fabletics, is exactly what they'll appreciate.
2
For those with a sweet tooth
Nectar Impérial Rosé by Virgil Abloh with Sweet & Sparkling 3pc Candy Bento Box
Moët & Chandon
reservebar.com
$127.00
Although you can't be there to toast them in person, a fancy bottle is always a sweet gift. And this one comes with some gourmet candies too.
3
For the go-getters
Work • Space • Spark
10 reviews
cratejoy.com
$44.95
Your friends who are still adjusting to the work-from-home life will enjoy subscription box that delivers empowering books and tools to keep 'em motivated.
4
For the shoe fanatics
Anything Could Happen Platform Sandal
Just Fab
justfab.com
$10.00
How cool would it be if you bought them a pair of shoes every month for the rest of the year? Well, you can with a Just Fab membership.
5
For the workout obsessed
transform bundle
p.volve
pvolve.com
$127.99
Even when the gym is closed they'll be able to keep those exercise classes in rotation with this streaming service and the home equipment that comes with this set.
6
For those that wanna dress up
My List Subscription
Bloomingdale's
mylistatbloomingdales.com
$3,497,471.00
I know the amount of events on the calendar are dwindling, but for those moments when your friend wants to get dressed up, they can count on the sub to Bloomingdale's rental service to keep 'em lookin' fly.
7
For the beauty lovers
Mini Deluxe Perfume Sampler Set
Sephora Favorites
sephora.com
$75.00
Gifting all of the best designer fragrances could cost you an arm and a leg. But this cute lil sample set makes it super affordable and it's already wrapped in gorgeous packaging.
8
For the crystal queens
Cosmic Crystal Box
Self-Care
cratejoy.com
$21.95
Make sure the stars align every month with a set of crystals that'll bring nothing but good vibes into their home.
9
For the experimenting cookers
Personalizes Plan
Hello Fresh
hellofresh.com
$8.99
No matter their cooking skill level, Hello Fresh deliveries will make them look like a top-notch chef, thanks to easy-to-follow recipes and ready-to-go ingredients.
10
For those with a green thumb
Mason Jar Indoor Herb Garden
Sarah Burrows and Nick Behr
uncommongoods.com
Flowers are cool and all, but this DIY kit will feel a bit more special. And makes it easy for them to grow their own herbs even if they don't have a massive backyard.
11
For the movie and TV fans
Subscription
You know that new Beyoncé special will premiere on Disney+ at the end of the month. So if they're in the Beyhive or just love all of the Disney franchises, you might as well treat them to the new streaming service.
12
For those who are faithful to their beauty regimes
Razor Subscription
Billie
mybillie.com
$27.00
For the folks who take their shaving routine seriously, Billie's cool razors will be dropped off to their front door every month. 
13
For the jewelry collectors
Subscription
Rocksbox
rocksbox.com
$12.00
Not that it's a competition or anything, but you'll be the MVP of gift giving when you give them a new piece of jewelry every month.
14
For the ones who always order in
$25 Gift Card
We all know Uber Eats can get really expensive. So help 'em out with a lil gift card.
15
For the tea drinkers
Petite Presentation Box Tea Samplers
A fancy set of tea always makes for an elegant gift. Plus this one comes in the prettiest, floral-covered box.
16
For the candle obsessed
Japonica Archive set
VOLUSPA
sephora.com
$75.00
Voluspa candles are always at the top of any list. So you know they're gonna freak out when they open this set of 12 votives.
17
For the tech savvy
by Facebook Portal Video Calling Device
PORTAL
nordstrom.com
$199.00
Make all of your video calls ten times better with Portal by Facebook. Did you know the camera automatically adjusts even when you're moving around? Pretty cool, right?
18
For the sentimental folks
A Year of Connection
Don't forget you can always go old school and mail them notes. This set comes with 52 cards, so you can mail one every week. 
This content is created and maintained by a third party, and imported onto this page to help users provide their email addresses. You may be able to find more information about this and similar content at piano.io
This commenting section is created and maintained by a third party, and imported onto this page. You may be able to find more information on their web site.
Advertisement – Continue Reading Below