18 Best Reusable Grocery Shopping Bags 2020 — Shop Reusable Bags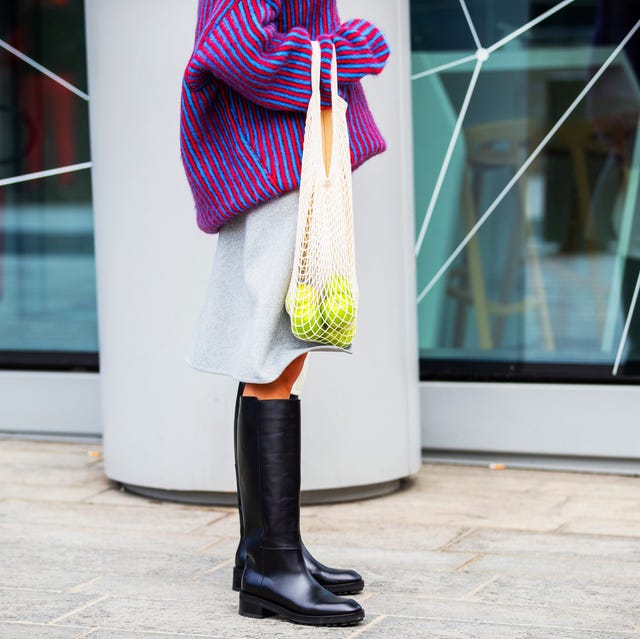 Christian VierigGetty Images
We're staying inside now more than ever to keep ourselves and everyone safe during the COVID-19 pandemic, but if you need to run out and get groceries, consider taking a reusable shopping bag. Earth Day is April 22, if you need a reminder (it's difficult to keep track of time these days!), and while many states are delaying enforcement of plastic bag bans because of the virus, you can still take your reusable totes to the store to be more mindful. There are tons of styles out there that will not only fit all the ingredients you need for that Alison Roman recipe you saw on IG, but they also look way cute with any spring or summer outfit.
From textured woven designs to simple canvas bags, here are 18 of the best reusable grocery shopping bags that are eco-friendly AND stylish. (FYI, if you need even more bag inspo, click here for 2020 spring bag trends and for the cutest tote bags.)
Advertisement – Continue Reading Below
1
the netted one
French Market Tote Bag
Filt
anthropologie.com
$20.00
For Instagram-worthy pics that say, "Just got back from the farmer's market!" opt for a netted bag. They'll hold all your produce with no problem. 
2
the versatile one
Duck Bag
Baggu knows a good reusable bag. This one is perfect for when you might add a few extra things to your cart that weren't on the list. (Been there.) It has a top handle and a shoulder strap too, so you can switch it up. 
3
the dyed one
Vintage Overdyed Tote Bag
Urban Renewal
urbanoutfitters.com
$29.00
Opt for a colorful dyed one with an open top so it'll fit any odd-shaped item—i.e., all that bread you love to stock up on. 
4
the tiger print one
Standard Reusable Tote Bag
BAGGU
urbanoutfitters.com
$12.00
Channel those Tiger King vibes with this fun grocery bag. It's made with recycled nylon so it resists water and holds up through all those Trader Joe's trips. 
5
the top-rated one
Zip-Top Boat and Tote
L.L.Bean
llbean.com
$34.99
It doesn't get any better than this super classic L.L.Bean tote. It has more than 1,500 reviews, comes in a ton of colors and sizes, and you can even add a monogram for a personal touch. 
6
the canvas one
Canvas Transport Tote
Madewell
shopbop.com
$58.00
For that day when you only want to carry one bag, here's a best-selling canvas tote that can double as multifunctional bag.
7
the floral one
Mica Canvas Tote
Herschel Supply Co.
nordstrom.com
$29.98
A floral-printed style will definitely stand out at the grocery store. This design has a secure zipper closure and interior pockets to keep things organized. 
8
The groovy one
Cotton Canvas Tote
THE NORTH FACE
nordstrom.com
$18.75
Fun tie-dye lettering with a '70s aesthetic makes this one statement-making reusable tote. 
9
the timeless one
Montauk Tote in Large
Just a simple neutral tote to carry all of your groceries and more. It comes in navy as well and has hooks on each side so you can attach a longer strap. 
10
the embroidered one
Embroidered Cactus Tote Bag
Urban Outfitters
urbanoutfitters.com
$49.00
Embroidery elevates an otherwise simple tote. The southwestern-inspired details on this one are perfect for the warmer temps ahead.
11
the graphic one
Free People Apolis Tote
Apolis
freepeople.com
$78.00
A tote with the Earth on it is a reminder of how we're doing our part to preserve the planet. This design is made with water-resistant lining, has useful pockets on each side, and can carry up to 100(!!!) pounds. 
12
the cheeky one
Good Things Reusable Canvas Tote
grl & co.
madewell.com
$25.00
Because snacks are always a "good thing" to buy.  This screen-printed tote is great if you love graphic text, and the canvas material will last you years. 
13
the striped one
Selvage Tote
We The Free
freepeople.com
$30.00
You can snag this guy in a bunch of other colors, and it's also MASSIVE. 10/10 would recommend for the times when you're really stocking up your fridge and pantry. 
14
the wicker one
Large Soft Wicker Weave Tote
Hat Attack
shopbop.com
$114.00
Just imagine a baguette and bouquet of flowers peeking out from the top of this cute tote! It's wide enough to fit your essentials, but it's also trendy for summer. 
15
the crochet one
Sandy Tote
Clare V.
shopbop.com
$119.00
This is a see-through bag I can get behind. It'll hold all of those fruits and veggies, and the long shoulder strap makes it easy to carry. 
16
the leopard one
Bex Pleated Knot Shoulder Bag
Loeffler Randall
shopbop.com
$87.50
Just a reminder, leopard print is a neutral. It's deep enough to fit any larger items at the store, but stylish enough with the pattern and bow handle to wear as a regular purse. 
17
the mesh one
White Mesh Honty Totebag
Daily Paper
dailypaperclothing.com
$72.00
For the cool kids on the block, get this mesh gem that comes with a detachable strap and features a large internal pocket. 
18
the pleated one
Lucky Pleats Knit
STOCKIST
josephandstacey.com
$98.00
A pleated tote is sure to be your go-to at the store since it expands and folds down easily. 
Advertisement – Continue Reading Below