18 Cute Rainy Day Outfit Ideas for 2020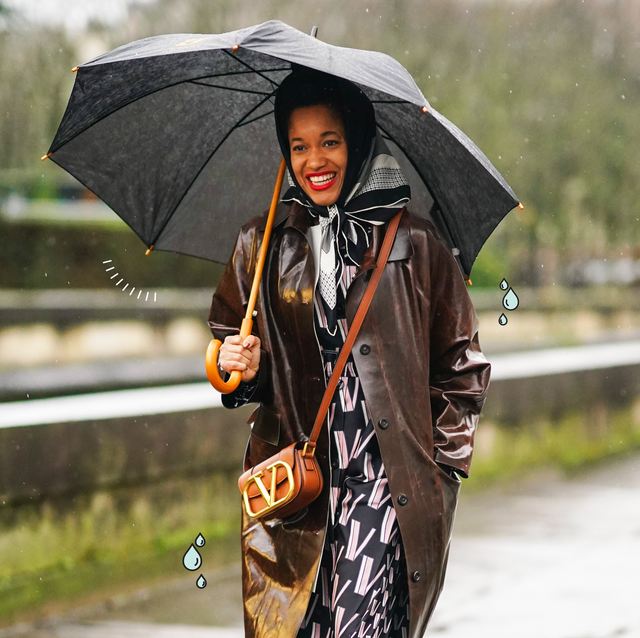 Edward BerthelotGetty Images
If you're the kind of person where a storm just ruins your whole day, don't worry: It'll all be okay. You can still wear some super cute outfits—complete with rain boots, an umbrella, and jacket—that might make you actually look forward to wet weather. But if you're like me and love those gray, rainy days (I mean, I'm from Florida where it downpours at, like, 3 p.m. every day during summer), then I'm sure you don't need any convincing that you can still make the most of your outfit.
There are so many routes you can go with your outfits, whether you want to keep things sophisticated in a classic black raincoat or go for a more eclectic or sporty look. Obviously, your clothing choices also depend on how hard it's actually coming down or if the forecast will clear up later, but if you're stuck thinking of cute rainy day outfits, we rounded up 18 here for you so you can stay dry—and look super stylish at the same time. (Also, since we're on the subject, click here for some lightweight summer jackets and rainy day activities to do while you're at it.)
Advertisement – Continue Reading Below
1
this slick trench and sweater combo
Waterproof Trench Coat with Detectable Hood
RAINS
nordstrom.com
$120.00
A classic long black raincoat always looks good. Wear it over a knit sweater and shiny patent leather pants for a subtle yet standout look. 
2
this polka-dot sitch
High Waisted Crop Jean
Eloquii
eloquii.com
$99.95
Add some fun to your rainy day 'fit in the form of a polka-dot top. Wide-leg cropped jeans complement it, and black ankle boots will hold up in the wet weather. 
3
this athleisure get-up
RecTrek Jacket
Outdoor Voices
outdoorvoices.com
$135.00
If you really want to feel cozy, wear matching leggings and a sports bra and throw a lightweight waterproof jacket on top. Coordinating sneakers will help you jump over any puddles. 
4
this all-white ensemble
Vinyl Crop Smock Colorblocked Raincoat
Hunter Boots
shopbop.com
$129.50
Yes, I know that white might not be the best color to wear when it's raining (it might get see-through when wet), but hear me out: If it's just lightly drizzling outside, and the forecast shows that it'll clear up later just go for it! A white tank and jeans will look so good under a clear vinyl raincoat. 
5
this short and top pairing
Striped Sweater
Stella Jean
shopbop.com
$192.00
A thin knit sweater with bold stripes adds a pop of color to some army-green high-waisted shorts. Opt for knee-high rain boots and a raincoat if it's really pouring outside. 
6
this slip and combat boots combo
Zebra Sharp Green Heri Dress
Daily Paper
dailypaperclothing.com
€103.00
A zebra-printed mini over a simple white tee is *chef's kiss*, but add some edgy (and rain-proof) combat boots to it and you're solid.  
7
this matching set
Blue & White Cloud Anorak Jacket
Phlemuns
ssense.com
$178.00
Channel the weather you *wish* it was with a blue sky and cloud-printed anorak and pants. The drawstring at the hem of the jacket and the buttons at the collar will help keep any water out. 
8
this comfy ribbed co-ord
Flight Pant
YEAR OF OURS
carbon38.com
$90.00
A cozy ribbed set is made for traveling, so if you have to be somewhere or need to run errands when there's a downpour, this'll be your go-to. (Just make sure you bring an umbrella.) 
9
this contrasting look
One Shoulder Bodysuit
Eloquii
eloquii.com
$34.95
If you're headed somewhere indoors and aren't going to be out in the rain very long, opt for a one-shoulder bodysuit with raw-hemmed jeans and sandals. Wear a jacket over it, and then you can take it off to reveal your cute 'fit when you arrive at your destination.  
10
This midi and leather jacket
Dreamer Midi Dress
Free People
freepeople.com
$168.00
Don't let the rain put a damper on your fashion choices! You can still dress up in a bright-red midi, but a leather jacket and lace-up boots will keep any water away.
11
This patterned wrap and bucket hat
Cinch-Waist Tiered Midi Dress in Wildblooms
Madewell
madewell.com
$89.99
A swingy midi with a cream bucket hat and Tevas makes a cute yet practical rainy day outfit. 
12
this navy top and jeans
Friendly Sweater
Petit Bateau
shopbop.com
$128.00
A solid-colored sweater with loose-fit jeans looks effortless with Birkenstocks and a bucket hat. 
13
this wrap dress and rainboots
Printed Georgette Wrap Midi Dress by Ganni
Ganni
modaoperandi.com
$98.00
Rainboots are given a fancy upgrade when you wear 'em with a floral wrap dress and leopard-printed bag. Go ahead and splash around all you want in this!
14
this maxi and sneakers
Candi Dress
A maxi dress is basically a summer essential, and when it starts raining outside it means your legs will get less wet too. Pair this 'fit with a bright umbrella to add some color. 
15
this shiny jacket and kicks
Colby Cropped Vegan Leather Bomber
Apparis
shopbop.com
$185.50
This shiny bomber jacket will repel water on the outside, but the quilted lining will keep you comfortable on the inside. The hunter-green hue goes so well with white and cream tones, and make sure to add some thick-soled kicks to keep your feet dry. 
16
this breezy dress and converse
Cameron Dress
L.F. Markey
shopbop.com
$117.60
A loose dress with huge pockets for storage? Yes, please. Wear this red number with a raincoat and Converse for a casual and cute vibe. 
17
this sweater and shorts pairing
The College Sweatshirt
The Great
revolve.com
$175.00
Sometimes rainy days just call for a soft gray sweatshirt. Black denim shorts and sneakers keep the aesthetic low-key but chic.  
18
this camo jacket and leggings
Storm Seeker Batwing Jacket
SWEATY BETTY
carbon38.com
$195.00
A camo-printed navy jacket with a hood and and cinched waist is both functional and stylish. Pair it with black leggings, sneakers (or rainboots!) to make a sporty ensemble for those dreary days. 
This content is created and maintained by a third party, and imported onto this page to help users provide their email addresses. You may be able to find more information about this and similar content at piano.io
This commenting section is created and maintained by a third party, and imported onto this page. You may be able to find more information on their web site.
Advertisement – Continue Reading Below