18 Gifts for Black Women 2020 — What to Buy Black Women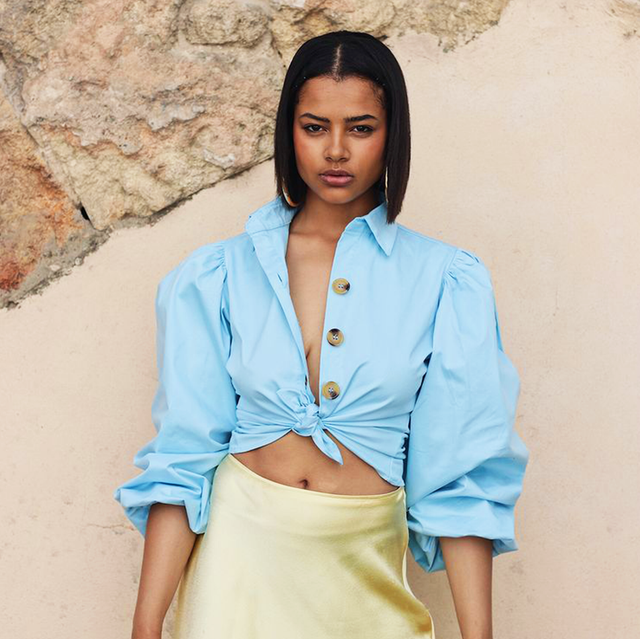 Courtesy
I know we all could use a little somethin' to help us whoosah right about now. Dealing with two pandemics is exhausting as hell, especially for Black women. So it's time we took a mental break and indulged in some little luxuries. If you're looking for a way to treat one of the melanin goddesses in your life (or yourself, like I'm doing), I've gathered a ton of gift ideas for Black women below.
Whether she's in need of a few things to help her step up her self-care-Sunday game or loves lounging around the house like royalty in a luxe robe, these lovely treats are gonna lift her spirits, even if it's just for a moment. You can also keep these presents in mind when her birthday or the holidays roll around.
So scroll on down to find the best gifts for Black women below.
Advertisement – Continue Reading Below
1
This energizing bath gel
Start Happy Body Wash
Plant Apothecary
ulta.com
$20.00
You guys think coffee is powerful? Wait until you smell this heavenly geranium and peppermint body wash. It's a gift that'll turn anyone into a morning person.
2
This comfy robe
Rosa Charmeuse Embroidered Kimono
Flora Nikrooz
shopbop.com
$88.00
Robes are the unofficial uniform of self care. So make sure she has a silky one that's trimmed in lace so she can prance around the house like the queen that she is. 
3
This beginner-friendly journal
You Are Amazing As Fuck Love Your Self
The Black and the Beautiful
bookshop.org
$7.99
If she's always talking about starting a journal, this is the perfect place to begin. The guided prompts will give her inspiration on the days when she's not sure what to write about.
4
This pearl earring
Santorini
SVNR
svnrshop.com
$150.00
5
This gorgeous can of rosé
Collection She Can Rosé
McBride Sisters
drizly.com
$8.39
Canned rosé is perfect for a picnic at the park. Plus this one, with its empowering message was created by a Black-owned brand. 
6
This comfy sandal
Fluff Yeah Genuine Shearling Slide
Fuzzy, cozy anything is always a great gift. These Ugg sandals get extra love though because they're sturdy enough to wear outside of the house.
7
This marble brush
Marble Body Brush
Gilded
gildedbody.com
$88.00
While you can't necessarily guarantee the gift of glowing skin—everyone's epidermis is different!—you can, however throw these gorge body brushes into a gift bag so she can feel extra exfoliated. 
8
This invigorating coffee candle
Fresh Coffee Soy Candle
An energizing candle will help her focus on her goals without the caffeine jitters.
9
This pretty charger
Wireless Charging Crystal Pad
It looks like an adorable coaster, but it's actually a wireless charging station so her phone always has juice.
10
This smart watch
Apple Watch Series 5
Any gadgets that'll simplify her life will definitely come in handy; plus, it doesn't hurt if they're as cute as this pink watch.
11
This gourmet pack of seasonings
Mini Spice Essentials Collection (Pack of 4)
These spices are like having a cheat code for any meal. Grab a set for the friend who'd appreciate some help in the kitchen or one who wants to try out new recipes. 
12
This statement heel
Paloma Feathered Wrap Sandals
Brother Vellies
shopbop.com
$685.00
I know these are quite the splurge, but you can't put a price tag on the smile you'll bring to her face when she see that dainty feather and strappy silhouette.
13
This mani set
Hand and Nail Treatment Kit
The Bernadette Thompson Nail Lacquer Collection
amazon.com
$110.00
The DIY lovers will have fun taking care of their nails with this set. It has a couple of colors, cuticle cream, and the fanciest bottle of polish remover I've ever seen.
14
This fancy tea
Brooklyn Tea
Art of Tea
artoftea.com
$20.00
A luxe tea she can sip and savor, like this vanilla-flavored one, will help her slow down and enjoy the little things.
15
This chic blouse
Nadya Shirt Blue
Kai Collective
kaicollective.com
£60.00
You can't go wrong with something she can wear. This blue blouse will make her feel like a boss and it's versatile enough to wear to work or on the weekends.
16
This knotted wall decoration
"Lyric"-Macrame Wall Hanging
Candice Luter
etsy.com
$295.00
Make her home a tad bit cozier with a macramé piece of art she can hang on the wall.
17
These noise-cancelling earbuds
Solo Pro Headphones
Beats
amazon.com
$299.95
$173.96 (42% off)
Sometimes you need something that'll help you drown out the noise, and these head phones will do exactly that.
18
This gold set of lollipops
Edible Gold Lollipops
Uncommon Goods
uncommongoods.com
$36.00
Send a bouquet of lollipops her way. Oh, and these aren't regular suckers, btw. They're filled with edible gold!
This content is created and maintained by a third party, and imported onto this page to help users provide their email addresses. You may be able to find more information about this and similar content at piano.io
This commenting section is created and maintained by a third party, and imported onto this page. You may be able to find more information on their web site.
Advertisement – Continue Reading Below