18 Great Walking Sandals for Women That Are Comfortable and Cute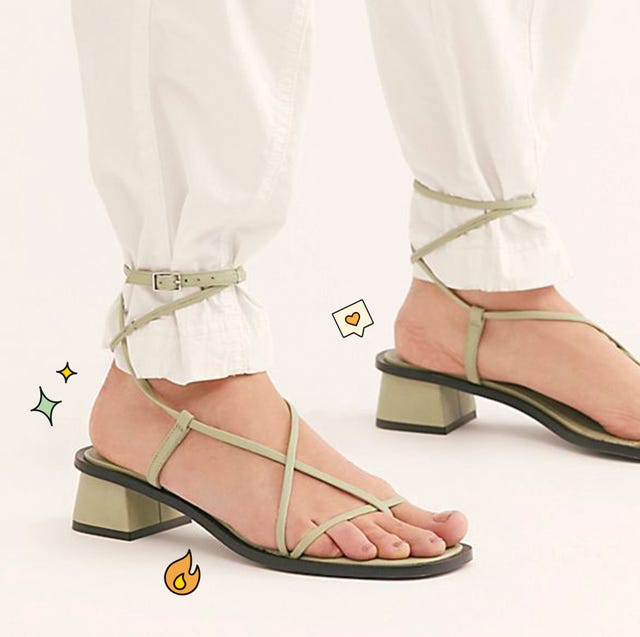 Courtesy
Guess what? There's an easy way to decipher the comfortable walking sandals from the painful ones. Just look for shoes that have a padded footbed, adjustable straps, rubber outer soles, and lightweight materials. Or reach for my personal favorite summer trend: flatforms. They give me a little extra height while also alleviating the pressure on the balls of my feet. Details like that make all the difference and definitely help to increase arch support.
Now when I say comfortable, I hope you're not thinking about granny-looking sandals (sorry grandma). The word comfy does not mean your shoes have to be a total bore. The best options incorporate details from spring and summer footwear trends. From the classic, functional sandal to the gladiator-themed ones, each pair will keep your wardrobe looking fresh. See those and more by checking out 18 of the best walking sandals below.
Advertisement – Continue Reading Below
1
if you love that classic slide look
The Day Crossover Sandal
Everlane
everlane.com
$88.00
The crossover detail won't rub your toes the wrong way. Instead, it creates a soft cushion that's not too tight.
2
if you want an extra inch
Frontline Sporty Sandal
ASOS Design
us.asos.com
$45.00
Pink makes everything better, including these sporty sandals. That thick sole will bring you a bit more comfort without sacrificing style. The velcro straps also guarantee you won't slip right out of these. 
3
if you like classics
Sicily Sandals
Do yourself a favor and get yourself a cushioned insole that adds so. Much. Comfort to every step. It also won't hurt if the minimalist design goes with everything. 
4
if you wanna be super chic and comfy
Dover Knot Sandal
Aerosoles
aerosoles.com
$85.00
That peach color is enough to get excited about, but this winner also has incredibly lightweight soles with memory foam.
5
if you like a tiny heel
Luna Mini Block Sandals
FP Collection
freepeople.com
$98.00
Decreasing the chances of sweaty feet, the naked sandal is the way to go on hot summer days. A slight heel on these add a few extra inches without the excruciating pain of stilettos.
6
if you want a fashion-forward pair
Hiking Sandals
Ganni
shopbop.com
$319.60
Okay so hear me out, hiking shoes do NOT need to be ugly. These bbs hit the perfect combo of cute and comfy for even the longest trails. 
7
if you love an out-there lewk
Game On Rider Sandals
After all that time spent indoors playing Animal Crossing like the self-respecting adults that we are, it's about time that we allowed our favorite games to influence our style. These comfortable platformed Puma sandals are a great way to add a bit of color to your look. 
8
if you're trying to be trendy
Zita Platform Wedge Sandal
I mean, they said go big or go home, right? This '90s-inspired pair has a cushioned footbed that will make you feel like you're walking on clouds.  
9
if you like simplicity
Chisana Sandals
Børn
bornshoes.com
$90.00
Live the luxe life with a pair of handcrafted shoes. That padded sole is beyond comfortable and the sleek design is chic enough to wear with anything.
10
if you like fun details
Barefoot In The Park Sandals
Seychelles
freepeople.com
$59.00
AS IF I needed another pair, these super comfy sandals have a soft sole (and cute knotted design) that's too good to pass up. 
11
if you want a bolder color
Misia Flatform Sandal
Camper
urbanoutfitters.com
$195.00
Okay, so maybe there's a theme here…Flatforms and platforms equal added comfort, BUT these gorgeous Campers ALSO have additional cushioning in the sole.
12
if you like an unexpectedly edgy sitch
Nartilla II Sandals
Dr. Martens
shopbop.com
$70.00
This grunge take on the gladiator sandal is incredibly comfortable for walking long distances. Oh, and don't worry about those laces, they will stay in place all day.
13
if you want a little extra height
Roaming Buckle Slide Sandals
Summer slides are honestly a necessity. The classic sandal is super easy to wear and is incredibly comfortable for nearly every scenario.
14
if you like jellies
Papete + Rider Sandals
Melissa
shopbop.com
$55.30
Alright, so I am sure you get it by now: Velcro straps are where it's at. But the nostalgic, bubblegum-scented sandal (yep, it smells like gum) here feels different with its see-through straps.
15
if you want something elegant
Joelle Braided Sandals
Pyramidis
anthropologie.com
$98.00
The gorgeous braided design here looks like a work of art. The adjustable closure makes it so the slingback strap doesn't dig into your heels as you walk. 
16
if you like a blast from the past
Buckled Slide Sandals
Dr. Scholl's
anthropologie.com
$90.00
I'll admit it's been a MINUTE since I've worn a pair of clogs (to be exact, early 2000s…) But this gorgeous pair has a modern update made from a lightweight material, so you will NOT be dragging your feet all day long. 
17
if you love gladiator styles
Anastasia Comfort Sandals
Ancient Greek Sandals
shopbop.com
$126.00
Don't let the brand's name fool you. These sandals are sooo much more comfortable than what the ancient Greeks actually wore. (Don't believe me? Look it up.) 
18
if you like a modern aesthetic
Gladiator Sandals
Anthropologie
anthropologie.com
$100.00
Ahh! Smell that? It's a shiny new pair of leather sandals. The asymmetrical straps are adjustable, so you'll get the perfect fit too.
This content is created and maintained by a third party, and imported onto this page to help users provide their email addresses. You may be able to find more information about this and similar content at piano.io
This commenting section is created and maintained by a third party, and imported onto this page. You may be able to find more information on their web site.
Advertisement – Continue Reading Below