18 Lightweight Summer Pants – Pants for Hot Weather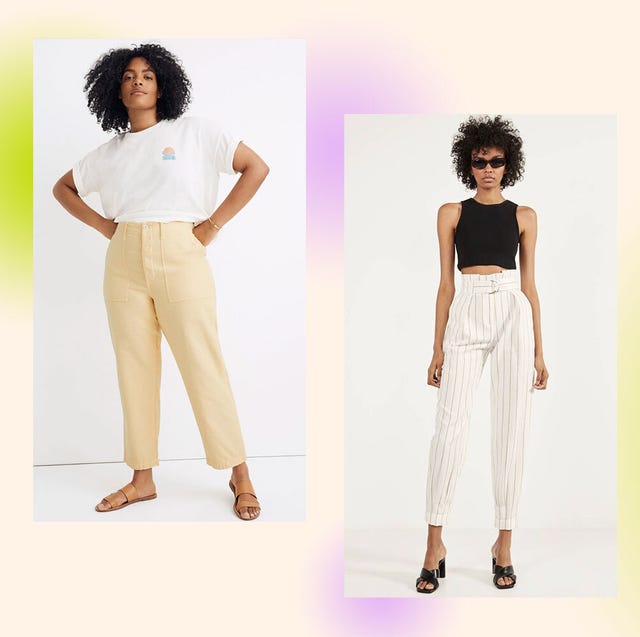 Courtesy
Since it's *almost* officially summer (at least it feels like it), it's time to start saying bye to all our jackets and layers and hellooo to bathing suits, tank tops, and shorts. But!!! Don't forget that summer pants are an option too. Just keep an eye out for styles that are made out of lighter fabrics and breezy silhouettes. That way you won't have to worry about sweat stains ruining your lewks.
Whether you want a quick-drying pair to wear over that bathing suit or something a bit dressier for special moments, you have tons of options below, my friend. Pick out some fun colors to add to your collection (ooh is that tangerine orange I see?!?!) or go wild with dramatic flares and sheer details. Either way, you'll be happy you dropped one of the lightweight summer pants below into your cart.
Advertisement – Continue Reading Below
1
this linen pair
Lena Belted Linen Wide-Leg Pants
Faithfull The Brand
net-a-porter.com
$219.00
Linen anything = summer goals. Grab a pair to take you through the entire season. Whether you want to dress them up or down, having 'em in your closet is a must. 
2
these pretty blue ones
Blue Stitch Pants
Topshop
topshop.com
$55.00
Remember brunch? Pair this wide-leg pant with a strappy sandal once restaurants safely open up again.
3
this orange pair
Bring On High-Waisted Pants
This orange set is what bright-colored dreams are made of. The affordable price makes it easy to grab the matching top too.
4
this white option
Lie Awake Pant in Ivory
C/MEO
revolve.com
$150.00
Two words: summer whites! Go for a monochromatic look with a coordinating blouse or switch up the mood with a plain top. 
5
this cropped design
Relaxed Pants
Native Youth
www.asos.com
$72.00
Lightweight summer suits are a ~thang~ too. Keep the polished yet chill vibes going by tucking a classic T-shirt into those breezy bottoms.
6
this ribbed pair
Racerback to Bed Ribbed Wide-Leg Pants Lounge Set
Nasty Gal
nastygal.com
$32.50
Nope, you don't have to completely give up the cozy feel of your sweats for the summer. Found:  a soft, knit pair that's as comfy as your favorite pajamas.
7
this wide-leg pair
Pleated High Rise Wide Trousers
& Other Stories
stories.com
$89.00
A wide-leg pant will allow you to feel the breeze. And the soft green color will keep you looking right on trend.
8
this sheer pair
Vivien Pant – Sky
Cult Gaia
cultgaia.com
$298.00
From head to toe, this entire look is a winner. But the pants alone are enough to rack up a ton of compliments.
9
these white cargo pants
The Rambler Cargo Ankle
Mother
motherdenim.com
$20.00
I just wanna live in these fresh cargo pants. They are bomb dot com with a classic tee or even a bikini top. 
10
this flowy pair
Scout Pant
Lovers + Friends
revolve.com
$158.00
For a cozy night in (or out), an extra flowy pant will keep you lookin' and feeling cool.
11
this paperbag pair
Plus Size Paperbag Mia Pants
Forever21
forever21.com
$22.99
Flouncy paperbag-waist pants will never, ever get old. When you wanna show some skin, style them with a crop top.
12
these yellow ones
Griff Fatigue Pants
Madewell
madewell.com
$49.99
A pale yellow pant is the perfect transitional piece as we head into summer. Don't forget to tuck your shirt and roll those sleeves for effortless preppy vibes.
13
these flowy pants
Low-Key Luxe Wide-Leg Pants
Details matter, folks. Zoom in on the textured fabric here and you'll see a subtle floral print. Impressive.
14
this cutout style
Pine Pants
STAUD
shopbop.com
$195.00
Hello, peek-a-boo-trim pants!! Oooh, and I see that you come with a matching top. *Grabs debit card.*
15
this belted pair
Slouchy pants with belt
Bershka
bershka.com
$35.90
When things open back up, you can wear these to work and brunch. Who doesn't love a versatile pant?!
16
these cute jeans
High-Rise Wide Leg Jean
Shop WeWoreWhat
shopweworewhat.com
$148.00
Jeans, we didn't forget about you. Try this lightweight option when you're missing your blue babies. 
17
these satin pants
Satin palazzo pants
Satin pants will come in handy when it's safe again to attend events. Even with a plain tank top you'll look chic. 
18
if you like a cargo pant
Terrain Pant Modern Beige
sanctuary clothing
sanctuaryclothing.com
$99.00
Pro tip: Cargo pants can stay in your closet year round. Pair them with a strappy sandal to dress your outfit up a little. 
19
this tassel belt pair
Autumn Pants in Bright Orange
L'Academie
revolve.com
$198.00
The 2020 version of bell bottoms has arrived. This pair gets major love for coming with a detachable fringe belt.
20
these two-in-one pants
Joan Pants
Peixoto
shopbop.com
$108.00
Looks like sarongs and palazzos had a cute lil baby. These cover-up pants will look good with any bikini and your favorite sandals. 
This content is created and maintained by a third party, and imported onto this page to help users provide their email addresses. You may be able to find more information about this and similar content at piano.io
This commenting section is created and maintained by a third party, and imported onto this page. You may be able to find more information on their web site.
Advertisement – Continue Reading Below