19 Best Slip-on Sneakers — Cute Slip on Shoes for Women 2020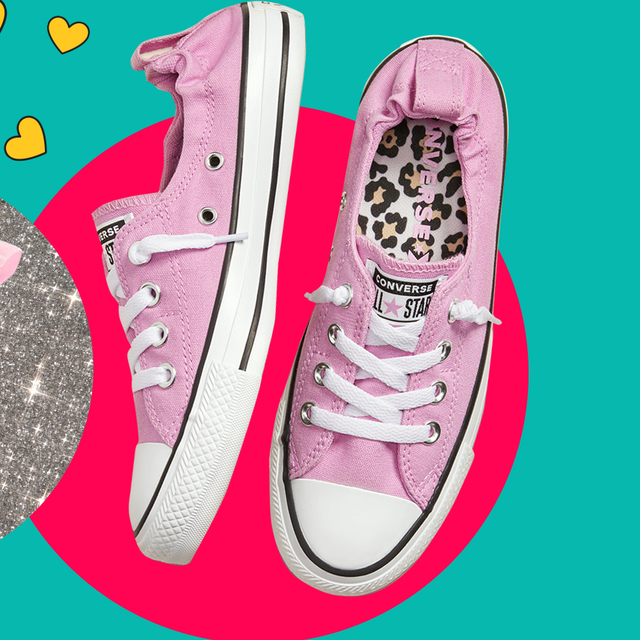 Courtesy
As you know, lace-up boots and strappy sandals can turn any outfit into a lewk. But sometimes ties and buckles can really slow you down.
Thankfully, the fashion gods have solved this for you with slip-on sneakers. With them, you don't have to worry about laces coming untied, and you'll never have a problem sliding them on and off when going through airport security. If you don't already have a pair, like, seriously, what are you doing?
There are several cute, comfy styles out there that won't make your outfit look rushed, even if you're getting dressed in record time. Just wait until you see the fancy backless sneaker options, cool sock-like designs, and chunky platform styles, below.
Advertisement – Continue Reading Below
1
If you love color
Classic Slip-On Sneaker
VANS
nordstrom.com
$59.95
This brand originally created its easy-to-slip-on shoes for skateboarders, but fashion girls like me can't get enough of all the fun color ways.
2
If you need a classic
Mule Sneakers
Superga
shopbop.com
$65.00
3
If you are an athlete
Rally Sneaker
Champion
zappos.com
$81.00
I hate interrupting a run on the treadmill to tie up my shoes, but this sporty sneak doesn't have laces, and that light pink color is cay-ute.
4
If you love details
Slip Chuck Taylor All Star
Converse
converse.com
$55.00
I know, I know. This pair has laces, but they actually are knotted to stay in place. All you have to do is slide your feet into them. And, yes, it's totally fine to step on the backs.
5
If you love shopping for a cause
Alpargata Slip-On
TOMS
nordstrom.com
$54.95
Yep, Toms are still an easy go-to when you're in a rush. When you buy a pair, the brand gives another to a child in need. Why not brighten things up with this lemon-y option?
6
If you need something that matches everything
Anchor Slip On Canvas
You could throw these Keds on with anything: a dress, shorts, skirt—endless. Not feeling the pink? They also come in neutral black and white shades.
7
If you hate shoes rubbing against your heels
Cam Vintage White Shoes
Tretorn
zappos.com
$63.56
Imagine if mules and sneakers had a baby (a cute one, btw), it would prob look exactly like this perfect-for-summer shoe. And, no need to worry about blisters bothering your ankles, thanks to the backless finish.
8
If you need a sandal alternative
Sammy Breeze
Yep, you can give the open-toe shoes a little break, even on warm days. This pair of slip-ons has sheer mesh panels that'll give your feet a little ventilation.
9
If you need something a little dressy
The Perforated Leather Street Shoe
Everlane
everlane.com
$145.00
So you've got a fancy thing to go to, eh? You can dress up your look with an option that's made with a luxe material, like leather.
10
If you need an Instagrammable shoe
Shatter Mid Sneakers
Puma
freepeople.com
$100.00
Rose-gold anything will help you get all of the likes. I love the fact that you could also workout in these guys, and I'll take anything that'll motivate me to get in the gym right now.
11
If you need something to wear without socks
Women's Wool Loungers
Allbirds
allbirds.com
$95.00
Don't sleep on the Allbirds slip-ons. They're made with eco-friendly merino wool, which minimizes stinky odors and absorbs moisture.
12
If you need some extra height
Baja Platform Tie Dye Slip On Sneakers
SeaVees
shopbop.com
$88.00
This one has an easy-to-walk-in flat heel. And who isn't all about that tie-dye life?
13
If you need to stand on your feet all day
Salt Honeycomb
Rothy's
rothys.com
$20.00
You know how some shoes need to be broken in before wearing them? Not this pair. You can step out in 'em right away.
14
If you need extra cushion
TechLoom Bliss Sneakers
APL: Athletic Propulsion Labs
shopbop.com
$154.72
The soles on this slip-on sneaker will make your toes feel like they have their own little mattress to rest on. 
15
If you love espadrilles
Homer 2 Sneakers
Franco Sarto
macys.com
$99.00
You literally get the best of both worlds with this sneak. Here, that casual tennis shoe vibe meets the kinda fancy look of espadrilles.
16
If you need a no-slip option
Crest Twin Gore Sneaker
Sperry Top-Sider
amazon.com
$43.56
This pretty lace-less shoe has a sole that's designed to wear on slippery floors.
17
If you like fancy materials
T-Hanks3
Tommy Hilfiger
zappos.com
$35.54
Yes, you'll be comfy in this pair, but you'll also look like a million bucks, thanks to the luxe, faux-croc finish.
18
If you need a statement sneaker
Kinetic Sneaker
Did ya know that Sorel makes sneakers too? Well, it's true. And this style will make e-v-e-r-y-b-o-d-y stop and stare.
19
If you need extra comfort
Tulip 139 Perforated Slip-On Sneaker
ILSE JACOBSEN
nordstrom.com
$78.95
People who stand on their feet all day swear by this pair (peep the reviews). Plus, the perforated scallops and fun colors make them a fun option to have in your closet.
Advertisement – Continue Reading Below