19 Black-Owned Etsy Shops — The Best Black-Owned Shops on Etsy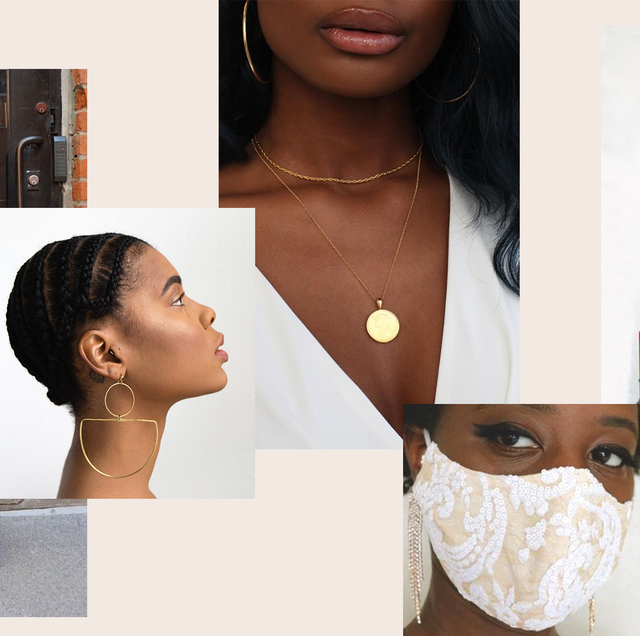 Courtesy
If you're looking for Black-owned brands to support, Etsy is the perfect place to start your search. The retailer actually recently launched a page that shines a light on some of its talented creators. The creative business owners are whipping up all types of things, from the cutest animal cookies you've ever seen to dreamy tulle dresses that are fancy enough for a glamorous bride. You'll find those items plus more of our favorite finds from the Black-owned brands on Etsy ahead.
Of course, it's always a good idea to support these companies 365 days a year, but I can't forget to mention that it's Black Business Month. So let's celebrate and read on to discover some need-to-know brands that are seriously doing their thing on Etsy.
Advertisement – Continue Reading Below
1
xNStudio
Turquoise Batik SPOT Pillow
A pretty pillow will transform any room, especially one of the gorgeous ones in xNStudio's shop. 
2
SophiMakes
Rise Earrings
SophiMakes
etsy.com
$2.73
Here's a shop that turns gold-plated stainless steel into works of art. 
3
sustainablemaria
Suspender Overalls
sustainablemaria
etsy.com
$150.00
All of the pretty looks in this shop are upcycled and supah cute.
4
ArcherHomeDesigns
Rustic Wood Tray
ArcherHomeDesigns
etsy.com
$49.50
The craftsmenship on these wooden designs are *chef's kiss* amazing.
5
Studionom
Geo Wall Hanging
Studionom
etsy.com
$279.04
Yep, this piece of art is exactly what that empty wall in your house needs.
6
FYREVINTAGE
Vintage Oversized Levis Striped Blazer
FYREVINTAGE
etsy.com
$52.00
No need to leave your house to find the coolest vintage pieces. Just visit this Etsy shop whenever you're in the mood for a little second-hand pick-me-up.
7
WicksNOLA
No Justice! No Peace! andle
WicksNOLA
etsy.com
$25.00
The message on these candles is enough to want to stock up on 'em, but the yummy scents will make you want to burn them 24/7.
8
KingsleyLeather
Leather Keyring, Leather Key Fob
KingsleyLeather
etsy.com
$9.52
If you love items with an antique vibe, you'll appreciate these handmade keychain fobs.
9
SwitchSkin
Nintendo Switch Skin Sakura
SwitchSkin
etsy.com
$22.95
Nintendo Switch fans can customize their consoles with the prettiest skins from this shop.
10
OmiWoods
THE SINGLE Coin Necklace Stack I
Your jewelry box could always use a classic pendant necklace.
11
LovelyEarthlings
Sunshine Friends
LovelyEarthlings
etsy.com
$20.38
Place this gorgeous print on your coffee table to remind you of all your friends.
Nakimuli
etsy.com
$120.00
It's not too late to end the summer in a statement-making swimsuit like this jaw-dropping one. 
13
PentUpCookieCompany
Cookies inspired by Animals in Knit Sweaters
PentUpCookieCompany
etsy.com
$53.00
All animals should wear knit sweaters, right? These cookies are so adorable, you won't want to eat them. (But they're also delicious, so, like, you will def eat them.)
14
HortikiPlants
Organic Leafy Greens Gardening Kit
HortikiPlants
etsy.com
$44.95
Struggling to kickstart your garden? Grab this set that comes with easy-to-follow instructions.
15
thelotusbloomco
Tulle Boa
thelotusbloomco
etsy.com
$156.00
Life is too short not to dress up. So go ahead and grab this fluffy boa.
16
FreshSeedGlow
Organic Rose Water Toner
FreshSeedGlow
etsy.com
$8.00
Whenever your skin is feeling dry, give yourself a few spritzes of this soothing toner.
17
ShopUbuntu
Rhinestone Cowrie Shell Statement Earrings
ShopUbuntu
etsy.com
$13.63
It'll be tough to find a pair of shell earrings that are cuter than this pair. So don't even try it.
18
RHYIIbyRichele
RESCUE BUTTER
RHYIIbyRichele
etsy.com
$9.25
Start stocking up on this moisturizing butter now. Your skin will thank you when the temperatures start to drop.
19
DanielaTabois
Bridal Sequin Lace Face Mask
DanielaTabois
etsy.com
$17.00
If you're in need of pretty face mask, this sequin-embellished one takes the cake.
This content is created and maintained by a third party, and imported onto this page to help users provide their email addresses. You may be able to find more information about this and similar content at piano.io
This commenting section is created and maintained by a third party, and imported onto this page. You may be able to find more information on their web site.
Advertisement – Continue Reading Below