20 Best Compression Leggings & Tights for Women 2020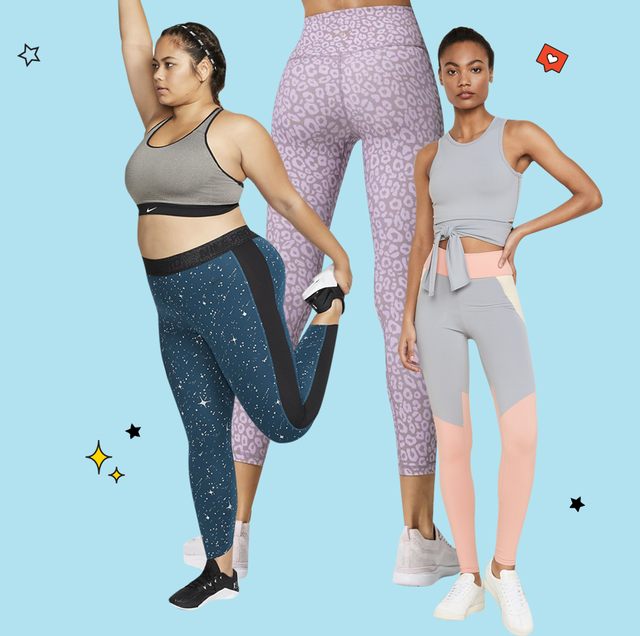 Courtesy
Compression leggings and socks are actually one of the secret weapons professional athletes use to help them deal with swollen or cramping ankles, calves, glutes, and thighs (aka exactly what you need in your closet for those days you want to go extra hard on your next run or heavy on the squats).
Ever heard of compression therapy? Leggings with this technology apply gentle pressure to certain areas, increasing blood flow to the heart, minimizing inflammation, and decreasing pains.
Pretty cool, right? But, before you go all out, buying up every pair with the word compression on the label, you should know that the term "compression" is loosely used and finding the perfect pair can be a lil tricky. Some compression leggings will give you an all-over squeeze, while others just focus on certain body parts. It's important to read the product description of the pair you're interested in to see if it targets the area you want to focus on or not. You'll see exactly what I mean in the roundup, below.
Advertisement – Continue Reading Below
1
If you need something breathable
High-Waisted Side-Pocket Compression Leggings
Old Navy
oldnavy.gap.com
$43.00
These have all of the benefits of snug compression leggings, but will keep you cool and dry, thanks to a moisture-wicking jersey fabric.
2
If you're new to compression leggings
Transcend Leggings
LIVE THE PROCESS
shopbop.com
$127.81
These only have the snug fit in the waistband for those who want to target the midsection.
3
If you like a cropped style
High Rise Pockets In Cloud Compression
Carbon38
www.carbon38.com
$95.00
Want that "I'm not wearing anything" feeling? There's a reason why these have the word cloud in the name. 
4
If you're a true athlete
Insulator Expert Tights
This pair is designed to handle the toughest workout days, with compression that focuses on hips, knees, quads, and calves. 
5
If you want a fun print
High-Waisted Elevate Side-Pocket Compression Crops
Old Navy
oldnavy.gap.com
$35.99
Just because you're serious about your fitness routine, doesn't mean your leggings have to be boring. This pair proves fashion and function can coexist.
6
If you're focusing on your abs
Mother Tucker Compression Leggings
BELLY BANDIT
nordstrom.com
$79.95
Get extra support around your stomach with this extreme high-waist design.
7
If you want to work your way up
Solar Legging
LNDR
carbon38.com
$128.00
This pair has a moderate all-over compression that'll give your aching body a gentle hug.
8
If you're a runner
Zoned In Tight 27″
Lululemon
lululemon.com
$148.00
Whether you're a sprinter or prefer long distances, this one has all you need, like reflective details for those outdoor workouts, holes for breathability, and a waistband that won't slide down.
9
If you sweat a lot
Ava High-Waist Legging
Slits59
bandier.com
$118.00
No need to worry about sweat stains showing up in weird places. This one has moisture-wicking fabric that, of course, also has compression technology too. 
10
If you want a pair that feels like your skin
HeatGear Armour Hi-Rise Leggings
Under Armour
dickssportinggoods.com
$31.50
This lightweight pair definitely won't hold you back while you're giving it your all on the Stairmaster.
11
If you like shiny leggings
Center Stage Legging
All Access
bandier.com
$39.97
This snug-fitting pair has a shiny finish that's ideal for those who want to stand out. The best part: It doesn't have that seam bisecting the front, like most leggings do.
12
If you need a spot for your phone
Trinity High Waisted Pocket Legging
Fabletic
www.fabletics.com
$59.96
A pocket with white trimming will keep your phone safe when you go on runs. This pair also gets bonus points for the gentle compression throughout the design.
13
If you're training for a marathon
Training Tights
CEP
cepcompression.com
$20.00
All of the tired muscles in your legs will appreciate this top-of-the-line pair of leggings, which is made with a special technology called TIGHTFIT.
14
If you like sculpting leggings
Warmup Legging
Outdoor Voices
outdoorvoices.com
$70.00
This baby will hold you in all of the right places. Plus, it has a hidden pocket on the waistband to hold the essentials.
15
If you like buttery-soft leggings
Olympus High-Waisted Leggings
Beyond Yoga
rei.com
$99.00
Yep, it's possible to combine the firm feeling of compression with a silky-soft material. 
16
If you like prints
Salutation Stash Pocket Pebble Beach Tight
This speckled pair of leggings is exactly what you need for your next yoga session. And it has three pockets (two on the side and one in the back) that'll come in handy.
17
If you like shapewear
Booty Boost Active Colorblocked Leggings
The name of this pair focuses on the ~boo-tay~, but the compression-like fabric also will support your stomach and thighs.
18
If you like sustainable brands
High-Rise Compressive Legging
Girlfriend Collective
backcountry.com
$51.00
Looking for an eco-friendly find? Here's a pair made completely out of recycled water bottles .
19
If you like colorblocking
Stefania 7/8 Legging
This two-tone pair is perfect for mixing and matching with different tops, and it has compression fabric in its wide waistband.
20
If you need something for colder temperatures
Metallic Tights Nike Pro Warm
This star-spangled option will help you train like a pro, even on the coldest of days.
Advertisement – Continue Reading Below