20 Dirty Pick-Up Lines for Women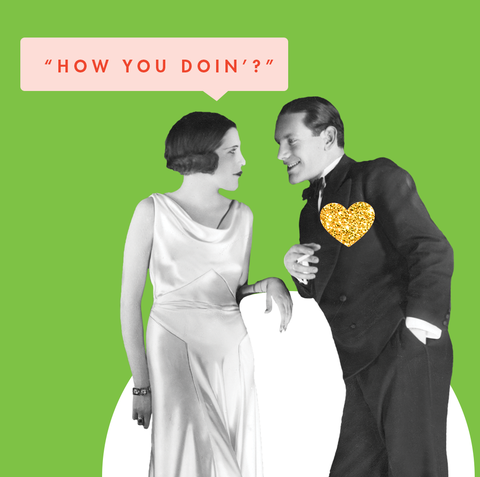 Sanchi OberoiGetty Images
When it comes to crafting the perfect, salacious pick-up line, there's really no precise formula to follow. Sure, you definitely have to start by reading the room (i.e. crossing off anyone who appears to have a ring on their left finger) but in general, there's a good chance you could just throw out a random "u up?" and find some high-key success.
That said, a script on what to say and how to say your pick-up line could definitely help. Soooo if you're like "hallpp me!" don't fret, we gotchu whether you're sliding into a dude's Tinder for the first time, or sending a sext to your boyf of four years.
Here are the full-proof, best pick-up lines, starting with women who have actually found success with 'em:
1. "I like to say 'Here's my SnapChat. Do what you want with it.' Works every time!" —Hunter
2. "This one time I bought an extremely hot guy a beer while we were at the bar. I just walked over and handed him a beer and said 'I thought you'd like this.' His eyes went wide and he said that no girl had ever bought him a beer. That night, I got laid." —Chloe
3. "I sent a guy $.01 on Venmo with the caption 'penny for your thoughts.'" —Sarah
4. "You are looking like a boss in that outfit." —Sophie
5. "There's no better time than now to take me out." —Madison
6. "I like to slide in by saying: 'You look so familiar!' because then they respond with something along the lines of 'Hmm, how do we know each other?' and then I'll finish with 'Why don't we figure that out over drinks?'" —Catherine
And some fun ones to mix it up:
1. Hey boy, are you an Uber Pool? 'Cuz I love when it's just us, but I'm also nervous someone else may come in and ruin this.
2. Are you the online order I placed a few days ago? 'Cuz I've been waiting for you all day.
3. Am I on an episode of Fixer Upper? Because I've never seen hardwood like that in real life.
4. My doctor told me I have a Vitamin D deficiency. Wanna go back to my place and save me?
5. They called me, "First Name + Dyson Ball Vacuum Thingy + Last Name" in college. Because I handle super smoothly and I love sucking.
6. Are you my bank account after the direct deposit hits? Because I'm about to go to town.
7. Ask me why I'm so tired. It's because I've been kegeling all day.
8. Are you a supermarket sample? 'Cuz I wanna taste you again and again without any sense of shame.
9. Boy, are you a spur-of-the-moment pedicure? 'Cuz I'm suddenly really regretting not shaving earlier.
10. Are you an Uber surge during a rainstorm? Because I'm down if it means getting out of these wet clothes.
11. Are you my skin after I stress-eat a bunch of cheese during finals week? Because I'm dying for a facial.
12. You're just like a wine tasting. They say to spit, but I always prefer swallowing.
13. Are you my Instagram feed right before bedtime? 'Cuz I'm about to double-tap you over and over again until I pass out.
14. I'm just like a pore strip. Hard to get off, but extremely satisfied once you do.
---
Want to get the hottest sex positions, the wildest confessions, and the steamiest secrets right to your inbox? Sign up for our sex newsletter ASAP.