20 Gender Fluid Clothing Brands 2021 — Best Gender Fluid Brands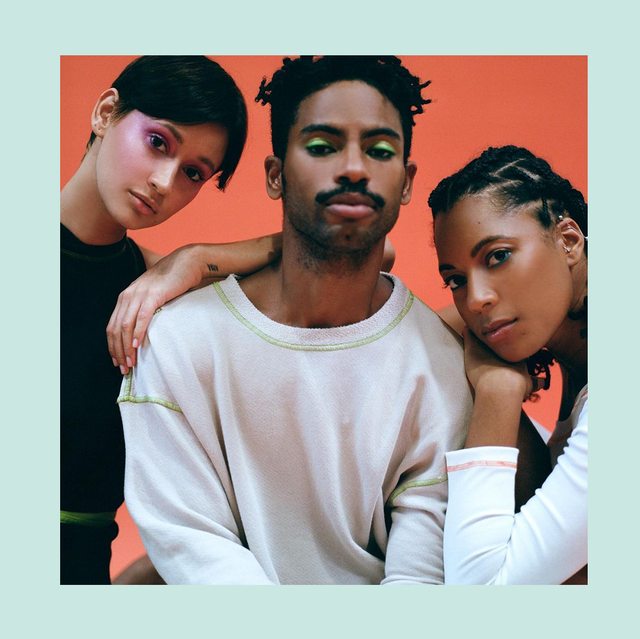 courtesy
Let me be clear: Everything is gender fluid if you want it to be! You don't need a brand to specifically label itself as "unisex" to wear it. Although Harry Styles received praise—and totally unnecessary backlash, ugh—for his recent Vogue cover shoot, in which he donned a dress, gender fluid fashion has long been a part of the LGBTQ+ community. I mean, it's downright freeing to not have your outfits dependent on whether something is in the "men's" or "women's" section when shopping. So yes, androgynous fashion has been around for a while (Grace Jones and David Bowie prob come to mind, right?), but it is picking up steam. Many more brands are embracing this new norm, from newcomers like Naclo Apparel to long-established labels like Equipment.
Here, we rounded up 20 gender fluid clothing brands that have some truly standout designs, and the bonus is you can share them with your S.O. and friends—or keep them all to yourself. Keep shopping below to get in on these colorful creations that'll guarantee compliments the next time you wear them.
Advertisement – Continue Reading Below
1
Pyer Moss
Classic Logo Cropped Hoodie
Feel free to swap Moss' designs with your partner because you'll both look so dang good in his colorful sweats, sporty jackets, and logo tees. 
2
Phlemuns
Tank – White/Lime
James Flemons founded his brand as gender-inclusive and his mantra is "if you like it, wear it." Don't mind if I do with this tank featuring green contrast stitching. 
3
Wales Bonner
Blue Adidas Originals Edition Logo T-Shirt
Many of this label's designs are tailored and structured (think blazers and pants), but even the more casual pieces appeal to everyone. Loving this sporty top from the Adidas collab. 
4
Pangaia
PPRMINT™ Organic Cotton Oversized Box T-shirt
Pangaia's colorful bold sweatsuits and loungewear are for anyone who wants to feel comfortable, but also make a statement. Plus, the sustainable fabric and dye are a bonus. 
5
Eckhaus Latta
Brown Lapped Baby T-Shirt
Eckhaus Latta
ssense.com
$160.00
For those who prefer acid-wash jeans and edgy tees, this is the brand for you. 
6
K.ngsley
White "Romain" Ribbed Tank
Inspired by nightlife and "going out" (remember those days?), designer Kingsley Gbadegesin created the perfect bold tank top for every gender to wear. 
7
Alex Mill
Wyatt Shirt In Bold Stripe
Alex Mill's bright color palette mixed with its uniform look makes its clothing effortless and easy to throw on. For instance, take this striped shirt, that you can envision both men and women wearing.
8
Entireworld
Brushed Sweatpants
theentireworld.com
$88.00
Yet another fun sweats brand that anyone can get in on. It does offer other pieces too, like T-shirts, coats, sweaters, and more that are just as versatile as its loungewear. 
Specializing in quality basics made with v soft Egyptian cotton, this label transcends gender. 
10
Big Bud Press
Short Sleeve Jumpsuit – Clay Red
The Los Angeles-based brand specializes in unisex designs, and its standout bold jumpsuits come in an array of colors. 
11
Daily Paper
Pastel Turquoise Ecar Hoody
The streetwear aesthetic of this label lends itself to unisex creations, like hoodies, wide-leg sweats, tailored blazers, and logo jackets. 
12
69 Worldwide
Duck Pant
Prepare yourself over all things oversized with this brand that specializes in bleached pieces, denim, and extra roomy silhouettes. 
13
FEAT Clothing
BlanketBlend Hoodie
The "BlanketBlend" hoodies are fan faves at Feat, but it also offers joggers, sweats, and shorts for everyone to match their cozy sweaters. 
14
NaClo Apparel
"CLOUD" Short Set
Tie-dye sweats for the whole fam! Seriously. Co-founder Jamie Williams and her family wore them in their holiday card. 
15
Telfar
x Converse Tennis short sleeved T-shirt
Telfar's shopping bags are now iconic, but its clothing is just as stylish. The low-key styles, from graphic tees to track jackets, are ones that everyone looks great in.  
16
Bode
Mountain Tableau Embroidered Cotton Bowling Shirt
matchesfashion.com
$445.00
Designer Emily Bode focuses on menswear, but her pieces are for anyone who appreciates details like patchwork and embroidery, as well as a vintage look. 
17
Come Back as a Flower
Oatmeal Set
Just another brand that proves sweatsuits are gender fluid. CBAAF's oatmeal sets featuring blue tie-dye will be ones you and your S.O. won't want to take off. 
18
Nudie Jeans
Barney Tie Dye Violet
Denim for all! Nudie Jeans has a variety of fits for men and women and its jackets, shirts, and knits are equally versatile. 
19
EQUIPMENT
Polka Dot Print Shirt
This label always has amazing button-ups. In February 2020, it launched a gender-fluid collection, which also includes this pretty green polka-dot number. 
20
Tombolo
Mar di Gras (Eggshell)
tombolocompany.com
$128.00
A unisex brand that's all about vacation shirts? Count me in. Tombolo's prints and materials give any outfit a luxe beachy feel. 
This content is created and maintained by a third party, and imported onto this page to help users provide their email addresses. You may be able to find more information about this and similar content at piano.io
Advertisement – Continue Reading Below