20 Gray Outfit Ideas for 2020 — Best Groutfits to Shop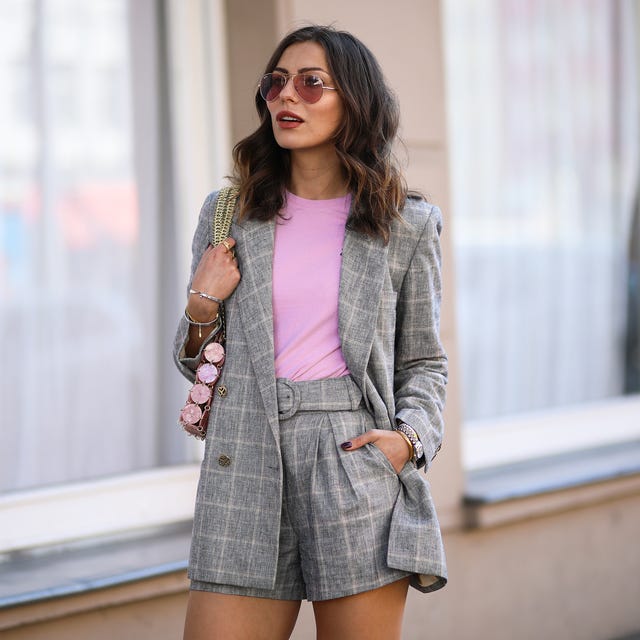 Jeremy MoellerGetty Images
For whatever reason, wearing the color gray just makes me feel more comfortable—anyone else? Maybe because the hue is associated with sweatpants and hoodies, but since being quarantined, I've gravitated more and more to the shade because I'm working from home and just want to be cozy. Sue me! But you can totally dress up your "groutfit" (i.e., gray outfit) too! Here, 20 gray outfit ideas if you're in need of some wardrobe inspo right now.
From sweaters and leggings to skirts and dresses, there are so many ways to show that you're gray's No. 1 fan. You can opt for a monochrome look or just choose one or two gray pieces to incorporate into your ensemble. Keep scrolling to get some ideas from these stylish outfits, and if you're in the mood for more online shopping check out these links featuring the best T-shirts, cute adult onesies, pretty high-waisted swimsuits, and lightweight summer jackets.
Advertisement – Continue Reading Below
1
this top-rated hoodie
Boyfriend Logo Patch Hoodie Sweatshirt
Champion
urbanoutfitters.com
$60.00
A Champion hoodie is a great staple piece that's comfy enough to wear when lounging on your sofa, but also fashionable enough to wear out. Pair it with neutral pants, Converse, and a bright bag to add a splash of color. 
2
this chic check set
Lay Crop Tank Top
Get in on the picnic vibes with a patterned matching set featuring an uneven hem. The knit material will feel so soft, and you'll love the fact that the pants just slide right on—no buttons or zippers here. 
3
this tee and jeans sitch
Women's Pima Boxy Crop Tee
Richer Poorer
richer-poorer.com
$38.00
Richer Poorer has some quality tees, and this pocket one in gray looks like it was made to be worn with dark jeans. (It'd also look just as good with leggings or sweats if you're not wearing jeans just yet.)
4
this workout set
Caught In The Midi Space-Dye High-Waisted Legging
Beyond Yoga
urbanoutfitters.com
$97.00
A space-dyed legging and crop top set is what your next at-home sweat sesh needs. 
5
this edgy sweatpant look
Sweatpants with Reflective Trim
Missguided
us.asos.com
$40.00
Go the street-style route and wear gray sweats with a cutout tank and fresh white kicks. A statement chain necklace also adds a nice touch. 
6
this athleisure getup
Happiness Runs Crop
FP Movement
freepeople.com
$30.00
Everyone raves about this textured top from Free People Movement (it has more than 350 reviews!), and it looks so effortless with a pair of fold-over drawstring bottoms. 
7
this bikeshort and sweater combo
Seamless Lace Bike Short
Intimately FP
freepeople.com
$20.00
Not all bike shorts are plain, you know. These ribbed ones have a sweet touch of lace trim at the bottom. Throw on an oversized gray sweater and your "groutfit" is all set. 
8
this knit coord
Asher Set in Heather
HEARTLOOM
revolve.com
$130.00
Yes, summer's almost here, but if the weather is still transitional where you're at (*raises hand*), a cute skirt and sweater that you can roll up might be just the thing. You can always wear these as separates too! 
9
this belted jumpsuit
The Linen Square-Neck Jumpsuit – Grey / White
everlane
everlane.com
$88.00
A square-neck jumpsuit with a tie to cinch the waist is both casual and dressy, depending on the accessories you choose to wear; plus, the lightweight linen fabric is perfect for warmer temps. 
10
this stylish slouchy 'fit
Fleece Sweatpant in Heather Grey
DANIELLE GUIZIO
revolve.com
$158.00
Nothing beats a slouchy pair of sweatpants. This pair looks killer with heels and a fitted crop tee, but the soft cotton will feel magical against your skin. 
11
this acid-wash vibe
Denim Midi Skirt in Gray Acid Wash
Simply Be
us.asos.com
$56.00
Opt for a '90s-inspired ensemble featuring an acid-wash denim skirt, a simple white tee, printed sneakers, and a baby top-handle bag. 
12
this comfy t-shirt dress
Oversized T-shirt Dress With Pocket Detail
ASOS DESIGN
us.asos.com
$24.00
A T-shirt dress is easy to throw on if you're in a rush to get ready for the day. Wear this gray one with sneakers, flats, or sandals to keep it low-key. 
13
this dressy getup
The Daily Ribbed Stretch-Supima Cotton Tank
James Perse
net-a-porter.com
$60.00
So maybe we're not getting this dressed up these days, but the point is, not every gray outfit is casual. An oversized vest, tank top, and tailored pants all in different shades of gray is undeniably elegant. 
14
this cute sporty set
Warmup Shorts
Outdoor Voices
outdoorvoices.com
$45.00
Throw on a pair of gray shorts with a matching sports bra and neutral sneakers whether you're going for a run or just (safely!) walking around your neighborhood. 
15
this tank and cropped denim look
Marco Tank in Charcoal
Michael Lauren
revolve.com
$59.00
This square-neck tank top is made with lurex so it has subtle silver shine. Cropped charcoal gray jeans and pumps make this one fashionable 'fit. 
16
this matching paneled sweatset
Sunnyside Cropped Paneled Mélange Cotton-Blend Terry T-shirt
TWENTY Montréal
net-a-porter.com
$100.00
Matching sweatsuits have been all over your IG for a reason. They're both insanely comfortable, but surprisingly also way chic as evidenced by this gray paneled set. 
17
this ruffled striped mini
Melody Dress
Saylor
shopbop.com
$181.50
A black-and-white striped print gives the illusion of an all-over gray hue. Opt for a summery tiered dress with ruffled sleeves, buttons, and a belted waist. 
18
this sweater and short combo
Off Cuff Cropped Pullover
Beyond Yoga
11honore.com
$66.00
A slightly see-through gray pullover will definitely come in handy for transitional seasons when it's chilly in the morning but hot in the afternoon. Wear it with bike shorts and Nikes to keep it casual. 
19
this relaxed ensemble
The Air Muscle Tank – Heather Grey
everlane
everlane.com
$22.00
You'll look instantly pulled together by pairing a gray muscle tank with a denim skirt and leather flats. It's science. 
20
this loungewear look
Luxe Cashmere Ribbed Shorts Cement
Yes, cashmere is pricier than other materials, but dang is it so comfortable. This short and hoodie set will let you live your coziest WFH life. Warm socks definitely encouraged.  
This content is created and maintained by a third party, and imported onto this page to help users provide their email addresses. You may be able to find more information about this and similar content at piano.io
Advertisement – Continue Reading Below