20 Types of Jeans for Women 2020— Different Jean Styles and Cuts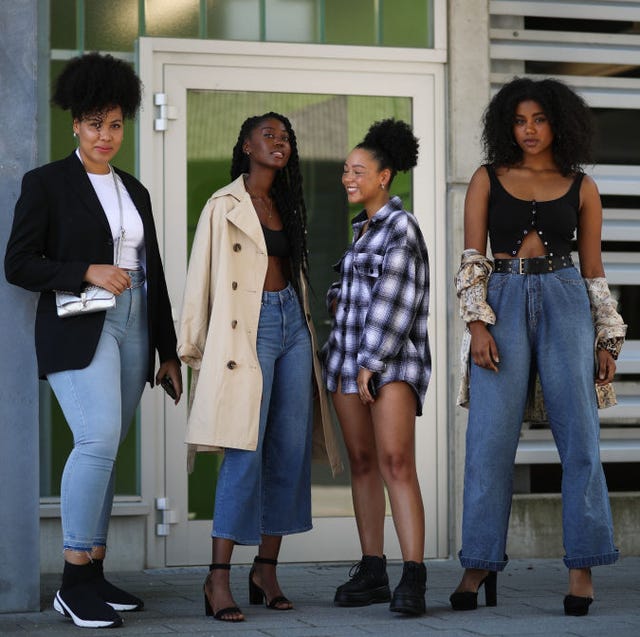 Jeremy MoellerGetty Images
You wear them all the time, so why not learn more about all the cuts and silhouettes? Or even if you think you know all the types of jeans, it's still fun to shop for more! There are so many styles that can stir up some heated discussions. Are you team high-rise or low-rise? Team cropped or long? Team skinny or wide leg? Honestly, you might be more team sweatpants these days, but you get what I mean.
Jeans have been around for more than a century (they were invented in 1873 to be exact, thanks to Levi Strauss and Jacob Davis), so of course there have been tons of iterations of the bottoms since then, some more divisive than others. But if you truly love all pairs equally—yes, even low-rise ones—then you'll wanna keep scrolling to get your hands on some new jeans. Here, 20 different types of jeans for women that you'll want to add to your already-overflowing denim drawer. And if you're in the mood for even more check out this roundup of the best, top-rated jeans and if you're into the Canadian tuxedo look, then look through these denim jackets to coordinate.
Advertisement – Continue Reading Below
1
Skinny Jeans
Button Front Crop Skinny Jeans
MADEWELL
nordstrom.com
$89.50
Skinny jeans are known for their figure-hugging silhouette—the snug fit starts at the waist and extends all the way to the ankle. Most offer stretch so it's easier to get your ankles into the smaller leg openings. They come in a variety of washes and rises depending on your preference, but these ones from Madewell are one of the brand's top-rated, comfiest pairs.
2
Skinny Crop Jeans
Sophie High Rise Skinny Crop
AGOLDE
revolve.com
$148.00
Similar to skinnies but cropped! This shorter version gives your ankles some breathing room and looks killer with a pair of tall ankle boots or flats. Opt for a raw edge, like these AGOLDE ones, for added toughness or one with a normal hem for a more polished look. 
3
Cigarette Jeans
The Authentic Stretch High-Rise Cigarette Jean
Everlane
everlane.com
$39.00
Not quite skinny but not quite straight, these jeans are usually snug on the thigh area and then more relaxed over the calves. They often stop just an inch or two above the ankle. Style them with mules or slides for a more casual look or lace-up sandals for a dressier vibe. This Everlane pair has more than 1,800 reviews and a 4.59 star rating out of 5. 
4
Straight Jeans
Good Straight
Good American
goodamerican.com
$118.90
This style is similar to cigarette jeans except that they normally extend past the ankles. You can find them in an array of washes and rises, but if you're going for more of a retro look, definitely opt for a high-waisted pair, like this one from Good American. 
5
Cropped Wide-Leg Jeans
Hepburn Petite High Rise Wide Leg
This cut has become more popular in recent years and is typically high-waisted, has roomy leg openings, and is cropped at the middle of the shin or lower. If you're looking for pants that feel breezy and look cool with sneakers or sandals, these will become your go-to. 
6
Wide-Leg Jeans
Classic Fit Belted High Rise Wide Leg Denim
Eloquii
eloquii.com
$99.95
Don't like cropped pants but still like the statement-making look of wider legs? Then these are for you. They look super sophisticated in darker washes with a belted waist, like these Eloquii ones, but can be low-key in a lighter wash with sandals and a T-shirt. 
7
Relaxed Jeans
Originals Loose Distressed High-Rise Straight-leg Jeans
RE/DONE
net-a-porter.com
$132.50
Similar to straight-leg jeans but with an all-around looser fit, these are not as constricting and can easily be dressed up or down. Opt for distressed details, like these Re/Done ones, for an even more *relaxed* vibe. 
8
High-Rise Jeans
Ribcage Straight Ankle Jean
Levi's
freepeople.com
$98.00
These aren't like the "Mom" jeans of the '80s. High-waisted cuts are back in a major way and are more fashionable then ever. They work perfectly with all your crop tops and sweaters because they hit right around the belly button. (Or in some cases higher or lower depending on the length of your torso.) This "Ribcage" design from Levi's is one of the brand's most popular pairs. 
9
Low Rise Jeans
Dre Low Rise Slim Boyfriend
Rag & Bone
revolve.com
$225.00
While high-waisted jeans seem like they've taken over, low-rise pairs haven't fully disappeared—and they're actually on their way back into fashion. This silhouette features a button and zipper closure right above your hips if you don't like jeans that go any higher. 
10
Boyfriend Jeans
Le Beau Ankle Straight Leg Boyfriend Jeans
Frame
nordstrom.com
$115.00
These jeans are insanely comfortable thanks to their slightly baggy fit. Many come with the hem cuffed or you can choose to roll them down for more ankle coverage. These are the ultimate casual-chic jean style—especially when worn with loafers or sneaks. 
11
Bootcut Jeans
Den Slim Bootcut
Warp + Weft
warpweftworld.com
$98.00
Bootcut jeans flare out slightly starting at the knees and are named so because they're often worn with boots, naturally. They typically feature longer pant legs and in these cases, they look best with heeled shoes so the bottoms don't graze the floor.  
12
Flared Jeans
High-Rise Flare Jeans
Lee
freepeople.com
$98.00
Aka "Bell Bottoms." This silhouette is similar to bootcut jeans except that the flare is more exaggerated. Popularized in the '70s, the bohemian style is making quite the comeback on the runways and IRL. These Lee ones have an almost perfect 5-star rating and come in 1o total prints and washes. 
13
Distressed Jeans
Cutting Up Denim Jeans
NL the Label
nlthelabel.com
$198.00
Did your mom ever tell you growing up that she'd never buy you a pair of hole-y jeans? Yeah, same. But they're just so fun! If you don't trust your DIY skills, opt for an already-distressed pair with rips, frays, and holes. There are definitely different levels of distressing, so you can go for a style that's more subtle too. 
14
Pleated Jeans
Camille Jeans
Nobody Denim
shopbop.com
$89.70
There's perhaps nothing more '80s than a pair of pleated jeans. This style features pleats that start at the front belt lops that give your legs more room. If you want a throwback look, then definitely consider this design. 
15
Jeggings
Ne(x)t Level High Waisted Jegging
Wish you could combine the comfort of leggings and the structure of jeans? Get yourself some jeggings. They feature soft material and offer TONS of stretch. If you don't like the feeling of stiff, rigid jeans but also don't want to wear leggings 24/7, grab yourself a pair of these babies. 
16
Bleached Jeans
Bleach Denim Hemma Pants
Daily Paper
dailypaperclothing.com
€172.00
The lightest of light-wash jeans are definitely bleached ones, which gives them a bit of a '90s grunge aesthetic—especially if they're also cargo pants, like this pair. 
17
White Jeans
Finn High Waist Ankle Straight Leg Jeans
ETICA
nordstrom.com
$155.00
Want to switch up your denim game? Opt for white. The color is more versatile than you think because it's a neutral, and while the hue is a spring and summer staple, you can also wear them easily with all your winter white sweaters. 
18
Black Jeans
The Hustler Ankle Fray Jeans
MOTHER
shopbop.com
$198.00
Another neutral on the other side of the spectrum is black. The dark color is great if you're going for an edgier vibe—you really can't go wrong wearing these with a leather moto jacket and black booties. However, they can also be work-appropriate since they're basically one step down from classic black dress pants. 
19
Colorful Jeans
Sailor Jeans
Rolla's
shopbop.com
$99.00
Want jeans with a little more oomph? Get out of your traditional blue denim box by opting for another color. If you have any other hue in mind, odds are you can find it, considering the vast amount of styles on the market. 
20
Corduroy
Plant Dyed Corduroy Pant Natural
Back Beat Co.
galerie.la
$168.00
A softer, more textured version of denim is corduroy, and although it gains popularity during fall and winter months, you can totally wear it during summer too. The vertical ridges and velvet-like feel will win you over. 
This content is created and maintained by a third party, and imported onto this page to help users provide their email addresses. You may be able to find more information about this and similar content at piano.io
This commenting section is created and maintained by a third party, and imported onto this page. You may be able to find more information on their web site.
Advertisement – Continue Reading Below