21 Best T-shirts for Women in 2020 — Shop Best Women's Tees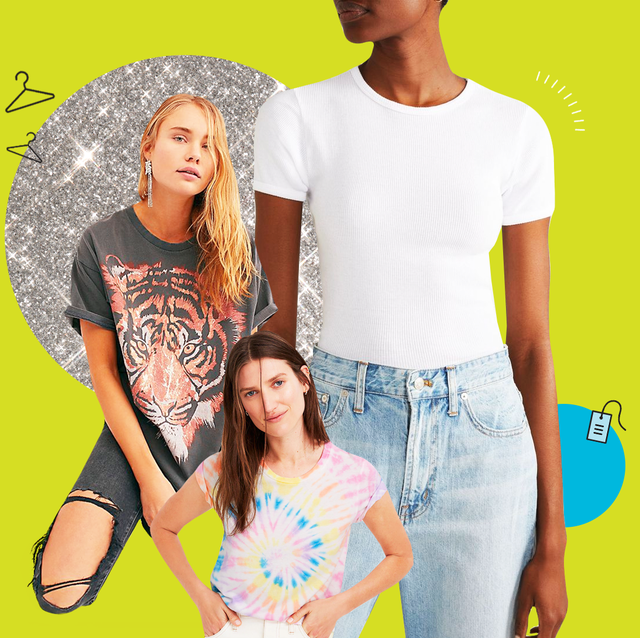 Katie Czerwinski
Summer is almost upon us (I can't believe it either!), so there's no better time to add a good ol' T-shirt to your rotation. Especially during these times when we're staying at home and maybeee not putting as much effort into our everyday outfits, a basic tee is comfy, easy to throw on, and looks dang good with just about anything—whether it's sweatpants, high-waisted leggings, or a killer pair of jeans.
That being said, it can be hard to find one that actually fits you in all the right ways and isn't too short, too long, too wide, too narrow—you get my point. That's where these top-rated T-shirts come in, because we want you to experience the euphoric joy of finally wearing one that feels like it was made just for you.
Here, we rounded up 21 of the best T-shirts for women in ALL different styles and fits, from graphic tees to V-necks and oversized silhouettes, so you can find the one that's calling your name. Happy scrolling!
Advertisement – Continue Reading Below
1
Best Cropped Tee
The Crop Tee
hanes x karla
revolve.com
$48.00
Hanes is known for its iconic white tees, but this one has a cropped upgrade thanks to the brand's collab with celeb stylist Karla Welch. Roll up the sleeves slightly for that perfectly "undone" look. 
2
Best Inclusive Tee
Tee Rex
Universal Standard
universalstandard.com
$50.00
This tee, available in sizes 00-40(!), comes in tons of other hues and has some pretty amazing reviews. Apparently it's made from "Peruvian cotton that only gets softer with every wash." Count me in. 
3
Best Under $10 Tee
Ribbed Cotton T-shirt
The ribbed material of this tee means it'll feel extra soft on your skin; plus, at this price you can stock up on the style in more than one shade. 
4
Best Boxy Tee
The Organic Cotton Boxy Raglan Tee
everlane
everlane.com
$18.00
Sometimes you don't want a super fitted silhouette, and that's where this oversized one comes in. It's not too long, made with certified-organic cotton, and has an all around effortless vibe. 
5
Best Relaxed Vintage Tee
Standard Tee
Cotton Citizen
cottoncitizen.com
$45.50
If you're looking for a shirt that already has a worn-in look, this vintage tee has some subtle distressed details around the collar and sleeves for some added edge. It's also made with comfy supima cotton and comes in 17 total colors. 
6
Best Ribbed Tee
'90s Ribbed Cap Sleeve Tee
RE/DONE
net-a-porter.com
$95.00
This tee is modeled after styles that Naomi Campbell and Kate Moss wore back in the day. The texture and fit can easily make it look dressed up or down, depending if you pair it with light-wash jeans or a midi skirt. 
7
Best scoop neck tee
Women's Scoop V Tee
Richer Poorer
richer-poorer.com
$23.00
A crewneck can feel too fitted at times and a V-neck can be too low, so opt for a scoop neck that's right in between! Richer Poorer makes some killer basics, and this t-shirt has a perfect 5-star rating. 
8
Best Pocket Tee
Classic V-Neck Tee
Anthropologie
anthropologie.com
$48.00
Whether or not you actually use the pocket is up to you, but the detail adds a lil something to a simple tee. This specific one has more than 150 reviews, comes in standard, petite, and plus sizes, and has *just* the right amount of slouch. 
9
Best Oversized Graphic Tee
Oversized Tiger Tee
Wrangler
freepeople.com
$68.00
Keep the Tiger King craze going with this oversized tee. Wear it with leggings for cozy look or with distressed cutoff shorts for a 'fit Joe Exotic would love. 
10
Best Tie-Dye Tee
Tie-Dye Vintage Shrunken Tee
Rivet & Thread
madewell.com
$55.00
Tie dye is till going strong as we get closer to summer, so get in on the multicolored trend with this top-rated swirl tee from Madewell. 
11
Best Classic Graphic Tee
The Classic "You're Cute" Tee
re/done
shopredone.com
$69.00
If you dig a retro vibe, a shirt with a cheeky comic on it will make everyone do a double take just to read this harsh burn. 
12
Best Striped Tee
The Modern – White/Orange
Kule has some of the best striped tees out there in so many different colorways and lengths. This short sleeve one, esp with its sunny hue, is perfect for warm weather ahead. 
13
Best Band Tee
Led Zeppelin 1975 Tour Shrunken Tee
Urban Outfitters
urbanoutfitters.com
$44.00
We can't go to any concerts for the forseeable future, so why not show your love with a band tee instead? This Led Zeppelin one is really fitted so you might want to size up, but it has an impressive 4.6-star rating out of 5. 
14
Best Classic white tee
Classic Margo Tee
Just a good ol' cotton white tee—not too oversized and not too small and it hits right at the waist. Can't go wrong with that! 
15
Best V-Neck Tee
The Cotton V-Neck
everlane
everlane.com
$18.00
Show off all your layered necklaces with a V-neck top. You'll want to size up for a more relaxed fit, but this Everlane style has more than 2,000 reviews!
16
Best Long-Sleeve Tee
Long Sleeve Crew Tee
As summer gets nearer, you might not be looking for a long-sleeve top, but this ATM one is lightweight and easy to roll up. It can be cold indoors too even if it's hot outside, so this is a great style for fluctuating temps. 
17
Best Cozy Tee
Cozy Cool Girl Sleep Tee
Free People
freepeople.com
$60.00
Personally, I love a good sleep tee. Wear this  oversized one on its own to bed, or pair it with shorts or sweats if you're lounging around all day. It also comes in four other colors and has an almost perfect 5-star rating, if that helps convince ya. 
18
Best Sleeveless Tee
Women Cotton Sleeveless T-Shirt
Give your shoulders some sun (still put sunscreen on though!) with a basic sleeveless style. You can tuck this number in or tie it in a knot to crop it slightly—it'll be your new summer staple. 
19
Best Baby Tee
The Baby Sister Pointelle Tee
Cotton:On
cottonon.com
$10.49
This cropped and fitted black tee also has tiny scalloped trim along the hem, sleeves, and collar that prob resembles a shirt you had as a kid. 
20
Best Mock Neck Tee
Leia Top
Reformation
thereformation.com
$33.60
The best transitional t-shirt is one that has some extra coverage on the collar and sleeves, but it's still thin enough so you don't overheat. And good news! This Ref one is on sale. 
21
Best Luxe Tee
Luxe Lotus Jersey Tee
James Perse
jamesperse.com
$165.00
Advertisement – Continue Reading Below