23 of the Best Tote Bags You Can Buy Right Now (They're, Like, Really Pretty)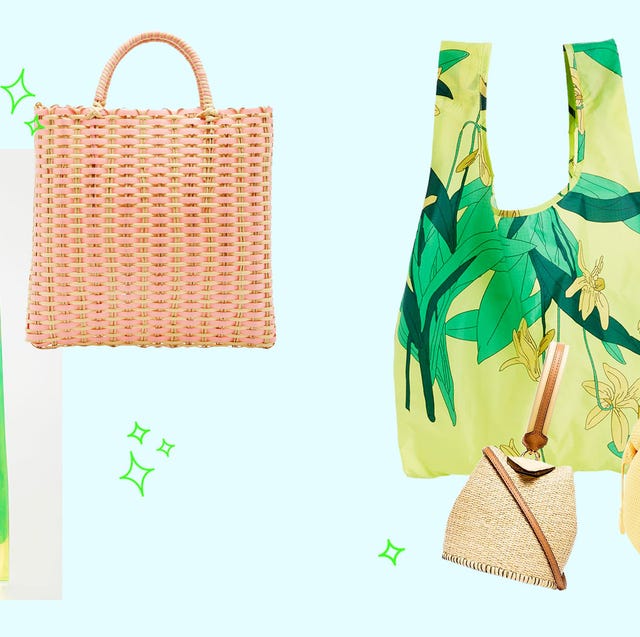 Raydene Hansen
Tote bags. They're extremely useful and practical, because they actually can fit everything you need to have with you always, from an extra pair of shoes, a makeup bag, a laptop, and anything else that comes to mind. But, pls, don't settle for just a regular one. Get a strikingly pretty one that all your friends will compliment you on (even if it's just through Zoom).
From beachy straw options, to reusable bags you can take with you to the grocery store, little mini guys, and gorgeous top-handle designs, scroll on for some of the very best tote bags out there.
And, as long as you're distracting yourself during this time of social distancing, why not check out our roundups of work-from-home essentials, sweat sets, and slippers?
Advertisement – Continue Reading Below
1
This linen one
Hanna Linen Tote Bag
Faithfull
anthropologie.com
$89.00
The soothing light pastel color and sweet floral pattern of this linen tote with a knotted strap detail will be perfect for summer.
2
This sturdy orange tote
Mixed Media Woven Tote
Poolside Bags
shopbop.com
$195.00
Large enough to fit a Kindle, your phone, and any other makeup essentials, this pretty orange design could be your go-to for the summer. Plus, how cute is that dainty gold shoulder chain??
3
This dressy-beachy combo
Isla Bahia Small Straw Basket
PAMELA MUNSON
nordstrom.com
$206.25
Absolutely living for the soft lime handle with pearl accents on this straw tote!
4
This updated mom bag
Abroad Mini Crossbody Bag
Madewell
shopbop.com
$158.00
Meet your new every-day bag. The neutral colors mean it can go with any outfit, but the color-blocking keeps it interesting. 
5
This round fella
Alison Woven Tote Bag
Anthropologie
anthropologie.com
$98.00
Gotta love a circle bag, and this blue woven one is so big, it'll even fit your laptop.
6
This clear neon buddy
Jelly Tote Bag
TOPSHOP
nordstrom.com
$30.00
If you don't care whether or not people can see what you bring with you everywhere, consider this plastic-looking tote at a super affordable price.
7
This statement chain bag
Snack Top Handle Flap
Studio 33
shopbop.com
$118.00
Yes, the bag is super cute and will go with pretty much anything you wear, but that marbled resin chain is the thing that really makes it pop.
8
This puffy option
Fractus Water Resistant Nylon Tote
CARAA
nordstrom.com
$57.00
In case you need a tote that's large enough to carry a laptop or a workout outfit, but puffy enough to sleep on when the mood hits. #Priorities.
9
This woven handle option
Transport Inset Zip Crossbody Bag
Madewell
shopbop.com
$168.00
Pack your stuff up in this cute upgrade to the classic shopper tote.
10
This $9 style
Printed Ripstop Nylon Tote
BAGGU
nordstrom.com
$9.00
A nylon bag is super easy to clean and this pretty floral designed option is also perfect for grocery shopping. 
11
This see-through mini
Mini Shirley Bag
STAUD
shopbop.com
$195.00
The subtle mock-croc design of the inner pouch elevates this transparent mini tote's whole vibe.
12
This two-tone woven situation
Urbano Woven Tote
L SPACE
nordstrom.com
$70.00
You're not going to want to carry just anything in here, as the looser weave means it could escape the bag and fall out, but produce, and any other large objects will do just fine in this pretty striped guy with a beaded handle.
13
This mixed-material style
Lula Raffia-Trimmed Tie-Handle Tote by KAYU
KAYU
modaoperandi.com
$145.00
Part structured straw, part unstructured fabric, this design will be able to both protect your stuff from getting dinged up and store a ton. The cute tropical leaf embroidery doesn't hurt either ;).
14
This happy mini duffle
Small Landon Carryall
Dagne Dover
dagnedover.com
$125.00
A small duffle that'll fit your gym clothes, a notebook, a water bottle and more with a convenient outer cellphone pocket? Yesss. 
15
This dramatic, designer one
Le Petit Baci raffia tote
Jacquemus
farfetch.com
$331.00
For anyone who wants to make a statement with their totes, look no further than this extremely extra (in the best way possible) tote.
16
This tri-toned bucket bag
Claramonte Randa Tote Bag
Claramonte Anthropologie
anthropologie.com
$328.00
More happy colors for ya! This orange and yellow bucket bag has a drawstring closure.
17
This pretty clear top handle
Water Small Tote
gu_de
farfetch.com
$296.00
Literally just put this tote on your bookshelf and display it—it's a work of art!
18
This orange shoulder bag
Le Pliage Club Small Shoulder Tote
LONGCHAMP
nordstrom.com
$83.98
Fit all your essentials in this sunny tote that closes with a zipper.
19
This square design
Harriett Woven Tote
BRIXTON
nordstrom.com
$59.25
As soon as we're all up and running again, you may want to make this straw bag your new work tote—it's large enough to fit a laptop and plenty more. And, it goes with everything.
20
This peaceful blue one
St Barths Small Tote
Naghedi
shopbop.com
$240.00
This light-blue bag has pretty woven details and comes with a matching pouch. It's perfect for a low-key weekend getaway or even a day trip (as soon as those are ok to do again). 
21
This small straw bag
Extra Small Josh Bag
Danse Lente
farfetch.com
$256.00
OK, this bag may not be able to carry quite as much as some of the others (it's a tiny guy), but how cute is it?!
22
This pink shopper
Carolyn Bag
Nannacay
modaoperandi.com
$209.00
Another woven bag, but this time in a pretty pink!
23
This luxe bodega bag
Bodega PVC Tote
Gelareh Mizrahi
shopbop.com
$150.00
A plastic shopping bag, but make it designer and also holographic neon.
Advertisement – Continue Reading Below