24 of the Best Athleisure Wear Brands to Shop in 2020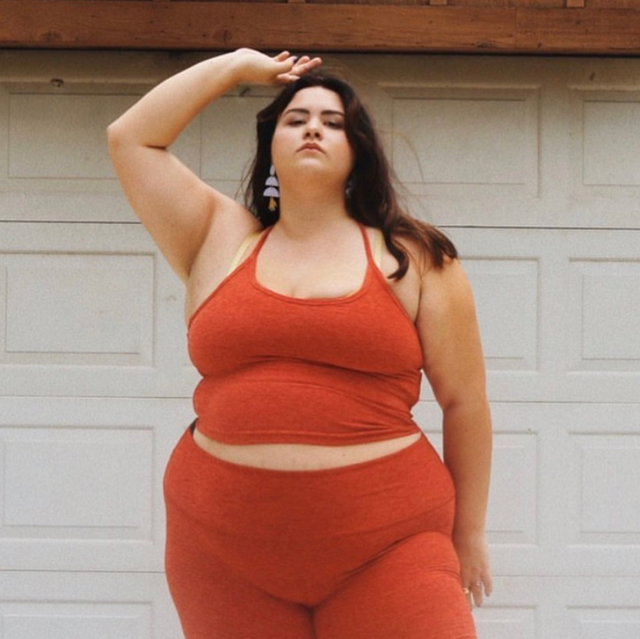 courtesy
Pretty sure there's nothing else I want in my everyday life other than to wear clothes that feel like I'm draped in a bathrobe. Feeling comfortable in a piece of fabric that I'm going to be spending who knows how long in is an essential part of putting together my 'fits. If y'all are in the same boat as me—especially if you're working from home for the foreseeable future—then you're definitely on my wavelength when it comes to athleisure wear. It's lifestyle at this point.
Hold up though! Let me add that dressing on the more relaxed and sporty side doesn't necessarily mean that you can't look freakin' fab too. I know. I get it. Sometimes it's hard to associate ~cool vibes~ with a pair of your baggiest sweatpants and high school soccer sweatshirt. But allow me to shift your perspective a bit. Think joggers paired with a pastel-colored crewneck sweatshirt or a moto legging with a loose tank. These clothing combos are laid back, yet make you look effortlessly stylish.
So, listen to me when I say that you need to be treating your whole self to some cute athleisure wear starting…today (well, honestly…yesterday). You'll might feel like you rolled out of bed, *but* it'll seem like you put so much time into planning your outfit. Here, 24 athleisure wear brands offering luxe, fashionable, and, most importantly, totally functional clothes you'll love so much that you just might never wear a pair of jeans again.
Advertisement – Continue Reading Below
1
LAPP the Brand
(Not So) Basic Cropped T-shirt [White]
Model Leomie Anderson's apparel brand has tons of comfy options, this basic cropped tee, as well as sports bras, leggings, and sweatpants all with edgy graphic logos. 
2
Pangaia
Heavyweight Recycled Cotton Hoodie
The sustainable and minimal brand has tons of cheery colors to choose from like aqua, green, and purple, and each piece features text on it that states its materials and how it was made. 
3
Girlfriend Collective
Forest Cropped Sweatshirt
IYKYK. Girlfriend Collective quality is so soft and cozy that it feels like you haven't changed out of your pajamas. Oh, and it gets better. All of their products are eco-friendly. If you're curious about the step-by-step process on how they create their clothing, visit their site and prepare to be fascinated.
4
Nike
NSW Zero Waste Short
The iconique brand is known for its sporty gear, but it definitely has a wide variety of comfortable loungewear that you can put on whenever you're running errands or chilling at home and still want to look put together.
There's no way you won't find something you'll love from Ju'Nae's eclectic range of clothing. They have it all—from cropped tops to hoodies to biker shorts—that come in all types of colors. (You won't break the bank either when you shop.)
6
COS
Seamless Performance Leggings
Treat yourself to something from COS—we promise your body will thank us later. It uses fine and sustainably-sourced fabrics to curate its products. If you're looking for a high-quality brand to buy your everyday lounge clothes, this one's for you. 
7
Beyond Yoga
Spacedye Slim Racerback Cropped Tank
Made in California, Beyond Yoga was meant for every single body to feel comfortable in their skin. From tanks to leggings to dresses, they not only have a diverse line of clothing, but also a vast amount of size-inclusive options.
8
Fabletics
Kinsley Seamless Bodysuit
What I love about Fabletics is that not only do they have the cutest array of tops, sports bras, leggings, jackets, and more, but also everything is at such an affordable price point. And just because it's affordable doesn't mean they don't use durable fabric! Its products are made with super soft, smooth, and sturdy material so you be comfortable while on the go. 
9
Summersalt
The Do-It-All High Rise 7/ 8 Leggings —
You might know them for their top-notch swimwear, but you should definitely not sleep on their athleisure. Summersalt uses recycled materials to create their on-the-go pieces. And if your palette is all about muted or pastel tones, this is the place you need to shop at.
10
Roam Loud
Yanta Legging
Founded by Toyin Omisore, her athleisure apparel was made with brown-skinned women in mind—to keep them at the forefront of health and wellness. She was also inspired by her grandmother who "embodied the essence of roaming loud in the world," as she states on her site. These leggings come with not one, but TWO pockets, by the way. 
11
Solely Fit
Nzinga Shine Bodysuit
If I owned this bodysuit (which I will very soon), I don't think I'd…ever take it off. This piece has so much detail for an easy and comfy outfit that you could truly wear it anywhere. We promise you, you can expect its other clothing items to give the same energy too.
12
Leggings Depot
Divine Mercury Print Jogger Pants
Who else is living for this tie-dye, deep blue jogger pant? You'll find more of these fun designs from the Amazon cult-fave, Legging Depot. 
13
Lululemon
Play Off The Pleats Skirt
We all know the sporty skirt look is so ~in~ at the moment, even if you're not a profesh tennis player and are just doing some Sunday cleaning in your house. Score this one from Lululemon if you're looking to dress up your daily wardrobe. It also has a bunch of other items like pants, hoodies, and dresses if you're looking for a one-stop shop for all your athleisure wear needs.
14
Universal Standard
Hathaway Jersey Jogger Pants
universalstandard.com
$75.00
There's truly nothing that can compare to a solid jogger—I mean, one that can be THE pant for e-v-e-r-y-t-h-i-n-g. Head to Universal Standard if you're looking to find your staple sweats, legging, or shorts. 
15
Russell Athletic
Mid-Crop Twill Tape Fleece Sweatshirt
This brand has kept up a phenomenal reputation for over 100 years now, so you know you can trust them and the quality of their clothing. Its  known for making apparel for sports players and teams, but also has a bunch of choices in casual sweatshirts and pants. 
16
Athleta
Cloudlight Restore Tank
What's great about Athleta is that it offers so many styles of comfortable clothing that's all made from sustainable fibers and with water-saving techniques. Its extremely inclusive too, and even offer CYA (cover your assets) tops and post-mastectomy friendly bras. 
17
Alo Yoga
Freestyle Sweatshirt
Believe me when I say that Alo has some of the most cozy sweatshirts I have ever worn in my life. Might I add, the brand also has a very flattering fit. Go through and add, like, three of these to your cart and make sure to check out their beloved leggings too. 
18
Patagonia
Fleetwith Jumpsuit
Having a good jumpsuit in your wardrobe is crucial, and might we suggest this waist-tie one from Patagonia? While you're at it, add one of their vests, jackets, or pants to your cart because they'll be your fave staples come fall. 
19
Champion
The Long Sleeve Boyfriend Tee
IMO, a slouchy, long-sleeve tee is a must in your closet! Champion has a ton to choose from, but the brand is especially great for sweats, hoodies, and tees.
20
Plush
Fleece Lined Moto Leggings
Your wardrobe is incomplete without this pair of super sleek moto leggings, my friend. You can find more trendy styles like these on the brand's site. 
21
Full Court
Blue Pique Sweatshirt
fullcourtsport.com
$75.00
Sometimes if you're just hanging out inside your house, you want to be able to throw on a top that's fashionable, but is also veryyy much livable to be in. Full Court's designs will offer you just that—all made with high-quality materials.
22
SweatyRocks
Loose Colorblock Sweatshirt 1/4 Button Down
SweatyRocks is an awesome—and affordable!—brand on Amazon you need to get in on. It has such a versatile collection of athleisure clothing that your cart will be full once you're done looking through everything.
23
Aerie
OFFLINE The Hugger High Waisted Ribbed Legging
Aerie has unbelievable amount of athleisure wear on its site that it's hard to choose just ONE piece. 
24
Onzie
High Rise Bike Shorts
We know you prob have five different black bike shorts on constant rotation, so this is your sign to get a pair that has more vibrancy to it. Onzie has sooo many bold designs to choose from, like this green camo print here. 
This content is created and maintained by a third party, and imported onto this page to help users provide their email addresses. You may be able to find more information about this and similar content at piano.io
Advertisement – Continue Reading Below