25 Best Dresses with Pockets 2021 — Cute Dresses With Pockets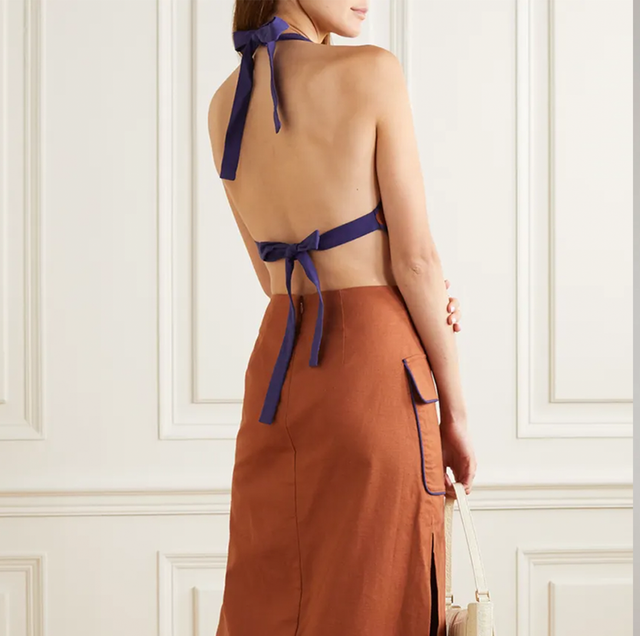 Courtesy
Hear me out: Dresses with pockets are so powerful. Not only do they grant you the freedom of housing small items in said pockets (snacks, anyone?), but they also bestow upon you a certain level of loud confidence that is so rarely obtained. Name a moment more joyful than someone complimenting your dress and you proudly proclaiming, "THANKS, IT HAS POCKETS!" I'll wait.
Obvi, shopping for more dresses with pockets has always been high on my list of priorities. And if you're on the hunt for the best dresses with pockets, too, then might I suggest you scroll through for a whole list of 'em. I've gathered up 25 cute frocks worth buying—from spring-ready finds to comfortable options that are perfect for travel and even some designer picks in case you're feeling extra self-indulgent. Whatever the occasion (or none at all), shop some of the best dresses with pockets money can buy, below.
Advertisement – Continue Reading Below
1
this sleek one
Committed to Fit Dress
Good American
goodamerican.com
$139.00
The utilitarian fashion trend gets a super-sleek makeover with this dress.
2
this sweet one
Tie Spot Sleeveless Dress
CITY CHIC
nordstrom.com
$59.40
A little '50s and a lot of summer, this dress is perfect for a cute picnic date.
3
This versatile dress
Jaxtyn Mini Dress
Tularosa
revolve.com
$188.00
"The perfect transitional dress doesn't exist—" Shh. This long-sleeved bb is great for going from summer to fall or winter to spring. Just pair it with the right cold-weather accessories, and you've got yourself the perfect 'fit.
4
this poofy number
Rose Long Sleeve Babydoll Dress
CINQ A SEPT
nordstrom.com
$365.00
Get in on the puff sleeve trend with this cotton dress. A pair of strappy sandals or even cute booties are all you need to top off a simple and yet très chic look.
5
This rust-colored mini
Corduroy Puff-Sleeve Mini Dress
Madewell
madewell.com
$79.99
And if you're not yet ready for so big of a puff sleeve, then here's a more subtle alternative. Plus, look at the gorgeous hue!
6
this polka-dot mini
Eloise Mini Dress
Cleobella
revolve.com
$110.00
This vacation-ready 'fit has me longing for summer, big time. But with a pair of black sheer tights and some platform heels, this mini could work for the winter, too.
7
this little black dress
Meadow Mini Dress
Cleobella
revolve.com
$178.00
This LBD is *chef's kiss* for transitioning from day to night. 
8
this pink must-have
Lara Tunic
Tularosa
revolve.com
$178.00
Looking for a Valentine's Day dress that's not so on-theme (or just a cute pink dress in general)? This flowy one is definitely "add to cart"–worthy. 
9
This power suit dress
Serena GREAT Kayla Plaid Blazer Dress
Serena Williams
serenawilliams.com
$179.00
You could wear it as a dress or a blazer—either way, you'd definitely be claiming whatever room you're in.
10
this trendy bb
X REVOLVE Ali Dress
retrofete
revolve.com
$216.00
We love a good corduroy mini—and this one gets bonus points for its cute waist tie and distressed detailing.
11
This faux leather one
Amanda Uprichard Fritzi Dress
Amanda Uprichard
revolve.com
$264.00
This faux leather dress is one part badass and two parts hawt.
12
this designer option
Lip Print Square Neck Dress with A-Line Skirt
Brandon Maxwell
11honore.com
$2,595.00
If you're working with a higher budget, might I introduce you to this whimsical number? Flirty and modest, this midi dress is a jawdropper.
13
this v comfy dress
Long Sleeve Pocketed Loose Long Maxi Dress
This loose maxi is super comfy, making it perfect for travel (or just lounging around the apartment).
14
This gorgeous illusion
All in One Dress
Rag & Bone
revolve.com
$350.00
At first glance, you'd think this was a top-and-skirt ensemble. But no, no. It's just a beautiful dress that'll always look perfectly "tucked-in".
15
this unique design
Apfel two-tone linen-blend halterneck midi dress
STAUD
net-a-porter.com
$142.50
Find me another dress that looks like this, while I drool over all its stunning little details.
16
This monochromatic midi
The Nour Midi Dress
L'Academie
revolve.com
$258.00
Yes, the matching, monochromatic belt comes with it. SOLD.
17
This cute summer mini
Summer Sleeveless V Neck Button Down Dress
It's never too soon to start stocking on summer staples (say that five times fast).
18
this cotton maxi
Solid V-Neck Pocket Loose Maxi Dress Gray
Take a styling tip from this image and knot one end of your maxi dress for an added bit of oomph to your 'fit.
19
This classy one
Long Sleeve Fleurette Dress
Amanda Uprichard
revolve.com
$211.00
Yes, cocktail-appropriate dresses with pockets do exist.
20
This red smock
Maternity Button Front Pocket Smock Dress
Simple, comfy, and with pockets—just three of my favorite things in a dress. 
21
this head-turner
Buffy Utility Maxi Dress
Derek Lam 10 Crosby
11honore.com
$425.00
Two words: STUN. NING. This utilitarian-style dress would be a gorg addition to your office wardrobe.
22
This simple shift dress
Loose Fit Short-Sleeve Shift Dress with Pockets
For the minimalist, here's a short-sleeve dress that'll go perfectly with nearly any shoe.
23
This extra-comfy dress
ASOS Curve Super Soft Midi Dress
It's all in the name (and reviews): This winter white midi is, indeed, super-soft.
24
This plunging blazer dress
Plus Woven Oversized Pocket Blazer Dress
We love an extra spicy blazer dress that'll amp up any hot night out. 
25
this happy hour-ready dress
Plus Size Wine Faux Leather Utility Pocket Shirt Dress
Missguided
missguidedus.com
$31.00
Imagine sipping wine in this merlot-hued dress. OK, now hit "add to cart".
This content is created and maintained by a third party, and imported onto this page to help users provide their email addresses. You may be able to find more information about this and similar content at piano.io
Advertisement – Continue Reading Below