25 Cute Gifts for Movie Lovers 2020 — Movie-Themed Gifts to Shop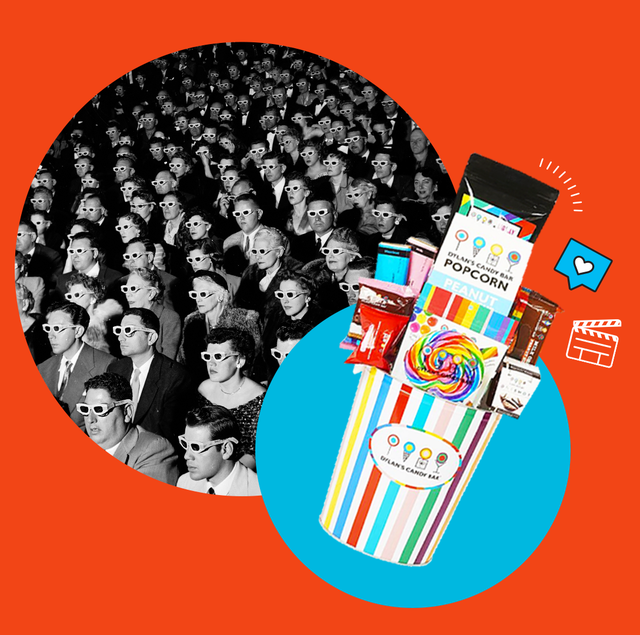 khadija horton
Movies are a great mental escape, especially in these times when we're quarantining ourselves at home. All your film-obsessed friends are probably planning marathons of the ones they've never had time to watch. Yes, movie theaters are closed right now (for good reason!) and there aren't a lot of new flicks coming out, but that doesn't mean you can't treat your friend to some themed gifts to make their space rival an AMC. If they're at home with roommates or their parents or a partner or even by themselves, they'd appreciate a poster, T-shirt, book, tote, or subscription that lets them take their love of movies to the next level. (Or, let's be honest, you can always buy a lil something for yourself.)
Here, 25 cute gift ideas for movie lovers that'll make their viewing experience at home that much better. And if you're in need of any recs click right this way for the the best '80s movies, best '90s rom coms, the scariest movies of all time, feel good happy movies on Netflix, sad movies on Netflix if you need a cry, and classic movies worth a rewatch.
Advertisement – Continue Reading Below
1
a cool movie print
The Life Aquatic Movie Poster
CROPMARKS
etsy.com
$29.19
Add some color to their walls in the form of a fun art print from their fave flick. This The Life Aquatic One is minimal and so cute. 
2
a mini projector
Leisure 3 1080P Supported Mini Projector
VANKYO
walmart.com
$109.99
There is so much time to watch movies these days, but if their small TV just isn't cutting it, consider gifting them a portable projector. This baby will blow up the size of any film without looking grainy. 
3
a projector screen
Duet Ultra Portable Projection Screen
Epson
walmart.com
$129.99
And while you're at it, here's a screen to go with the projector. You can use it inside or out, and it conveniently folds up when not in use. 
4
a fun game
Cinephile Game
Cinephile
uncommongoods.com
$20.00
You and your friends can test your cinema knowledge with this  game centering around actors and actresses. Be the one who can list the most movies that a specific A-lister has been in and you win! 
5
a rotten tomatoes book
Rotten Movies We Love: Cult Classics, Underrated Gems, and Films So Bad They're Good By The Editors of Rotten Tomatoes
Urban Outfitters
urbanoutfitters.com
$23.99
Checking Rotten Tomatoes might be a constant habit for them, so get this book for more insight on all the "rotten" flicks. 
6
a movie-themed gift box
Popcorn & Movie Night Gift Set
Knack Shops
knackshops.com
$85.00
It comes with popcorn kernels to freshly cook, cheddar seasoning, a cinematic cookbook, and a trivia game for a fun night in. 
7
an artsy poster
Studio Ghibli Spirited Away Poster
NoomCoShop
etsy.com
$23.00
If they're a fan of Studio Ghibli films, this gorgeous Spirited Away poster will be right up their alley.  
8
a criterion channel subscription
The Criterion Channel
Criterion Channel
criterionchannel.com
$10.99
True movie lovers probably know about Criterion already, but they might not have a subscription yet. Give them access to TONS of critically-acclaimed classic and contemporary films at $10.99 a month or $99.99 for the whole year.  
9
a 500-piece puzzle
Movie Lovers 500-Piece Puzzle
Urban Outfitters
urbanoutfitters.com
$18.00
Puzzles are having a moment since we're all indoors trying to take up new hobbies. This one features retro movie posters that'll look even more amazing in a frame when you're done. 
10
a movie t-shirt
Scarface Tub Tee
Urban Outfitters
urbanoutfitters.com
$29.00
Al Pacino in Scarface on a T-shirt. What more could you ask for? Basically you can get them any tee with their favorite scene on it. 
11
a celeb deep dive
Gods Like Us: On Movie Stardom and Modern Fame
Ty Burr
amazon.com
$16.79
This book breaks down the origin of the movie star from when they were first created up and how they've transformed in modern times. It explores iconic actors from Charlie Chaplin and Greta Garbo to Harrison Ford and Meryl Streep and has fascinating behind-the-scenes stories about what it means to be famous. 
12
a cute pin
Princess Bride Pin
SayHelloVee
etsy.com
$12.50
A movie-themed enamel pin they can add to a cork board or put on a jacket is a great small gift. This one with a Princess Bride reference is *chef's kiss.*
13
a director tote
Agnès Varda bag
This Etsy shop has so many printed totes featuring various directors and scenes from their movies. This green one is the perfect present for fans of the late Agnès Varda.  
14
a wes anderson book
The Wes Anderson Collection
Harry N. Abrams
target.com
$26.99
Wes Anderson's films have such a signature aesthetic from his characters to the surrounding scenery to the camera movements. In this book, critic Matt Zoller Seitz explores the director's life and career for an interesting read. 
15
a graphic top
Laura Dern T-shirt
Girls on Tops
girlsontopstees.com
£22.00
This brand prints tees with iconic female directors and actors on them if they want to really show their love of Daniela Vega, Ava DuVernay, Greta Gerwig, or Laura Dern. 
16
a popcorn tub shower curtain
Popcorn Pattern Shower Curtain
Society6
society6.com
$55.99
Make stepping into the shower more fun with a popcorn-printed curtain for their tub. 
17
a bright light box
My Cinema Lightbox – Vintage Edition
UncommonGoods
uncommongoods.com
$60.00
With a light box like this, they can customize it with movies they're screening at home using the letters included. 
18
a hollywood read
The Castle on Sunset: Life, Death, Love, Art, and Scandal at Hollywood's Chateau Marmont
If they're obsessed with all things Hollywood, a book about the antics at the infamous Chateau Marmont will definitely interest them. 
19
a movie ticket print
1977 Vintage Movie Ticket Art Print
Society6
society6.com
$11.39
A vintage ticket to add to their wall is a sure conversation starter. If only movie stubs still looked like this. 
20
a classic film soundtrack
Vinyl Record Album Saturday Night Fever Original Soundtrack Double LP 1977 John Travolta Bee Gees Classic
JustCoolRecords
etsy.com
$15.00
Movies have some killer soundtracks, but perhaps none more than Saturday Night Fever. Get them classic disco tunes they can dance to with this record. 
21
a ticket stub box
Drop Your Tickets Here Shadow Box Frame
Americanflat
etsy.com
$15.50
Okay, so they might not be getting new tickets any time soon (you know, because theaters are closed), but if they've kept a collection of past stubs this is a great way to display them. 
22
a howard hughes book
Seduction: Sex, Lies, and Stardom in Howard Hughes's Hollywood
Karina Longworth
amazon.com
You can't talk about Hollywood without mentioning Howard Hughes. The eccentric businessman and producer was the center of a whole lot of drama, and author Karina Longworth also has a podcast called "You Must Remember This," where she expands on even more old Hollywood stories. 
23
an A24 water bottle
Customizable Nalgene Water Bottle
A24 has released so many hits (Uncut Gems, Midsommar, The Lighthouse, Hereditary just to name a few), so get them a reusable water bottle with the logo right on it. The merch is just *almost* as good as the production company's flicks. 
24
a movies hat
A Hat That Says Movies On it
Movies Brand
moviesbrand.com
$25.99
So simple and to the point. A unisex baseball cap with just the word "movies" on it is definitely for film lovers. 
25
A candy-filled bucket
Movie Night Gift Bucket
Dylan's Candy Bar
dylanscandybar.com
$75.00
Indulge their sweet tooth with candies fit for hours of movie snacking. 
This content is created and maintained by a third party, and imported onto this page to help users provide their email addresses. You may be able to find more information about this and similar content at piano.io
Advertisement – Continue Reading Below