25 Gift Ideas for New Dads — Best Gifts for New Fathers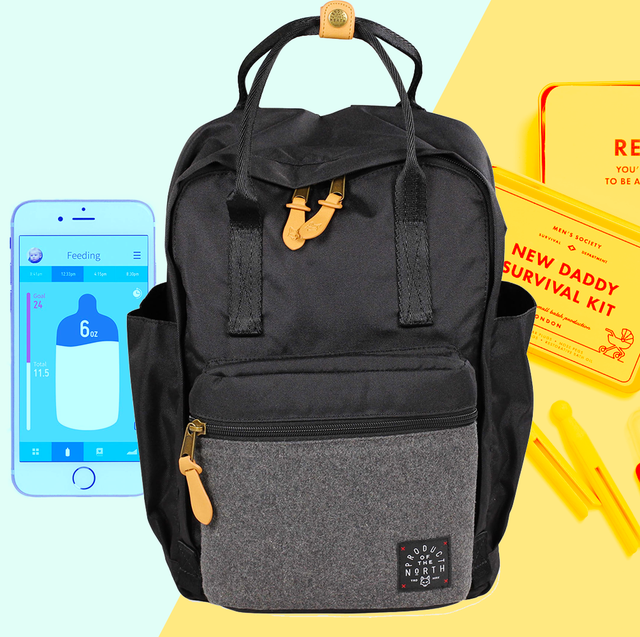 courtesy / john francis
Congratulations are definitely in order to all the parents welcoming newborn babies out there. Usually, the little ones and new moms get all of the attention at the baby showers, but we can't forget about the new dads out there who also plan on putting in the work and time.
If you're looking for the best gift for a new father, this list should have you covered. It isn't always easy shopping for the fellas, but it doesn't have to be complicated. Things should be a little less confusing for you with some of the game-changing presents below. From cozy sweatshirts to instant mini printers and diaper backpacks, every kind of dad will definitely appreciate one of these on his first Father's Day.
Scroll on for the 25 gift ideas that'll make him feel prepared and relaxed for this exciting new role.
Advertisement – Continue Reading Below
1
a zip-up with all the pockets
The Dad Hoodie
The Dad Hoodie
thedadhoodie.com
$95.00
An alternative to carrying a diaper bag (or backpack) is this amazingly cozy hoodie. It has built-in compartments for diapers, bottles, baby wipes—anything really! 
2
a luxe fragrance
Explorer Eau de Parfum
MONTBLANC
nordstrom.com
$98.00
No matter how stinky things may get, he'll be the best-smelling dad with this luxe cologne. It's got the perfect balance of manly scents, with the aromas of wood and leather working together. 
3
an *actually* sleek diaper bag
Indi Diaper Backpack
Dagne Dover
dagnedover.com
$195.00
Becoming a dad means he'll have to change diapers. This backpack is perfect for on-the-go travel with its spacious pockets—inside and out—perfectly sized for bottles, diapers, and other essentials.
4
a brand-new electric toothbrush
Sonic Electric Toothbrush
Philips Sonicare
philips.com
$79.95
You know guys love their gadgets. This sleek brush offers three different modes: clean, white, and gum care. The two-minute timer feature lets him know when he has brushed the full dentist-recommended time.
5
a cashmere hoodie
Cashmere Pullover Hoodie
Vince.
verishop.com
$290.98
Picture him looking like the coolest pops while wearing this cozy cashmere hoodie around the house. 
6
a compact sanitizer
PhoneSoap 3
PhoneSoap
phonesoap.com
$79.95
Help him avoid a sick day (new baby = more germs) with a sanitizing device for his phone. The UV light kills almost all bacteria and it also doubles as a charger. 
7
a durable military watch
Acadia 40mm Military Grosgrain Strap Watch
Make sure he's never late for any important baby appointments with this rugged yet classic watch. 
8
an easy-to-use tracker
Tile Pro Black with Replaceable Battery
Tile
homedepot.com
$34.99
Tile makes it easy to track devices, toys, and accessories with help from a convenient app. His tired brain will be so appreciative when he can't find the car keys. 
9
a classic top
The Premium Weight Crew
everlane
everlane.com
$30.00
The newborn might get a lil drool on one of his favorite T-shirts. So, you can't go wrong by helping him stock up on tees, like this crewneck from Everlane.
10
a hand set of essentials
New Daddy Survival Kit
Men's Society
trouva.com
$25.00
A package that contains nose plugs (for all those dirty diapers), earplugs, an eye mask, and relaxing bath oil will come in handy during some of the rough days ahead.
11
a photo printer
Lifeprint Ultra Slim Photo and Video Printer
Help him bring his new memories to life instantly with this mini portable printer. 
12
a cooling eye roller
Wake Up Eye Stick
Oars + Alps
oarsandalps.com
$21.00
Yep, guys appreciate skincare too. This roller contains caffeine, which helps to de-puff under-eye bags and reduce fine lines and dark circles. 
13
a high-tech wireless charger
Wireless Powerbank
STM Goods
stmgoods.com
$59.95
Don't let him run out of juice when he's on baby duty. This convenient portable charger will keep all of his devices on 100. 
14
a pair of cozy house shoes
Ascot Slipper
Make him feel his coziest with slippers that he'll never want to take off.
15
a tracker
Smart Baby Feeding Monitor
BlueSmart Technology
amazon.com
$39.99
This high-tech sleeve syncs with an app to help with feeding times, formula temperature, and more. 
16
a calming noise maker
SNOOZ White Noise Sound Machine
Snooz
verishop.com
$79.99
Give the new dad (or baby) the gift of great sleep with this soothing sleep machine. It has a real fan inside, so this portable white noise device transforms any space into a relaxing place to catch some ZZZ's.  
17
a cute story
'Your Baby's First Word Will Be DADA'
Everyone knows there is a secret contest between parents to see whose name the baby says first. Jimmy Fallon's hilarious book breaks it down.
18
a retro alarm clock
Wideboy Alarm Clock
Wideboy
westelm.com
$39.20
Step up his nightstand game with this retro alarm clock, which has easy-to-read numbers. 
19
a soothing mask
Weighted Sleep Mask
Gravity
bloomingdales.com
$40.00
This weighted sleep mask not only blocks out light, but helps relax tensed pressure points. 
Theragun
theragun.com
$250.00
When mom's hands are tied and she can't give him a massage, help him relax with this self-massager, designed to treat muscles and help de-stress. 
21
a top-rated baby holder
Omni 360 Baby Carrier All-In-One Cool Air Mesh
The waistband on this carrier is adjustable for max comfort. This design fits both babies and toddlers, so he can keep using it as his little one grows. 
22
a way for his coffee to stay warm
Gen 2 Mug, 10 Oz.
Ember
bloomingdales.com
$99.95
For a new dad, finding the time to enjoy your coffee before it's cold might be a challenge. This mug will keep any cup at the perfect temperature until he's ready to drink it. 
23
a versatile tripod
54-Inch Aluminum Extendable Monopod Tripod
Acuvar
walmart.com
$14.99
Let him capture all their adorable moments together with this multifunctional selfie stick and tripod. 
24
a pair of low-key sneakers
Classic Slip-On
Vans
sneakersnstuff.com
$79.00
Neutral slip-on sneakers are a great look for any new dad—comfortable and casual, but still stylish.
25
a portable peaker
SoundLink® Micro Bluetooth® Speaker
BOSE
nordstrom.com
$99.00
This mini bluetooth speaker might be small, but it produces a lot of sound. And it's waterproof, so no worries if water (or spit up) accidentally gets on it. 
Advertisement – Continue Reading Below