27 Cheap Valentine's Day Gifts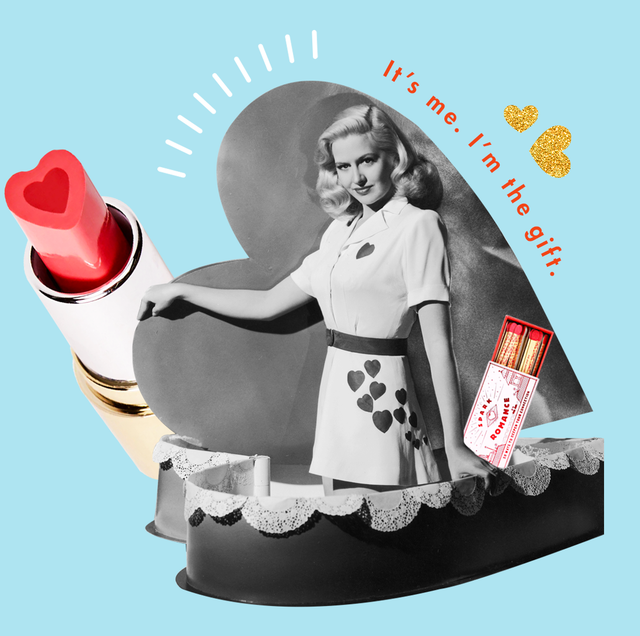 Courtesy
Valentine's Day is only a few days away, which means you probably have your date idea set, your reservations made, your romantic V-Day quote queued up for your IG post, and maybe even your outfit picked out. But, if after all that planning you don't have a ton left in the budget to spend on a gift, let us help. We've rounded up 27 cheap Valentine's Day gifts under $25 that your S.O. will love, regardless of the price. Whether she prefers practical gifts or swoons over the sentimental kind, there's something for everyone here. So what are you waiting for? Go ahead and get to shopping.
Advertisement – Continue Reading Below
1
This Set of Romantic Accessories
Romance Kit
Kikerland
urbanoutfitters.com
$10.00
A tin box filled with a small tea light candle, two incense sticks with a holder, and faux rose petals—what else do you need to set a romantic mood?
2
This Candy and Polish Duo
Valentine's Day Gift Set
Essie x Sugarfina
ulta.com
$20.00
I honestly can't think of a sweeter gift to give than this set of Essie Nail Polish in Talk Sweet to Me (a rosy pink) with Sugarfina's Sugar Lips Candy.
3
This Pretty Jewelry Dish
Heart Shell Ceramic Stash Box
Urban Outfitters
urbanoutfitters.com
$14.00
This heart-shaped box is perfect for storing your jewelry, hair clips, and other small knickknacks, and it's also great for getting that one Nirvana song stuck in your head.
4
This Silky Sleep Mask
Sleep Mask for Women
Sometimes the best gift is a good night's rest. This super silky sleep mask will soothe your loved one's tired eyes stat. Apologies in advance if your night ends early.
5
This Funny Card
Joe Goldberg, You Valentine's Day Card
ComeOverStudio
etsy.com
$7.00
An inside joke or a TV show you two watch together is the perfect theme for a funny V-day card. And a funny but thoughtful card is the perfect idea for a cheap Valentine's gift.
6
This Cluster of Crystals
Amethyst Crystal Cluster
Anyone who's into spirituality will love these healing crystals with a sparkling metallic trim—and anyone who's not will still love 'em for decoration.
7
This Display Case Frame
8×10 Shadow Box Display Case for Memorabilia
A sentimental someone would love to receive a shadow box frame to display their favorite mementos from the relationship.
8
This Cutesy Lipstick
Steal My Heart Lipstick Pill
Winky Lux
forever21.com
$16.00
Not just any lipstick—this tube is shaped like a heart (awww!) and perfect for the occasion. 
9
This Funky Pair pf Earrings
Shine Time Gold Threader Earrings
Pretty threaders with a cool, geometric detail will certainly go over well for someone with pierced ears.
10
This Pretty Ponytail Accessory
Bandana Scarf Pony
Free People
freepeople.com
$12.00
A scrunchy that looks like a trendy tied scarf is the perfect addition to a low-key outfit.
11
This Cheeky Game
Spark Romance: 50 Ways to Deepen Your Connection
These faux match sticks will encourage you both to try new things and support each other with lovely suggestions that will bring you closer together.
12
This Monogrammed Mug
Gold Monogram Mug
If your partner is a coffee drinker, a personalized mug with golden details will help them start the day.
13
This Shell Hair Clip
Mega Shell Barrette
If they're constantly clipping their hair back or tying it up in a pony, they'll certainly love this pretty seashell-inspired accessory. 
14
This Gem-Like Phone Grip
Pearl White Phone Stand
If their phone is basically just an extension of their arm at this point, they'll appreciate a stick-on that looks pretty and helps their grip.
15
This Chic Beret
Isn't She Chic? Wool Beret
ModCloth
modcloth.com
$15.00
Get them a sweet winter hat they can incorporate into their lewks on snowy days—that way, they'll never have to deal with hat hair. 
16
This Tech Travel Case
Shockproof Carrying Case
The travel-obsessed will certainly enjoy this very sweet hard-shell pouch for headphones and other cords. 
17
This Tarot Card Set
Everyday Tarot Mini Tarot Card Deck + Guide Book
Brigit Esselmont
urbanoutfitters.com
$12.95
If your giftee wants to know their future, they'll get super excited to have their own deck of fortune-telling cards.
18
This Seasonally Appropriate Pair of Socks
Flocked Heart Print Crew Socks
Forever21
forever21.com
$3.99
Do they have tons of V-Day spirit? Then a pair of socks with heart details will go over super well.
19
This Pair of High-Tech Gloves
Knitted Lined Gloves
These days, almost every pair of gloves is phone-screen compatible, but this neutral one with a subtle blush tint will go with all their coats and scarves.
20
This Shiny New Bottle Opener
Vintage Copper Bottle Opener
A copper bottle opener will excite any beer, cider, or old-school soda drinker. 
21
This Shiny Sheet Mask
Metallic Foil Peel-Off Mask
UO
urbanoutfitters.com
$3.00
Nothing's better than a Sunday full of self-care. Help them with their next few with a set of peel-off metallic foil face masks.
22
This Delicate Bracelet
A Love to Believe In Silver Rhinestone Bracelet
A non-clunky chain bracelet with pretty rhinestone details that they can wear literally every day is sure to be well received.
23
This Zodiac Candle
Pisces Star Sign Scented Candle
LindsayLucasCandles
etsy.com
$10.83
If their sign is an important part of their identity, a customized candle will feel extra special.
24
This Strappy 'Lil Something
Prism Strappy Bra
Free People
freepeople.com
$20.00
They'll love a bralette that's simple and comfy in the front, and a  funky geometric party in the back.
25
This Printed Passport Holder
Jetsetter Passport Holder
Anthropologie
anthropologie.com
$19.95
Any jetsetter will die over this stunning accessory that'll protect their passport from the wear and tear of travel.
26
This Metallic Set of Clips
Women Hair Clips (Rose Gold)
Pretty rose-gold slider clips are a great gift for anyone growing out bangs, or constantly sweeping their face-framing layers behind their ears.
27
This Pack of Velvet Bow Scrunchies
6-Pack Bunny Hair Scrunchies Velvet
These hair ties are all the rage, because they just pull any outfit together. At $7 for a set of six, you can give them a few to mix and match!
Advertisement – Continue Reading Below