28 Best Makeup Gift Sets and Beauty Present Ideas for 2020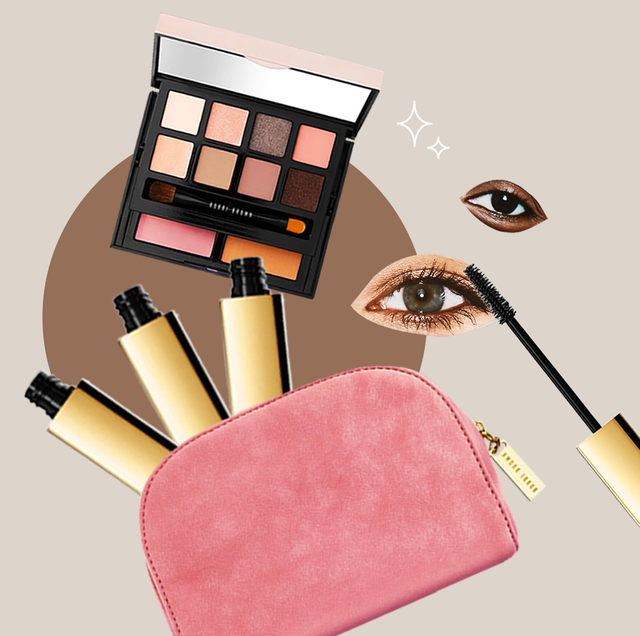 Khadija Horton
If you're searching for the perfect way to remind your friend how much they love you (I mean, uh, how much you love them), make their day with a makeup gift set. You don't need a special occasion to spoil a loved one, but if they've got a birthday or a major milestone coming up, and you still don't have a present picked out for that person on your list who loves makeup, get 'em one of these gift sets that'll speak to their heart. Whether they're into wearing glitter, prefer a more natural look, or just need a restock of the essentials, we've found something they'll genuinelylove. So in the interest of time, let's get right to it with this list of the 28 best makeup gift sets to give someone ASAP. Join me in becoming the best gift-giver of all damn time, whether you're looking for your mom, best friend, cousin, coworker, or let's be honest, yourself.
Advertisement – Continue Reading Below
1
This Makeup Sponge Gift Box
Beauty Bakerie Blending Egg Beauty Sponges
This egg crate comes with half a dozen makeup sponges—the perfect gift for that friend of yours who's been using the same blending sponge for pretty much your entire friendship. 
Here's what you get: Six Blending Egg Beauty Sponges.
2
This Multitasking Makeup Palette
Black Radiance Bold and Sexy Palette
This might look like just an eyeshadow palette, but don't be fooled! This set includes 12 eyeshadow shades, yes, but it also has blush, bronzer, highlighter, and contour powders all in one easy-to-carry case.
Here's what you get: 18 shades of eyeshadow, blush, bronzer, highlighter, and contour shades.
3
This Makeup Gift Set for the Glitter-Obsessed
Zoeva Limited Edition Melody Collection Set
We all know someone who believes more glitter is the answer to everything, and for that person, we have this makeup gift set. If one glitter eyeshadow isn't enough, then this set of glitter, shimmer, and duochrome eyeshadows and sparkly glitter lip glosses will definitely be.
Here's what you get: Limited Edition Melody Eyeshadow Palette, five Limited Edition Melody Lip Glosses, and a handheld makeup mirror.
4
This Mini Lip Gloss Set
Pat McGrath Labs Mini Opulust: Lip Gloss Trio
If you're celebrating a major milestone, you need an equally major makeup gift set. As if this trio of non-sticky, very sparkly lip glosses in lilac, bronze, and amber shades wasn't fun enough, it comes packaged in a bag full of gold party sequins that your friend can keep and reuse.
Here's what you get: Mini OpuLust Lip Gloss in Lavendaring, Dreamscape, and Naked Rose.
5
This Celebratory Gift Set
BareMinerals Congrats Beautiful Celebratory Collection
6
This Eyebrow Styling Kit
Uoma Beauty Brow-Fro Kit
If your friend's eyebrows are their precious pride and joy, they'll appreciate a gift set that comes with anything they could ever need to fill them in for their best brows ever. I'm talking a brow-defining precision pencil, a 2-in-1 brow pencil and highlighter with spoolie and sponge, and a brow gel pomade. And the best part? This kit is available in six different shades.

Here's what you get: Brow-Fro Baby Hair, Brow-Fro Fro To Go, and Brow-Fro Blow Out Gel.
7
These Lip Masks
Awake Beauty All Day, All Night Lip Mask Duo
The perfect combination of skincare and makeup, this makeup gift set from Awake comes with two super-effective lip masks (made from a blend of olive, argan, rosehip, and raspberry seed oils), one for day and one for night.
Here's what you get: Lip Therapy Lip Mask and Moisture Balm Daytime Lip Mask.
8
This Makeup Essentials Gift Bag
Bobbi Brown Easy Essentials Eye, Cheek & Lip Set
For the absolute best bang for your buck, get this Bobbi Brown makeup gift set, which includes full-size makeup products (like a big eyeshadow and cheek palette, mascara, and lip gloss), plus a makeup bag for such a good deal. It'd be a big mistake not to get it. Big. Huge.
My favorites from the set: Smokey Eye Mascara in Black and High Shimmer Lip Gloss in Bellini.
9
This False Eyelash Gift Set
Coloured Raine Bossy Lash Kit
That person in your life who lives by the motto, "Lashes > everything," would 100 percent appreciate this false eyelash set, complete with an eyelash curler, silk lashes, scissors, and tweezers. It's a $42 value, and you only have to pay 25 bucks for it. Re-gifting? Never heard of it.
Here's what you get: Bossy Lash, Scissors, Precision Tweezers, and Lash Curler.
10
This Designer Makeup Gift Set
Dior Maximizing Lip Care Set
11
This Lash and Brow Serum Set
Grande Cosmetics The Cult Faves Lash & Brow Travel Set
12
This Lip Color Gift Set
Sephora Favorites Give Me Some Shine Balm and Gloss Lip Set
13
This Set of Best-Selling Makeup Products
Benefit Cosmetics Superstar Wardrobe Minis Makeup Value Set
14
This Liquid Eyeshadow Trio
Kosas Mixed Metals Trio 10-Second Eyeshadow Set
For the person who's all about clean beauty products, there's this liquid eyeshadow trio. They might be certified clean at Sephora, but these metallic liquid shadows in gold, silver, and rose gold shades don't skimp on the color payoff whatsoever.
Here's what you get: Liquid Eyeshadows in Globe, Supreme, and Astronaut.
15
This Makeup Prep and Set Kit
Wander Beauty Prep & Set Essentials
16
This Mini Lipstick Gift Set
MAC Haute Gossip Mini Lipstick Kit
You know that person on your list that's impossible to shop for? Get them this set. Inside this set is a collection of five mini lipsticks in shades ranging from rose plum to bold red in three different finishes (like satin, matte, and lustre). They'll def be able to find at least one they love.
Here's what you get: Five mini lipsticks in Package Deal, Double Date, You Can't Chill With Us, Velvet Teddy, and Plumful.
17
This Lip Color Kit
Kylie Cosmetics Bare Velvet Lip Kit
There's a reason why Kylie Jenner's a billionaire makeup mogul. I mean sure, maybe her name has something to do with it, but also the girl knows how to make a good lip kit. With this gift set, you get all the goods for a perfectly lined and filled-in lip in any color of your choice.
Here's what you get: A Lip Liner and a Velvet Liquid Lipstick.
18
This Holographic Makeup Duo
INC.redible Cosmic Blur Set
19
This Eye Makeup Gift Bag
It Cosmetics Superhero Lash & Liner Gift Set
20
This Waterproof Brow Kit
Anastasia Beverly Hills Melt-Proof Brow Kit
You could spend $21 on a single pomade (would still be worth it, TBH), or, for only $9 more, you could get this value set that comes with a double-sided angled brow brush and spoolie and a tinted brow gel in addition to the pomade. I don't know about you, but that sounds like an obvious choice for me.
Here's what you get: Dipbrow Pomade, Dipbrow Gel, and Brush 12.
21
This Makeup Brush Set
Luxie Rose Gold Brush Collection
Why give your friend a single makeup brush when you can gift them 12 makeup brushes? Exactly. This makeup gift set (which comes with the cutest pink packaging) has got everything from fluffy powder brushes to teeny-tiny pencil brushes. It's gifts like these that make me wish MySpace Top Friends was still a thing.
My favorites from the set: 207 Medium Angled Shading Brush and 510 Foundation Face Brush.
22
This Mascara and Lipgloss Duo
Hourglass Eyes & Lips Duo
Okay, yes, your friend definitely already owns a decent lip gloss and mascara, but if you ask me, more is freaking more when it comes to makeup. They'll be so stoked with these two essentials from Hourglass—a creamy (not sticky) lip gloss in the dreamiest pink hue, and a super-pigmented mascara that triples the length of your lashes—they won't be mad about making a lil' extra room for them in their makeup bag.
Here's what you get: Caution Extreme Lash Mascara and Unreal High Shine Volumizing Lip Gloss.
23
This Set of Travel-Size Makeup
Too Faced Jerrod's Favorites: You've Got The Best Of Me Travel Makeup Set
When some people travel, they only pack the essentials: toothbrush, toothpaste, and maybe shampoo if the hotel doesn't have any. But if the person you're shopping for is the kind of traveler who needs all their go-to products at all times—and couldn't possibly do without a primer on vacation—this gift set of deluxe travel-size products was made for them.
My favorites from the set: Better Than Sex Mascara, Hangover Face Primer, and Shadow Insurance Primer.
24
This Makeup Gift Set for Dewy Skin
Lilah B. Ready, Set, Glow Set
25
This Fenty Beauty Mini Makeup Set
Fenty Beauty Diamond Bomb Baby Mini Lip Gloss and Highlighter Set
26
This Makeup Application Gift Set
Beautyblender Glow All Night
27
This Glow-y Complexion Kit
Becca Glow Essentials
28
This Natural Makeup Trio
Herbivore Botanicals Coco Rose Luxe Hydration Trio
This content is created and maintained by a third party, and imported onto this page to help users provide their email addresses. You may be able to find more information about this and similar content at piano.io
This commenting section is created and maintained by a third party, and imported onto this page. You may be able to find more information on their web site.
Advertisement – Continue Reading Below