30 Best Heart Tattoo Designs and Ideas for 2020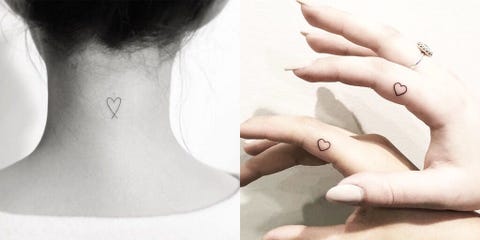 Instagram/@smalltattoosss, @joannamroman
If you follow any tattoo studios or tattoo artists on Insta, you know that it only takes a few seconds of scrolling to find a heart tattoo (or 1o) on your feed. I mean, they're everywhere. But that doesn't mean that they're basic, I swear. You just gotta find a heart that's the right shape, size, and shade for your vibe. So to help you get started, I rounded up the 30 of the coolest heart tattoo designs and ideas right now. Screenshot your favorite and bring it to your local artist ASAP.
1. Wrist Heart Tattoo

Forget a bracelet and get a heart tattoo around your wrist. Think of it as a permanent accessory that will never go out of style or season.

2. Filled-In Red Heart Tattoo
Instead of just getting the outline of a red ink tattoo, have your tattoo artist fill it all in. It's eye-catching and unique.
3. Double Heart Tattoo

Why get one tattoo when you could get two? These two bb hearts complement each other perfectly, and would look great on your finger.
4. Travel-Inspired Heart Tattoo

If you've got constant wanderlust, you neeeed this heart tattoo—trust. Plus, it might be a little less expensive than booking another trip.
5. Rib Heart Tattoo

This fine-line heart tattoo is tiny, but it might hurt…a lot. The ribs are a notoriously painful spot to get inked.
6. Shaded Heart Tattoo
Add some depth to your heart tattoo by adding in lines to create a shaded effect.
7. Sternum Heart Tattoo
Want your heart tattoo to take front and center stage? Get it right on your chest.
8. Self-Love Heart Tattoo
This heart tattoo is a little abstract, but that shouldn't stop you from getting it. There's a good message behind it, and it's reaaaally pretty.
9. Letter and Heart Tattoo
This pairing is perf if you want combine a heart tattoo with the initial of someone you love (AKA a family member, not your significant other).
10. Flowers and Heart Tattoo
I can't stop looking at this heart tattoo—the intricate detail in everything from the border to the flowers is insanely gorgeous.
11. Tiny Heart Tattoo
If your heart tattoo is going to be your first tattoo, there's no harm in going for something small. This tiny finger tattoo is simple and sweet.
12. Anatomical Heart Tattoo
Not into your run-of-the-mill classic heart tattoo? Get the anatomical version of a heart tattoo with this super-cool design (which also doubles as proof that you paid attention in bio).
13. Heartbeat Tattoo
This cute minimalist take on the heartbeat line is perfect if you are super into medicine (or, you know, have a healthy Grey's Anatomy obsession).
14. Red Ink Heart Tattoo
This so-tiny-you-might-miss-it tattoo is another cute heart tattoo option—and even Kylie Jenner's a fan of the red ink.
15. Cherry Heart Tattoo
This cherry design is so damn cute, I'm seriously considering getting my favorite fruit tattooed on my body.
16. White Heart Tattoo
Want something more muted and mysterious? Go for a white-ink heart tattoo—not only are they cool AF, but they're also easy to hide (just in case your office isn't tat-friendly).
17. Hip Heart Tattoo
Your hip is the perfect place to get a heart tattoo—you can hide it just as easily as you can show it off.
18. Neck Heart Tattoo
This delicate heart tattoo is an example of minimalism done right. If you're into this look, be sure to book an appointment with an artist who specializes in fine-line tattoos.
19. Heart and Arrow Tattoo
What's a heart without an arrow? This simple heart design is a great option for a tiny tattoo, and it gives off major Cupid vibes (if that's what you're into).
20. Matching Heart Tattoos
A heart tattoo is a good way to show your love for bae or your BFF, and this sweet design is anything but cheesy.
21. Anatomical Floral Heart Tattoo
This heart tattoo combines the anatomical rendering of the heart with supersweet florals for a design that's as pretty as it is subtle.
22. Dog Heart Tattoo
Tattoos don't always have to be super serious—shout out your favorite furry friend with this dog heart tattoo.
23. Geometric Heart Tattoo
If your style leans toward the abstract, you'll love this heart tattoo. The heart is rendered in a cool, geometric shape, and the red ink adds the perfect amount of detail.
24. Black-and-White Shaded Heart Tattoo
Want to double-tap this heart tattoo? Yeah, same. When looking for your tattoo artist, make sure you get someone who specializes in micro-style and single-needle tattoos—it's a sure way to get the kind of detailing you see in this shaded design.
25. Inspirational Heart Tattoo
This heart tattoo comes with a good message: Love yourself. And, hey, who doesn't need a reminder of that from time to time?
26. Flowers and Heart Tattoo
Trying to decide between a heart tattoo and a flower tattoo? Get a design, like this one, that incorporates both of your favorite things.
27. Lantern Heart Tattoo
Let this incredibly detailed heart tattoo light the way (ha).
28. Broken Heart Tattoo

A broken heart is never cute IRL, but this heart design with cool block lettering makes a pretty strong case for getting one tattooed.
29. Waves Heart Tattoo
Two waves form this heart tattoo, making it the perfect design for any ocean lovers.
30. Heart on Fire Tattoo
This flame heart tattoo has everything you'd want in a tat—it's cute, small, and fun. What more could you ask for?