30 Cheap Mother's Day Gifts — Affordable Gift Ideas for Moms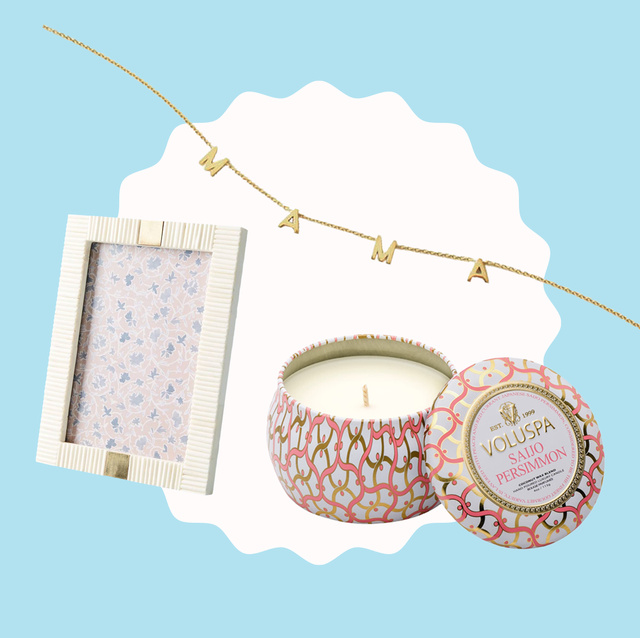 Courtesy
Your mom does so much for the whole family all year long, so it's only right for her to have one day that's all about her—but money and expensive gifts aren't the only ways to show her how appreciated she is.
Ask any mom, and she'll tell you that you can't put a price on sleeping in and uninterrupted alone time. But, if you also want to get her something tangible for Mother's Day, let us help you with a few inexpensive suggestions, whether you're shopping for your own mother, your wife who's a mother, or a new mom in your life.
Here, 30 cheap Mother's Day gift ideas for every kind of mom and further proof that you don't have to break the bank to find the perfect present.
Advertisement – Continue Reading Below
1
A Sentimental Mother's Day Card
Mom Floral Bouquet Card
WorthwhilePaper
etsy.com
$5.00
If you and your mom are separated thanks to social distancing, a thoughtful card with a heartfelt message is an inexpensive gift that she'll appreciate more than any amount of money.
2
A Monogramed Chain
'Mama' Necklace
GracePersonalized
etsy.com
$69.67
No matter how old her kids get, a mom will never get tired of being called "mama." This delicate gold necklace is a gift she'll want to wear every day.
3
This Ice Mold
Diamond Ice Molds, Set of 2
Williams Sonoma
williams-sonoma.com
$14.95
The only way to make your mom's cocktail even better is to drop a diamond-shaped ice cube inside so she can really feel like the royalty she is.
4
This Bottle of Bubble Bath
Soap Cherie Relaxation Bubble Bath
Soap Cherie Anthropologie
anthropologie.com
$32.00
What your mom really wants this Mother's Day is a bottle of bubbly bubble bath. This relaxing blend of vanilla, lavender, and patchouli would pair nicely with an actual bottle of wine.
5
This Sampler
Discovery Set
NEST New York
sephora.com
$40.00
Just because you're strapped for cash doesn't mean you can't get your mom a luxe perfume. This set lets her sample and layer eight different scents, which she'll love much more than one expensive bottle.
6
These Wine Glass Chillers
Wine-Chilling Wands, Set of 2
Williams Sonoma
williams-sonoma.com
$39.95
If your mom is always throwing ice cubes in her chardonnay, get her these genius wine glass chillers. You know, they're like whiskey stones for your wine.
7
A Lipstick Holder
Marble Vanity Organizer
Anthropologie
anthropologie.com
$34.00
If your mom's idea of makeup starts and stops at lipstick, she'll love a lipstick holder. This one is a cute way to keep her go-to shades close by and on display.
8
A Lightweight Wrap
All American Jersey Robe
Honeydew Intimates
nordstrom.com
$28.50
It's kind of unnecessary to spend a lot of money on something your mom will never wear out of the house, so good thing this lightweight robe is both affordable and comfortable.
9
A Helpful Daily Organizer
'52 Lists Planner'
Anthropologie
anthropologie.com
$22.50
As a mom, her days can get unbelievably busy, so a to-do list notepad will keep track of all her thoughts. This one comes with stickers that makes running errands a little less daunting.
10
This Lil Humidifier
Portable Facial Humidifier
Hey Dewy
urbanoutfitters.com
$39.00
What your mom deserves this Mother's Day is a trip to the spa. But if a pricey facial isn't in the budget this year, get her this affordable portable humidifier that she can get much more use out of.
11
A Reusable Caryall
'I'm Not A Regular Mom, I'm A Cool Mom' Tote Bag
If there's one thing moms could always use more of, it's a reusable tote bag for shopping, traveling, and doing all the regular mom things—except, of course, your mom is far from regular.
12
These Fancy Glasses
Vintage-Inspired Italian Cocktail Glasses
Whether your mom loves craft cocktails or just loves collecting glassware for decoration, these set of four coupe glasses makes the perfect Mother's Day gift. 
13
This Basil Grower
Smoked Glass Garden Grow Kit
Modern Sprout
food52.com
$25.00
Whether she already has a blooming garden or wants to add some greenery to the house, this grow-it-yourself basil kit is perfect for the mom who's equally obsessed with cooking and her plants.
14
This Pretty Candle
Maison Blanc Saijo Persimmon Candle
Voluspa
nordstrom.com
$10.00
Sure, it doesn't cost a lot, but this baby candle packs a punch scent-wise. Mom will love lighting this top-rated fragrance with notes of persimmon, peach, and red currant. 
15
This Body Exfoliator
Original Coffee Scrub
Frank Body
bloomingdales.com
$18.00
If she loves drinking coffee, odds are she'll also love to scrub herself with ground coffee beans. It'll leave her skin absolutely glowing and silky smooth, trust.
16
This Headphone Holder
Vixen Earbud Case
MYTAGALONGS
anthropologie.com
$10.00
She'll never lose her earbuds again with this metallic earbud case that also keeps any wires organized. 
17
This Sun Hat
Shade Stunner Beige Straw Visor
San Diego Hat Co.
lulus.com
$26.00
An oversized yet stylish visor will help her get ready for the summer beach days we're all hoping will still happen. 
18
This Box of Sweets
Rise and Shine 6-Piece Chocolates
Maggie Louise Confections
nordstrom.com
$32.00
They say the way to a person's heart is through their stomach, so she'll love you a "latte" if you get her some of these adorable lil chocolates. 
19
This Healthy Recipe Book
'True Roots,' by Kristin Cavallari
Rodale Books
target.com
$23.39
A cookbook featuring 100 recipes that are free of gluten, dairy, and refined sugar, will inspire her in the kitchen. The easy-to-follow steps make it great for the whole fam to get in on too!  
20
This Carryall Case
Travel Wallet in Beige
This wallet comes with a pen, slots for all your IDs, six cards, and a zipper pouch—all the essentials for any mom on the go.
21
This Decorative Picture Frame
Eliza Frame
Anthropologie
anthropologie.com
$26.00
A simple framed photo of the two of you or a fun family pic will make her heart melt; plus, the ivory and gold trim looks undoubtedly chic. 
22
This Refreshing Mist
Facial Spray With Aloe, Cucumber & Green Tea
Mario Badescu
nordstrom.com
$12.00
Mom will feel so refreshed when she spritzes this soothing mist on her face. She can use it before or after applying her makeup, and it even comes in two sizes—one that can fit in her purse and another that's twice as big if she uses it frequently. 
23
These Cozy House Shoes
Kaila Slide Slippers
Dluxe by Dearfoams
target.com
$14.99
Soft cushiony slippers are ideal to pair with the fluffy robe she already wears every morning.
24
This Bestselling Book
'Where the Crawdads Sing' by Delia Owens
G.P. Putnam's Sons
target.com
$9.59
Is she a bookworm? Then get her a riveting story that she won't want to put down. This is also a Reese Witherspoon book club pick, FYI, so you know it's great. 
25
These Luxe Candies
Rosé All Day Rosé Infused Gummy Bear Gift Box
Sugarfina
bloomingdales.com
$20.00
She loves sweets (and she prob loves rosé), so these yummy bear-shaped gummies are the best of both worlds. 
26
This Tea Set
Tea Drop Sampler
UncommonGoods
uncommongoods.com
$34.00
She won't know which one to pick first with an herbal tea sampler that offers 25 dissolvable tea drops in five different flavors.
27
This Coffee Mug
Stoneware Strong Mother Diner Mug
Opalhouse
target.com
$5.99
Her ideal getting-ready routine starts with a cup of coffee and the newspaper, so get her a mug with a message about how strong she is.
28
These Chic Stud Earrings
Mave Shimmer Mini Stud Earrings
Gorjana
shopbop.com
$30.00
A pair of delicate sparkly studs will complement any of her outfits. These babies are also available in rose gold and silver if you want more options.  
29
This Reusable Bottle
17-Ounce Glass Water Bottle
SOMA
nordstrom.com
$22.50
She can hydrate on the go—and be green while doing it—thanks to a modern-looking reusable glass bottle. 
30
This Scrapbooking Set
Documenter Kit
studio calico
studiocalico.com
$25.99
She loves preserving memories and photos in a scrapbook, so this kit, with its pretty font, fun colors, and bold stickers will get a lot of use. 
Advertisement – Continue Reading Below