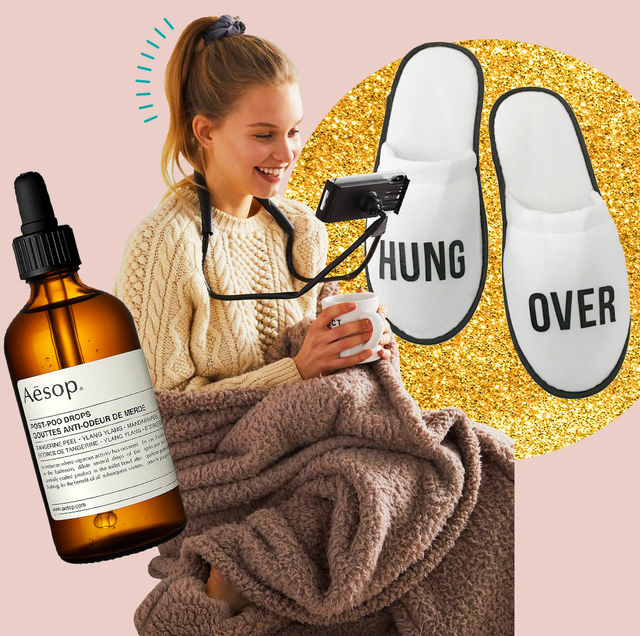 Courtesy
If sentimental or romantic gifts are not your vibe, you probably find shopping for someone else to be pretty daunting. But I'm here to tell you that you don't have to get a cheesy piece of jewelry or a boring sweater just because you feel like you're supposed to.
If you consider yourself the funny one of your friend group or the jokester of the family, your loved ones would expect nothing less from you than a funny gift for any holiday or special occasion.
Whether you're looking for a fun party game for your college-aged brother, wanting to get something cheeky for your boyfriend, or are searching for lighthearted accessories and home decor for your friends, we've got you covered. Keep scrolling for 30 funny gift ideas that'll make anyone's day and also make 'em laugh.
Advertisement – Continue Reading Below
1
This Fancy Toilet Freshener
Post-Poo Drops in
There's nothing like opening up a present from a luxe skincare company only to find that it's designed for your toilet. Despite how crappy this gift is, they'll love it anyway.
2
This Yummy Blanket
Burrito Blanket
GaggieBusiness
etsy.com
$49.99
Your foodie friend or your friend who appreciates a good taco would love to wrap herself  up in this blanket that looks like a tortilla. 
3
This Drink Can Lock
White Claw Can Lock
OddArtisan
etsy.com
$6.49
If your roommate is always taking all the good White Claw flavors and leaving you with lime, lock 'em up with these clever little lid protectors. 
4
This Tiger King Fanny Pack
Tiger King Fanny Pack
untamedegoshop
etsy.com
$29.00
I'm sure your friend, like the rest of the world, binge-watched Tiger King while quarantined. So, this fanny pack featuring Joe Exotic and a tiger will brighten their day.
5
This Hands-Free Phone Holder
Adjustable Neck Smartphone Mount
Urban Outfitters
urbanoutfitters.com
$12.00
We've all been doing a lot of FaceTime lately. That's why anyone will really appreciate an adjustable phone holder they can wear around the house, like this one. 
6
This Laugh-Out-Loud Cup
My Brain Has Too Many Tabs Open Mug
This mug is the perfect funny gift for your work wife to use for all her midday coffee runs once we're all back in the office.
7
This Mini Drinking Game
Mini Flip Cup Game
UncommonGoods
uncommongoods.com
$40.00
If your friend isn't into trashing their house for the sake of a fun party game (fair), get them this mini version they can enjoy without the stress of cleaning up as much afterwards.
8
This Stand for Tablets and Toilet Paper
Toilet Paper Holder Tablet Stand
Urban Outfitters
urbanoutfitters.com
$68.95
Bored in the bathroom? Never! Anyone would crack up opening this genius invention that holds both toilet paper and your iPad at the perfect height for hands-free entertainment. 
9
This Funny Book
The Subtle Art of Not Giving a F*ck By Mark Manson
HarperOne
urbanoutfitters.com
$24.99
We all know someone who could use this self-help book in their life. It's easy to read, funny, and has great advice—what more could they want in a gift?
10
This Clever Candle
Saturday Morning Cartoons 100% Soy Wax Candle
WitchyWicksCandleCo
etsy.com
$16.00
The only way to make a candle an even better gift is to add a little humor to it. This one will remind any '90s baby of the good old days, with a fruity cereal scent.
11
This Reusable Tote Bag
Some Groceries Mostly Wine Tote Bag
CottonConfettiShop
etsy.com
$12.95
You'll definitely get a few laughs and nods in agreement when you take this canvas tote bag shopping for groceries (and wine, duh).
12
This Personalized Pair of Socks
Custom Face Socks- Photo Socks
CustomFaceDesigns
etsy.com
$12.79
Fact: everyone loves fun socks. This pair, which you can customize to add your very own face, will be your friend's favorite, obviously.
13
This House Shoe
Unisex Hangover House Slippers
TheSleepyCottage
etsy.com
$16.20
These house slippers are the perfect funny gift idea for a bachelorette party or 21st birthday. 
14
This Funny Gift Bag
Don't Get Your Hopes Up Funny Gift Bag
FINCHandHARE
etsy.com
$7.00
Nothing is more awkward than opening presents in front of an audience. Take the pressure off and set the bar really, really low with this funny gift bag. 
15
This Coaster Set
Please Leave By 9 Coasters Cork
BaumDesignsShop
etsy.com
$22.00
Your friend who loves throwing dinners and hosting house parties will get a kick out of these coasters that gently remind people not to overstay their welcome.
16
This Funny Wall Art
Laundry Room Decor Farmhouse, Alexa Do The Laundry, Funny Laundry Room Sign, Printable Sayings
RadQuoteShop
etsy.com
$3.99
This typography poster will definitely hit home for the homebody in all of us.
17
This Wine Bottle Topper
Wine Gift Personalized Engraved Wine Glass Topper
PersonalizationMall
etsy.com
$29.99
A great gift for all your wine night friends, this bottle topper makes sure your glass is never empty. 
18
This Cow-Print Onesie
Loungeable Cow Print One-Piece Romper With Ears
Loungeable
us.asos.com
$35.00
Who wouldn't want a cow-print hooded onesie ?
19
This Funny Welcome Mat
Funny Tiger King Doormat
UrbanOwlHome
etsy.com
$32.00
For those on team Carole Baskins, this doormat will give everyone who comes over a nice little giggle. 
20
This Pair of Chair Socks
Chair Sock Set
Urban Outfitters
urbanoutfitters.com
$5.00
Your type-A friend who is always getting on to people about scratching the floors will appreciate this clever gift of protective socks for chair legs.
21
This Beer Pong Game
Beer Pong Robot
Pongbot
urbanoutfitters.com
$59.95
If you know a recent college grad that has already mastered the art of beer pong, level up with this robotic version that makes the cups a moving target.
22
This Cat Hat
Flower Cat Cap
Urban Outfitters
urbanoutfitters.com
$8.00
When the cat lady of your friend group opens this adorable flower cat hat, she'll both cry happy tears and cry from laughing so hard.
23
This Bob Ross-Themed Party Game
Bob Ross: Happy Little Accidents Game
Big G Creative
target.com
$15.59
Artsy friends, this party game inspired by Bob Ross's wise words will speak to your heart. 
24
This Graphic T-Shirt
Indoorsy Graphic Tee
SUB_URBAN RIOT
nordstrom.com
$34.00
Help those introverts embrace their preferences with this cozy T-shirt that's better suited for camping out on the couch.
25
This Keychain
Lizzo Keychain
AShopofThings
etsy.com
$5.98
Give your friend the daily reminder that she deserves with this vintage-inspired keychain.
26
This Glittery Sugar Scrub
Funny Glitter Sugar Scrub
DisrobedStore
etsy.com
$8.99
You know that friend who thinks glitter is a neutral? Yeah, they would love this gold body scrub that leaves a subtle trace of sparkle behind.
27
This Funny Sticker
You're Sticker – Grammar Police Sticker
PricklierPear
etsy.com
$2.39
Do you know someone who is always correcting everyone else'e grammar? Then they need this funny sticker in they're there their life.
28
This Pair of Dog Glasses
Round Pet Glasses
Urban Outfitters
urbanoutfitters.com
$15.00
What is funnier or cuter than a dog doing human things? Answer: nothing. Any dog mom would love these adorable dog glasses.
29
This Funny Embroidery Pattern
Digital Hand Embroidery Pattern
EllucyStitches
etsy.com
$7.00
This is the perfect funny gift for your friend who's as good at crafts as she is at crafting jokes.
30
This Cheeky Makeup Bag
Funny Makeup Bag, This Bag Contains My Face Cosmetic Bag
Your makeup-obsessed buddy would get a kick out of this brutally honest cosmetics case.
Advertisement – Continue Reading Below