35 Best Gifts Under $50 in 2020 – Unique Gift Ideas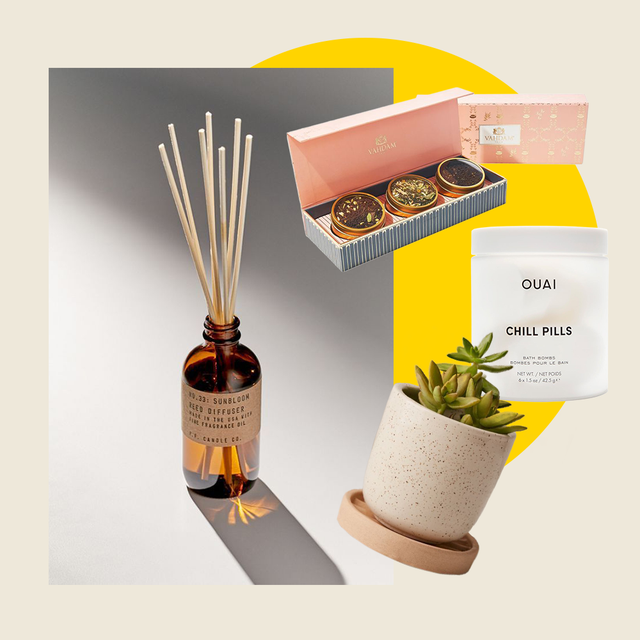 Courtesy
Finding a quality gift for under $5 in 2020 is a challenge. Scratch that, it's damn near impossible without a lot of creativity and a really good sale. But add a zero to the end of that for a $50 budget, and your options start lookin' a lil better. The new challenge becomes narrowing your choices down to one because there are so many good finds for under fifty bucks. If you thought for a second that you had to spend an outrageous amount of money on a gift for your mom, sister, or best friend for them to like it, I'm here to prove you wrong.
Whether the person you're shopping for loves beauty and self-care, is a foodie at heart, or is obsessed with decorating (and redecorating) their apartment, we've got plenty of gifts that hit this budget-friendly price point for you to choose from. And the best part? Most of them come in way under that. You're welcome.
Advertisement – Continue Reading Below
1
This Soft Throw Blanket
Kennebunk Bliss Plush Throw
NORDSTROM AT HOME
nordstrom.com
$39.50
Some throws are strictly for decoration (who dry-cleans their blankets, amirite?), while others are for cuddling up. This one is the perfect blend of both cozy and chic, which is what makes it such a good gift for anyone.
2
This Set of Four Wine Glasses
Modo Glassware (Set of 4)
Schott Zwiesel
westelm.com
$48.00
This set of Instagramable crystal glasses are the perfect present for your friend who loves wine almost as much as she loves taking pictures of herself drinking it. Bonus: they're dishwasher safe, so she can easily rinse and repeat all she wants. 
3
This Diffuser
Reed Diffuser
P.F. Candle Co.
urbanoutfitters.com
$24.00
For your friend who loves diffusers but wants something they don't have to remember to turn on all the time, choose one of these dreamy fragrance oils to gift them.
4
These Calming Tablets
Bath Bombs
OUAI
nordstrom.com
$30.00
Anyone on your list could use a relaxation sesh from time to time, and these jasmine-scented bath bombs are like a chill pill for the bath. 
5
This Tea Trio
Classic Blush Set of 3 Loose Leaf Teas
VAHDAM TEAS
nordstrom.com
$24.99
This pretty box of loose tea leaves in flavors like sweet Himalayan detox green tea, saffron masala chai, and earl grey masala chai, is the perfect gift for anyone who loves tea time.
6
This Wine Bottle Selfie Stand
Selfie Cork
Selfie Cork
nordstrom.com
$7.49
Remember all those times at wine night with your friends when y'all want to film a TikTok dance, but didn't have anyone to hold the phone camera? This genius cork-and-selfie-stand-in-one will come in handy. 
7
These Pretty Candle Holders
Olivia Antiqued Taper Candle Holder
Urban Outfitters
urbanoutfitters.com
$24.00
For the person in your life who loves to throw dinner parties, these pretty vintage-inspired candle holders are the perfect gift and decor for a table setting.
8
These Blue-Light-Blocking Glasses
The Galileo Blue Light Glasses
Privé Revaux
urbanoutfitters.com
$30.00
That person in your friend group who can't peel their eyes away from the phone for more than two minutes needs these helpful faux readers that'll protect their lil pupils from glaring screens.
9
This Box of Chocolates
Dark Chocolate Sea Salt Caramels
Nordstrom Makers Chocolate
nordstrom.com
$16.50
You know what's surprisingly expensive? Fancy chocolates. But these sea salt caramels are *chef's kiss* and come in way under $50, so go ahead and get one for yourself, too.
10
This Planter Pot
Parker 4″ Planter + Drainage Tray Set
Urban Outfitters
urbanoutfitters.com
$16.00
Fill this pretty pot with a plant or give it to your green-thumbed friend as-is so they can use it to repot one of their favorites.
11
These Incense Sticks
Campfire Incense
Juniper Ridge
urbanoutfitters.com
$12.00
The outdoorsy person in your life who loves camping or hiking would be excited to receive these campfire-inspired incense sticks as a gift.
12
This Wine Bottle Accessory Set
5-Piece Wine Bottle Accessory Set
West Elm
westelm.com
$20.30
If your friend is just starting to get into the whole wine scene, they'll need a kit of all the wine essentials: a bottle opener, foil cutter, stopper, and more.
13
This Lip Serum
HydroPeptide Lip Service
HydroPeptide
dermwarehouse.com
$48.00
The lipstick lovers will appreciate applying this protective formula as a base to keeps pouts hydrated, plump, and smooth.
14
This DIY Tie-Dye Kit
DIY Tie-Dye Kit
Urban Outfitters
urbanoutfitters.com
$18.00
Sure, you could get your bestie something already tie-dyed, but if they're the crafty type, they'd probs rather get this kit to do it themselves instead. For way less than $50, this gift includes everything needed  to get the job done.
15
This Makeup Organizer
See Me Eclipse Cosmetic Organizer
JOI
urbanoutfitters.com
$35.00
Do they need some help tidying up? They'll get two removable trays that altogether hold 100 makeup brushes. 
16
This Pretty Set
Spirits Merry Merry Gift Box
BOXFOX
nordstrom.com
$37.50
You'll have a hard time finding anyone who wouldn't want this gift box, which comes filled with a gold wine bottle opener, champagne gummies, and a pretty scented candle. 
17
This Set of Three Printed Pouches
Go Pouch Set
Three pouches for $38? Um, hells yeah. Split them up and give them to a few of your friends, or give them all to one lucky person who loves being organized.
18
These Coffee Glasses
Set of 2 Coffee Tasting Glasses
FELLOW
nordstrom.com
$30.00
Your coffee-obsessed friend might have a cabinet full of mugs, but I bet they don't have these cool double-walled tasting glasses yet.
19
These Fancy Candies
4-Pack Tropical Gummy Bears
WES CANDY CO.
nordstrom.com
$30.00
If you want to step it up from the usual bag of candy from the grocery store, this luxe box of chic tropical-flavored gummy bears is the perfect gift for someone with a sweet tooth.
20
This Jewelry Organizer
Circle Earring Holder
NotaJewelleryBoxLtd
etsy.com
$23.34
Part room decor, part jewelry holder—this wall hanger keeps all your jewelry on display while looking like a piece of art.
21
This Fragrance Set
REPLICA Memory Box
Maison Margiela
sephora.com
$35.00
I've said it once before and I'll say it again: why get one bottle of perfume as a gift when you can get a bunch for under $50? This set makes it easy to mix and match different fragrances so you can craft your own signature scent. 
22
This Pack of Bath Herbs
Moon Bath Waxing Moon Botanical Bath Tea
Moon Bath
anthropologie.com
$20.00
The only thing better than a cup of tea and a nice warm bath is the combination of both. This bath tea, which smells like a spiced cocoa, makes the perfect gift.
23
This Hanging Planter
Beaded Plant Hanger
TangledByTaylor
etsy.com
$21.25
The plant lady of your friend group would love a decorative hanger for when she's run out of room on her windowsill. 
24
These Matcha Packets
The Neat Matcha Stick Box
CAP Beauty
freepeople.com
$34.00
Tell your friend you love them so matcha with these packets full of green tea powder that they can add to any drink they want, whenever.
25
This Wine Bottle Coaster
Marble Wine Coaster
West Elm
westelm.com
$13.30
If the gift of regular coasters feels a little overdone, switch things up and get a wine bottle coaster instead. This marble one would look pretty displayed on a bar cart when it's not in use.
26
This Pretty Candle
Studio x Allison Kunath Woman No. 1 Candle
BROOKLYN CANDLE
nordstrom.com
$33.75
Fact: you can never have too many candles, especially when they're as chic as this one, which has notes of lush currant, fig, amber, and sandalwood.
27
These Cocktails Syrups
8 Oz Cocktail Syrup Set
W&P Design
macys.com
$35.00
For fancy cocktails without the fuss, get this gift set of three different syrups to easily make old-fashioneds, moscow mules, and spicy margaritas.
28
This Bath Tray
Swivel Bath Tray
Uncommongoods
uncommongoods.com
$50.00
Not just any bath tray, this one suctions onto the side of the tub and swivels so you can easily get in and out of the tub without spilling anything.
29
This Fluffy Robe
Aritha Textured Robe
Flora Nikrooz
bloomingdales.com
$38.25
Your trendy friend already knows all about fuzzy pajamas, but she can never have too many. This robe makes the perfect cozy gift and is surprisingly under $50.
30
These Bouquet Bookends
Vase Bookends
Monika Lubkowska-Jonas
uncommongoods.com
$45.00
Flowers are always a great hostess gift. Make it even better by putting them in a vase like this one, which doubles as a bookend.
31
These Leather Catchalls
Hand-Shaped Leather Tray
Made Solid
westelm.com
$32.55
A simple leather tray is perfect for throwing car keys, organizing your desk, or storing jewelry—which is why it's such a good gift idea for anyone in your life.
32
These Chic Bottle Openers
Crest Bottle Opener
FS Objects
food52.com
$44.00
Bottle openers are like bobby pins—you can never find one when you need it. Give your beer-loving friend these cool openers, which double as decoration, and they'll never get lost in a drawer again.
33
This Beauty Kit
6-Pc. Coziest Night In Gift Set
Created For Macy's
macys.com
$40.00
Here's everything someone would need for a night of pampering: perfume, room and linen spray, bath balm, exfoliators, body lotion, and fuzzy socks.
34
This See-Through Bag
Jelly Tote
TOPSHOP
nordstrom.com
$30.00
The ideal gift for your friend who basically collects bags, this clear jelly tote is as cute and versatile as it is affordable. 
35
This Coffee Table Book
Boys With Plants: 50 Boys and the Plants They Love
Chronicle Books
target.com
$11.89
A cute coffee table book is a great gift idea, and this one, which features plant tips from hot guys, is as informative as it is fun to look through.
36
This Hair-Care Pack
High Hair Score Set
Briogeo
freepeople.com
$39.00
If I didn't know better, I wouldn't believe that this gift set, which includes conditioner, shampoo, and heat protectant, is less than fifty bucks. 
Advertisement – Continue Reading Below