35 Disney Gifts for Adults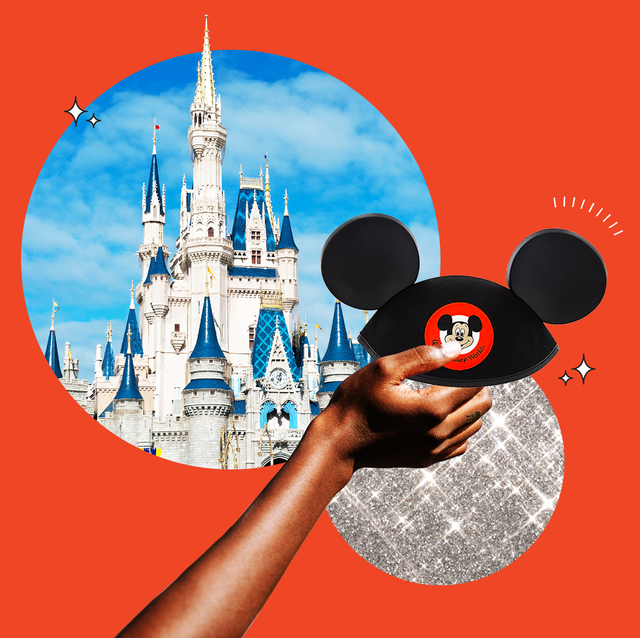 Courtesy
We all have a friend who loves Mickey Mouse, Ariel, and Woody as much now as they did when they were just a kid. If that person's birthday, anniversary, or any other special occasion is coming up, and you need a good gift suggestion, I've got an idea of what you could get them (actually, 35, but who's counting?). If your friend knows the words to every Disney song, this is the gift guide for them.
The best thing about Disney movies is that you can appreciate them in every stage of life. And guess what? The same goes for Disney-themed gifts. With so many movies and characters to choose from, finding the right Disney gift for your loved one is way easier than you think. From seashell necklaces to themed adult onesies, I've rounded up the best Disney gifts for adults so you don't have to go searching. Consider me your fairy godmother, K?
Advertisement – Continue Reading Below
1
This Tie-Dye Sweatshirt
"Little Mermaid" Ariel Sweater
I'll admit, a seashell bra might be a little too costume for everyday life, but this tie-dye sweatshirt is the perfect compromise.
2
This Disney Keychain
Mickey Bag Charm
Swarovski
zappos.com
$79.00
You probably couldn't trust a kid with a Swarovski-crystal key chain, which is why this is the perfect gift for the adult in your life who loves Disney.
3
This Temperature-Regulating Water Bottle
Disney's "Frozen 2" Stainless Steel Water Bottle
Imagine having a water bottle that could keep your drinks–wait for it–Frozen? This double-insulated one can for up to 24 hours. Bonus: look closely, and you might find little Olaf hidden in the cute print.
4
This Wine Stopper
"Mulan" Wine Stopper
TheDecorativeCompany
etsy.com
$13.99
There's nothing wrong with watching Mulan for the millionth time. A wine stopper created in the image of the movie's star will make the night that much more interesting.
5
These Cooking Mittens
Mickey Mouse Silicone Oven Mitt Set
Mickey & Friends
walmart.com
$33.99
Fact: The only thing better than these oven mitts shaped like Mickey Mouse's hands is what your friend will be pulling out of the oven with them.
6
These Glasses and Ice Molds
"Star Wars" Etched Glasses & Ice Molds Set
Williams Sonoma
williams-sonoma.com
$35.96
Maybe they grew up loving all the Star Wars movies and are still enjoying them as an adult. It'll be fun for them to make cocktails with these glasses and ice molds shaped like Darth Vader.
7
This Mirror
"Sleeping Beauty" Royal Vanity Mirror
Modcloth
modcloth.com
$59.00
If your friend is really into beauty *and* Sleeping Beauty, she'd love using this hand-held mirror when doing her makeup.
8
This Work of Art
Disneyland Paris Castle Watercolor Print
SweetnSandy
etsy.com
$40.00
A watercolor print is always a good gift idea. Add in the Disney castle and you've got yourself the best gift idea.
9
This Shell Necklace
Ursula Necklace
emporiumonmain
etsy.com
$9.99
Somewhere in this seashell necklace is Ariel's voice. Any fan of the The Little Mermaid knows that very well and would appreciate having her own.
10
This Funny Sweatshirt
Disney "Cinderella" Sweatshirt
TopTeeStudio
etsy.com
$29.94
At first glance, you wouldn't even know this sweatshirt was Disney-themed. It's perfect for the person who low-key loves Cinderella.
11
This Ariel Coffee Mug
Disney Starbucks Mug
TheCharmingMouse
etsy.com
$18.70
If you thought this was the regular ol' Starbucks mermaid, then you thought wrong. That's Ariel and Flounder pictured here.
12
This Magic Rug
Inspired by Disney's "Aladdin" – Magic Carpet
Safavieh Collection
walmart.com
$27.98
Your friend would love showing all the haters that magic carpets actually do exist, TYVM, with this Aladdin-themed rug. 
13
This Frozen-Themed Wall Art
"Frozen" Minimal Pantone Art Print
practicallyperfect00
etsy.com
$33.99
A Frozen painting might be a *little* much for an adult apartment, so go the more subtle route with these Elsa-themed Pantone colors for their wall.
14
These Storage Bags
Intermix Deluxe Kit
petunia pickle bottom
zappos.com
$70.99
A ton of new moms also love Disney. Wrap up this ultimate set of bags with a caddy and four organizational pouches for both a practical and enjoyable gift.
15
This Ariel-Inspired Perfume
Ariel Disney Princess Parfum
DefineMe Fragrance
ulta.com
$88.00
Ever wondered what a Disney princess smells like? Well, now you know, thanks to this Ariel-inspired fragrance. Spoiler alert: She smells like sweet florals, coconut, and neroli.
16
This Candle
"Happy Haunts" Wood Wick Tumbler Disney Candle
MainStreetMelts
etsy.com
$21.95
When they're in their feelings, a moody candle inspired by the Haunted Mansion, with notes of sandalwood, cedarwood, and mahogany will come in handy.
17
This Laptop Decal
"Up" MacBook Decal Disney MacBook Sticker
CraftyStudioz
etsy.com
$4.90
Anyone who cried the first 10 minutes of Up (soo, everyone?) would shed tears of joy to open this cute laptop decal.
18
This Movie Poster
"Toy Story" Minimalist Movie Poster
minimalmovieprints
etsy.com
$6.36
This might not be the movie poster you remember seeing as a kid, but this more modern version is perfect for hanging in your grown-up apartment.
19
This Backpack
x "The Nightmare Before Christmas" Backpack Collection
Oh, you thought all Disney gifts had to be cutesy? Wrong! Any fan of The Nightmare Before Christmas will geek out over this grunge backpack.
20
This Frozen 2 Blanket
CozyChic Disney "Frozen 2" Throw Blanket
Barefoot Dreams
nordstrom.com
$139.50
Yep, Disney-themed blankets without the bright, neon colors do exist. The subdued shades in this one will go with their living room vibes.
21
This Onesie
The Genie One Piece Pajamas
Adults love onesies too!! Anyone who tells you differently is totally missing out on this fun Genie-themed option.
22
This Moana Necklace
"Moana" Necklace
The1PropMistress
etsy.com
$15.00
Now your friend can have her own Heart of Te Fiti necklace, just like Moana's.  
23
This Graphic T-Shirt
Pizza Planet Shirt
Mousesecrets
etsy.com
$9.95
For the person who wishes Pizza Planet were a real place, here ya go: a cool tee so that they can imagine eating there every day of their life.
24
This Disney-Themed Utensil
Dinglehopper Fork – Ariel Inspired
I mean, your friend already insists on calling forks dinglehoppers. So they need this gift for eating their food brushing their hair.
25
This Small Pouch Bag
"The Little Mermaid" Pen Pals Pencil Case
A bag with a tiny Sebastian patch doesn't scream Disney, so it's perfect for your friend who wants to carry a little bit of the magic with her every day.
26
This Mickey Mouse Pendant
Sterling Silver & Cubic Zirconia Disney Mickey Necklace
PANDORA
bloomingdales.com
$180.00
Your loved one's infatuation with Disney is forever, so get them something they can have, uh, forever, like this sterling silver Mickey Mouse pendant necklace.
27
This Planter for Air Plants
Poison Apple Planter
RedwoodStoneworks
etsy.com
$22.00
Only the truly obsessed will recognize this planter, which is designed to resemble the apple at the end of Snow White.
28
This Toaster
"Star Wars" Toaster
Williams Sonoma
williams-sonoma.com
$49.95
A Storm Trooper toaster is the best thing since sliced bread, and your Disney-obsessed friend wouldn't argue with that.
29
This Poster
The "Lion King" SCAR Screenplay Poster
PostersGarage
etsy.com
$16.00
Yup, that's the silhouette of Scar created using the lyric of the song "Be Prepared." It's truly a chic gift for any adult who loves the movies.
30
This Coffee Mug
"Beauty and the Beast" Chip Tea Cup
BlendedOutlook
etsy.com
$25.99
Any Disney lover would refuse to drink coffee from any cup other than this one of cute little Chip from The Beauty and the Beast. 
31
These Ceramic Bowls
Disney Mickey Mouse Ramekins, Set of 2
Le Creuset
williams-sonoma.com
$49.95
For your friend who is a major foodie, these little Mickey Mouse-shaped Le Creuset dishes can be used for baking, mixing, and so much more.
32
These Cool Sneakers
Disney Mickey Mouse Superstar Shoes
Adidas
adidas.com
$120.00
When it's hard to tell if they love sneakers or Disney more, add this Mickey Mouse-themed pair to their growing collection.
33
This Cookie Jar
Disney "Frozen 2" Olaf Cookie Jar
Williams Sonoma
williams-sonoma.com
$79.95
Let's face it—Olaf was the best thing about Frozen. And since the best thing about the kitchen is all the snacks, this cookie jar is…*Chef's kiss.*
34
This T-Shirt
"Lilo and Stitch" Shirt
ShirtStudioUS
etsy.com
$25.55
The perfect gift for '90s babies does exist, and it's this T-shirt that combines two of your greatest loves: Friends and Lilo and Stitch. 
35
This Cookbook
Disney Resort Recipe Book
MagicalDisneyGear
etsy.com
$3.99
Maybe they only went to Disneyworld once but can't stop talking about all the food. This downloadable cookbook filled with recipes from all the resorts will make them feel like they're there again.
This content is created and maintained by a third party, and imported onto this page to help users provide their email addresses. You may be able to find more information about this and similar content at piano.io
This commenting section is created and maintained by a third party, and imported onto this page. You may be able to find more information on their web site.
Advertisement – Continue Reading Below