41 Amazing Gifts for Anyone 2019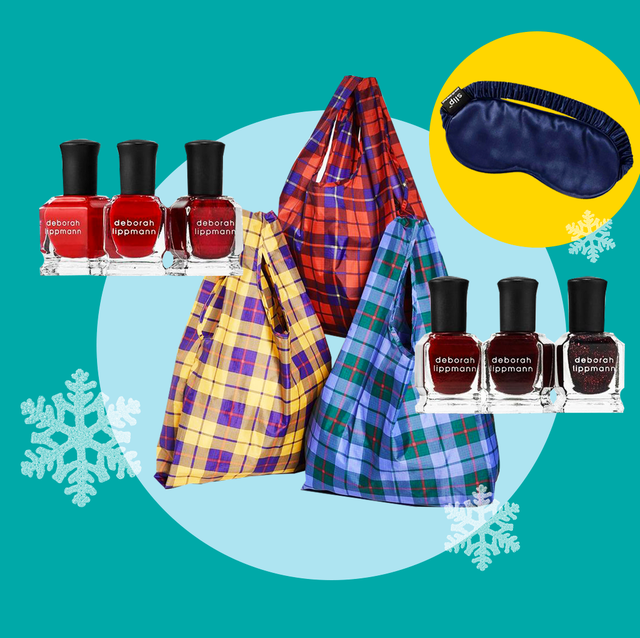 courtesy / Khadija Horton
'Tis the season to panic about what gifts to give everyone! That's how the saying goes, right? Really, though, the pressure is real to make sure everyone's happy with their presents (mostly because you don't want to deal with gift receipts). Your in-laws might have a totally different taste than your own family, and your coworker you got for Secret Santa probably isn't gonna like the same thing your sister does. Unless you're my mom and you simply buy, like, 20 boxes of chocolate every holiday and give them out to everyone you know—even the mailman. But if you actually want to give each person in your life something unique and special to them, we've rounded up 41 gifts for anyone, from fancy cheese boards to hammocks to dog carriers. (Your pup deserves somethin' special, too, you know!) Scroll on for some gift ideas that would make anyone happy this season.
Advertisement – Continue Reading Below
1
for the carb queen
Petit Bread Light
The Webster
thewebster.us
$75.00
No, this is not a normal roll. It's actually a lamp made from actual bread. It's coated with resin so it stays looking fresh, but there's an LED light inside that makes it the cutest glowing bedside light.
2
for the caffeine devotee
Temperature Control Smart Mug
They'll love a smart coffee mug that keeps their brew warm 24/7.
3
for the globetrotter
Inflatable Travel Hoodie Pillow
HoodiePillow
amazon.com
$24.95
A neck pillow with a built-in hood is the travel essential they never knew they needed.
4
for the friend whose phone is always dead
Power Up Tassle Keychain
Mark & Graham
MarkandGraham.com
$59.00
A tassle keychain will help them juice up their phone battery on the go.
5
for the one who loves a wine night in
Premium Electric Wine Aerator
Nutrichef
amazon.com
$19.61
An aerator will make their wine taste even better, and this one is also small and portable enough to bring to any party. 
6
for the adventurer
Portable Hammock
A packable hammock will be a welcome addition to a camping enthusiast's gear. They can use it to nap, cuddle, or star-gaze.
7
for the sneaker lover
Killshot 2 Sneaker
NIKE
nordstrom.com
$90.00
These classic Nike Killshots are made for casual everyday wear, and they're just undeniably cool. 
8
for the bubbly fan
The Holiday Six-Pack
Ruffino
reservebar.com
$1,942.00
Give a gift of prosecco that they can share with all their friends (or keep all to themselves). This set of six mini bottles comes in a cute gold-speckled see-through bag that you can use as a purse too. 
9
for the commuter
Apple AirPods With Charging Case
They'll adore a sleek pair of AirPods they can easily tote with them without any wires getting tangled. 
10
for the sweater-weather enthusiast
Midweight Fisherman Sweater
Amazon Essentials
amazon.com
$26.78
This navy knit is great for layering as the weather gets colder. And who isn't always in need of another sweater?
11
for the decorator
Set of 4 Blue & Ivory Terracotta Vases
Creative Co-op
amazon.com
They can rearrange these vases all over their space or keep them together in a fun arrangement to brighten up a coffee table or dresser.  
12
for the one who's always on-the-go
Toiletry Bag
Dagne Dover
dagnedover.com
$35.00
A neoprene toiletry bag is a great travel accessory for a relaxing weekend getaway.
13
for the globe-trotter
Travel Wallet in Beige
Gift them a travel wallet that is both chic and practical with several compartments. Plus, it zips up flat for easy storage. 
14
for the friend to the environment
Standard Baggu Triple Set
Consider a set of three colorful bags that are ideal for grocery shopping, lunch packing, and pretty much anything else.
15
for the jewelry lover
14K Gold Side Initial Necklace
Zoe Lev Jewelry
amazon.com
$212.00
A dainty 14K gold chain with a tiny initial is an everyday piece they can incorporate into their jewelry rotation. 
16
for the pal who's aways borrowing your lip balm
Smith's Rosebud Salve
Rosebud Perfume Co.
amazon.com
$6.27
A rose-flavored potted balm is the best way to keep their lips hydrated during brisk winter weather.
17
for the music connoisseur
Fully Automatic Bluetooth Belt-Drive Stereo Turntable
Audio-Technica
amazon.com
$129.99
A sound aficionado will adore this sleek record player with Bluetooth capabilities. 
18
for the candle hoarder
Essentials Mini Candle Set
P.F. CANDLE CO.
nordstrom.com
$35.00
A lil trio of candles is perfect if they constantly have one lit in their place at all times. 
19
for the vinofile
Wine Chiller
Vinglacé
nordstrom.com
$89.95
Any wine lover would appreciate a device that will keep a bottle of still or sparkling wine at a drinkable chill for hours.
20
for the ring stacker
Diamond Wave Band
They love wearing a whole bunch of rings, so why not add one more to their collection? I bet they don't have a delicate band in a fun wave pattern yet! 
21
for the eyeliner expert
Full Size Tightline Cake Eyeliner Set
LAURA MERCIER
nordstrom.com
$78.00
A set that includes a long-lasting eyeliner with a precise flat brush will give them a dramatic eye look. Top it off with the included mascara and creamy shadow sticks so their makeup pops even more. 
22
for the fashion reader
Bill Cunningham On the Street: Five Decades of Iconic Photography
New York Times
amazon.com
$58.35
A coffee-table book all about iconic photographer Bill Cunningham featuring all his gorgeous street-style pics is the perfect present for someone who's v into fashion. 
23
for the friend who's always cold
Sarah Faux-Fur Jacket
Apparis
amazon.com
$290.00
Give them a toasty faux-fur burgundy coat that's not just cozy—it's way chic!
24
for the best friend
Patchwork Set of 12 Enamel and Gold-Tone Bracelets
Roxanne Assoulin
net-a-porter.com
$76.00
Friendship bracelets have never looked so stylish thanks to these colorful beaded babies with pops of gold accents. 
25
for the fresh mani stan
Lady in Red Shades of Red Nail Polish Set
Deborah Lippmann
sephora.com
$29.00
Are they always sporting a new nail polish color? Give them a set of classic reds that they'll definitely want to wear for the upcoming holiday season. 
26
for the playlist maker
Bluetooth Speaker
Bose
nordstrom.com
$69.00
A portable speaker that's small yet mighty will help them keep the party going no matter where they are.
27
for the chef
Starter Kit
Made In Cookware
madeincookware.com
$283.00
A stainless steel set featuring a frying pan, saucepan, and large pot will make whipping up delicious meals a breeze;. Plus, they'll just look so nice in their kitchen! 
28
for the smart cycler
Adult Bike Helmet, Willowbrook Mint
Thousand
amazon.com
$89.00
If your giftee is all about biking, consider a minimal helmet with a anti-theft pop lock so you can leave it safe with your ride. This one comes in a bunch of other colors too! 
29
for the NFL fan
Minnesota Vikings Official NFL Cold Weather Knit
New Era
neweracap.com
$29.99
If they always cheer on their team every time they play, a beanie in their colors is a go-to present that'll also keep them warm.  
30
for the beauty-obsessed
Crystal Facial Roller
Skin Gym
freepeople.com
$32.00
Self-care is way cooler with a crystal-based facial massager, which can reduce puffiness, improve skin tone, and reduce under-eye circles.
31
for the homebody
Edge Stripe Throw
Snowe
snowehome.com
$148.00
Give the gift of the coziest throw to that friend who hates a night out but loves a weekend of binge-watching Netflix.
32
for the luxury sleeper
Silk Eye Mask
Slip
bloomingdales.com
$50.00
A silky eye mask will help them get the best possible night's rest.
33
for the charcuterie fan
2-Tone Large Marble Board
Crate & Barrel
crateandbarrel.com
$24.95
Their spreads will look 1,000 times better on a pretty two-toned marble cheese plate.
34
for the skincare obsessed
Ultimate Lifting Sculpting Set
SHISEIDO
nordstrom.com
$137.00
A six-piece set that targets wrinkles, dark spots, and an overall dull complexion will transform their skin. 
35
for the weekend lounger
Sleep Shirt
Eberjay
shopbop.com
$89.00
A super-soft sleep shirt will make their lazy Sundays as cozy as possible.
36
for the green thumb
Bailey
The Bouqs Co.
bouqs.com
$60.00
A snake plant will add a bit of green to their apartment. This guy also comes with a minimal ceramic pot that'll look good in any space. 
37
for the sock person
Women's Lightweight Quarter Socks
Socks are a present that gets more and more exciting the older you get. So basically someone's gonna be psyched when they get this plush cozy pair with contrasting lines. 
38
for the photographer
Instax Mini 9 Instant Camera
Fujifilm
amazon.com
$49.95
A Polaroid is 100% better than their phone camera. So many cute memories to document! 
39
for the sheet masker
Moodmask "Get Dewy With It" Mega Moisture Sheet Mask
Patchology
ulta.com
$5.00
A moisturizing mask with hijiki algae, rose of Jericho, and hyaluronic acid will give them a dewy, hydrated look.
40
for the host or hostess
Porcelain Essential Oil Diffuser
Vitruvi
amazon.com
$119.00
A ceramic diffuser will make their home smell fabulous for guests during the holidays and well after.
41
for the furry friend
Dog Carrier
Wild One
wildone.com
$125.00
The perfect pooch deserves an all-weather travel case that's just as cute as they are.
Advertisement – Continue Reading Below