7 Multi-Use Beauty Products For Summer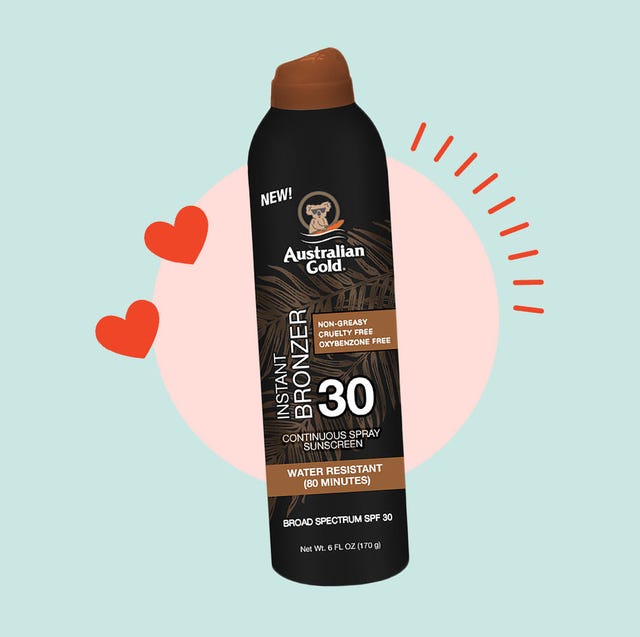 No matter what uncertainty summer 2020 holds, make no mistake: fussing with your beauty routine won't be a part of it. Putting yourself together should be a fast, seamless process—getting you to your virtual happy hours or, if you're lucky enough, your poolside cabana ASAP. The key: multi-use beauty picks. They save you time, space, and money by condensing the work of multiple products into one compact item.
Think: Australian Gold's Sunscreen with Bronzers Collection, a line of SPF products that double as body makeup, leaving you with an instant sunkissed glow each time. For more time-savers, look below.
Advertisement – Continue Reading Below
1
A Nutrient-Rich SPF and Instant Bronzer
Australian Gold Continuous Spray Sunscreen with Instant Bronzer SPF 30
australiangold.com
$10.99
Australian Gold's Sunscreen with Bronzers line (which includes comfortable textures like a lightweight lotion and hydrating gel) protects skin from sun damage and leaves it instantly glowing with a dreamy bronze veil. Our fave is the Continuous Spray Sunscreen, which has a fine mist that makes it easy to evenly cover all the hard-to-reach spots on your body.
2
A Moisturizing Balm For Lips and Cheeks
Dr. Pawpaw Tinted Multipurpose Soothing Balm in Peach Pink
Like the clear version of this balm—which is a staple in makeup artists' kits—the peach-tinted iteration can be used to intensely hydrate and create a dewy finish. The slight hint of color transforms the tube into a 3-in-1 blush, lip gloss, and lid tint. Just swipe it on with your fingers and go.
3
An Illuminating Gel that Grips Makeup
Saie Glowy Super Gel
One pump of this pearlescent gel does the work of two totally different makeup products. The non-sticky formula is primarily a highlighter that creates a reflective finish, and also acts as a gripping primer should you choose to layer makeup on top. Apply it before your foundation for a luminous complexion that lasts for hours.
4
A 4-in-1 Makeup Brush
Alleyoop Multi-Tasker 4-in-1 Makeup Brush
Alleyoop managed to combine four essential makeup tools into one travel-friendly wand. At first glance, it's a makeup blending powerhouse with a sponge at one end (for buffing out cream products) and an angled brush at the other (for complexion powders). Twist off each end to reveal two even smaller tools: a fluffy brush for eyeshadow, and a small, flat angled brush for your brows.
5
A Smoothing Leave-In with UV-Protection
OUAI Finishing Crème
Use this lightweight cream on wet or dry hair to smooth frizz, give it that fresh-from-salon shine, and protect it from sun damage (its UV protection keeps the sun from drying out your hair) in just one step. Bonus: its fresh floral scent.
6
A Lengthening Mascara And Eyelash Curler
TrèStiQue Good Vibes Mascara
All hail: TrèStiQue found a way to fit an eyelash curler at the end of a mascara. Use the half-curler to carefully add a bend to your lashes section-by-section, before applying the lengthening and volumizing formula.
7
A Body Wash With Brightening Ingredients
Olay Cleansing and Brightening Body Wash
Kick your shower routine up a notch with this wash that uses brightening-geared ingredients. It contains vitamin C, an exfoliant that can help reveal a brighter complexion, and vitamin B3, which has been found to help alleviate hyperpigmentation over time.
This content is created and maintained by a third party, and imported onto this page to help users provide their email addresses. You may be able to find more information about this and similar content at piano.io
This commenting section is created and maintained by a third party, and imported onto this page. You may be able to find more information on their web site.
Advertisement – Continue Reading Below